7 August, 2009
My First Telugu Movie - Magadheera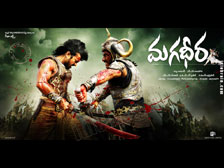 When I was first invited to watch the special screening of the Telugu movie "Magadheera" I was very apprehensive because a) I do not speak or understand Telugu AT ALL. Although my parents hail from Karnataka I was born & brought up in Mumbai, so forget Telugu, I do not even understand Kannada. b) In Mumbai, Hindi and English movies are popular & that's what I usually watch. I have never watched any South Indian language movie. But since my family & I were being invited to a special screening for selected people only including officials of the Indian Embassy in Kuwait, organized jointly by the Telugu Entertainment & Arts Media (TEAM) Kuwait & Kalanjali Kuwait, it was an honor that I could not refuse. After managing to convince my family, we arrived at the theatre not sure exactly what to expect. I was briefed on the movie & that made me even more uneasy coz the movie had two of my least favorite movie subjects i.e. reincarnation theme & historical type. Although I was assured that the movie was very good & I would enjoy it, I was still not totally convinced, half expecting the movie to be a tacky period drama with lots of rhona-dhona. But I was in for a BIG pleasant surprise.
The movie makes an impact right from the very first scene. Even though I could not understand all the dialogues that were spoken, the story narrative & actors' expressions gave me a fair idea of what was happening. I knew I would enjoy the movie within 10 minutes of watching it. The first song of the movie and the choreography was simply superb. Even my 2 year old son sat quietly watching it. (And for that I thank the choreographers and the actors for helping achieve an impossible feat…). The first half was fun & cheerful and the movie builds up nicely towards the second half (flashback).
Again the second half was spectacular. The visual & sound effects are stunning. This movie has to be watched in a theatre to experience the grandeur. However, I thought the climax was rushed & very clichéd and was a bit of a let down compared to the rest of the movie. But that was a minor glitch in an otherwise extremely entertaining movie.
The hero - Ramcharan was excellent as both the modern day Harsha & the warrior Bhairava. This movie was clearly a medium to showcase his talent and he made very good use of this opportunity. His dancing & fight sequences can be watched again & again. The heroine of the movie, Kajal also put in a commendable performance, in both her roles. Ramcharan & Kajal had an easy chemistry between them and were a pleasure to watch. The director Mr. Rajamouli has managed to get the best out of all his actors and has proved that given the right treatment even the most repeated theme in Indian cinema (reincarnation) can still feel like new. The excellent technical capabilities of the of the film's crew are also superbly highlighted throughout the movie.
All in all, the movie is a complete fantastic family entertainer, a must-watch. It has all the right ingredients of a good film – good songs, excellent dances, thrilling action, beautiful cinematography, good actors & an engaging story. It has been a long time since I have so thoroughly enjoyed a movie, and whats more I did not even need to understand the dialogues!! That's the beauty of good cinema. I am already recommending all my friends & colleagues (especially non-Telugu speakers) to go watch this movie in the nearest Theatre. Now I look forward to seeing more of such movies. Telugu Cinema just got another admirer – me, thanks to Magadheera.
Shanti Fernandes
shantifernandes at gmail dot com
More My Movie experiences:
Magadheera by Anitha
Magadheera by SS
Oy by Prathna
99 by Bala Thirumalasetty
Veedokkade by Srinivas
Delhi 6 by Vamsi
KIKK by Sweta
Luck by Chance by Srini
KIKK by Lalitha Spoorthi
Arundhati by Naveen
Arundhati by Srini
Arundhati by Bharat
Sasirekha Parinayam by Santhi Venkat
Sasirekha Parinayam by Vamshi Muthapu
Sasirekha Parinayam by Niharika Reddy
Nachavule by Vamsi Krishna
Neninthe by movie lover
Avakai Biryani by Vamsi Krishna
Kotha Bangaru Lokam by Vamsi Krishna
Kotha Bangaru Lokam by S
Ashta Chemma by Deepthi
Ashta Chemma by Lalitha Spoorthi
Sarkar Raj by Pradeep
Jalsa by Lalitha Spoorthi
Gamyam by Sridhar
Gamyam by Sreekanth D
Gamyam by Sanjay
Halla Bol by Purnesh
Taare Zameen Par by Ashok Varma
Taare Zameen Par by Raja Simha
Happy Days by Krishna Sastry
Chirutha by Phani Kumar
Chak De India by Ravi
Yamadonga by Lalitha
Chak De India by Shyam
AMAV by Darsakudu
5 in March by Sashidhar
Okkadunnadu by Anand
Black Friday by Ratnakar
Desamuduru by Krishna Prasad
Guru by It's opinion
Dhoom 2 by Lalitha Spoorthi
Dhoom 2 by ASK
Don - Syam
Boss - Anand
Boss - Hrithik
Stalin - Bala
Bommarillu - Nandini
Bommarillu - Darsakudu
Bommarillu - Vasu
Bommarillu - Harsha Prakash
Bommarillu - Lalitha Spoorthi
LRMB - Shravan
Bommarillu - Anirudh
LRMB - Srinivas
LRMB - Darsakudu
LRMB - S Sridhar
Bommarillu - Shridevi
Bommarillu - Vasudev
Bommarillu - Roopa
Sriram - Godavari
Sarath - Bangaram
Bala - Pokiri
Srinadh - Allari Pidugu
Sudheer Allari Pidugu
Anu - Athadu
Shyam Krishna - Iqbal
Purnesh - Grahanam
Sudhindra - Super
Vijay - Aparichitudu
Madhav - Aparichitudu
Hazaraon Kwaishein Aisi
Swades
Shyam - Black
Sai - Anand
Rohit - Anand & Veer Zaara
Jaya Prakash - 7GBC
Raj - Anand
Purnesh - Anand
Purnesh - The Village
Sriram - Gudumba Shankar
Purnesh - Gharshana
Purnesh - Lakshya
Purnesh - Yuva
Leenesh - Yuva
Kis - Lakshmi Narasimha
Indian Pride - Tagore
Raj - Boys
Phani - Gangotri
Phani - Khadgam
Vikram - CKR
BKR - Indra (Singapore)
Ram - Indra (Dubai)
Ranjeet - Idiot
Rahul - Indra
King Koduri - Indra
Srilakshmi Katragadda - Mitr: My Friend