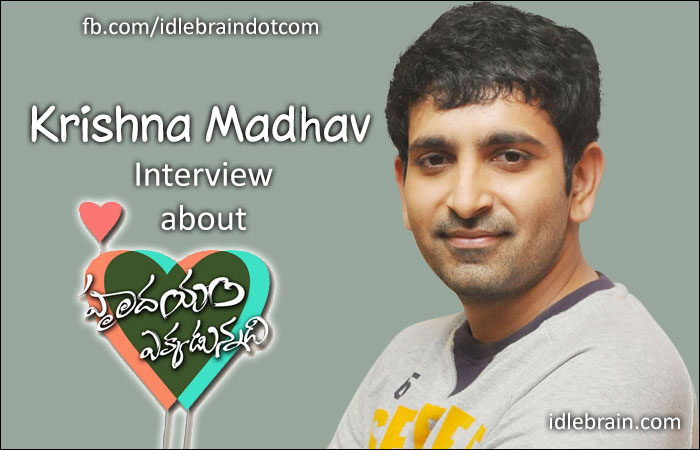 15 March 2014
Hyderabad

Krishna Madhav is the new kid on the block. He is into films after completing post-graduation and film schooling. He has worked as assistant director for Mahesh films before making his debut as actor with Hrudayam Ekkadunnadi. Here are excerpts of an exclusive interview -
Background:
I am born in Chennai and did schooling in Andhra and Warangal as my father keeps getting transferred. I have completed my degree in University of Madras and went to USA to do my masters in University of Houston, TX. After completing my masters, I joined a film school called 'The Second City' in Chicago. After getting trained as an actor in the film school, I moved to India and joined Khaleja team for the last two months of the shoot. Then I worked on the sets of Dookudu. After completing working for Dookudu in direction department, I started scouting for my project as hero. That's how Hrudayam Ekkadunnadi happened.
What's your inspiration to become an actor?
My father wanted to become a hero. But there was a huge barrier for newcomers at that time. Fortunately, things are encouraging now for new actors now. It is my dad's dream too to see me as an actor. I grew up watching Sachin Tendulkar and Mahesh Babu. My goal was to play cricket for India. I was a part of Andhra team for Under 14 and Under 16 cricket teams. At one point, I realized that I didn't have that exceptional talent to get selected to Indian team. I accepted the reality and moved on. I completed by graduation and then tried achieving my other passion - acting that is.
I feel that act is a form of expression just like playing music or painting. I want to express myself through acting.
What do you think that will work for you as an actor?
I feel that if audiences get connected to an actor, he will be successful. I have a pleasing persona on screen and I am confident that I will make a connect with movie lovers. I had been to many colleges (Warangal, Guntur, Vijayawada, Eluru, Tanuku, Tadepalligudem and Vizag) to promote my film in the past one month and the response have been very good. I met around 1 lac students in these colleges and I made a good connect with everyone.
Tell us how you are connected to Mahesh Babu?
I am related to Jay Galla who has married Padma (elder sister of Mahesh Babu). But my connection with Mahesh Babu is like the connection between a fan and a super star. Just like we get the 'own' feeling for Sachin, we also own Mahesh Babu.
Tell us about the theme of the film?
It's our human tendency that we are not satisfied with what we have. We always want more. There is no end to it. Hrudayam Ekkadunnadi film deals with an youngster who is in relationship with a girl. Then he likes another girl who is better that his girl friend. The story is about the confusion that arises due to that feeling and how hero resolved it. The title Hrudayam Ekkadunnadi refers to the state of mind/heart of hero who is confused about girls/feelings.
What's the reason for the delay in release?
It's very important to get the right release date which is ideally a couple of weeks after music launch. After a few months, we found the right date. Monday is a holiday (Holi). It's going to be a long weekend and we are releasing the film on Saturday which gives us an advantage of 3 consecutive holidays.
What's your gut feel on Hrudayam Ekkadunnadi?
Concept of the film and fresh feel to it. Music is very catchy. Newcomers have done a good job. I think people will like the film.
What are your future films?
I want to do more films. I want to be an actor who can do a big range of roles. I want to do different roles convincingly. Whatever people will see in Hrudayam Ekkadunnadi is going to be just 10% of what I am capable of doing.