Story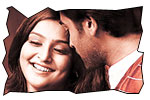 Michael (Vijay Sethupathy) is a pizza delivery boy and has a live-in relationship with Anu (Ramya Nambeesan). Anu is interested in ghosts and spirits where as Michael is afraid of such things. Anu gets pregnant and it forces Michael to marry her secretly in their house. Daughter of his Pizza joint owner is possessed by a spirit. One fine night, Michael is sent to deliver a Pizza and he lands up in a spooky place. Rest of the story is all about what happened in that place and how Michael came out of it.
Artists Performance
Vijay Sethupati looks very normal, but suited the character well. Telugu actor Sivaji has effectively dubbed his voice. Ramya Nambeesan generates interest by playing an unusual character. The pizza joint owner and colleagues are effective. Naga Babu and Uttej dubbed the voices of owner and colleague respectively.
Technical department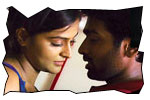 Story - screenplay - direction: This is the first film of the director Karthik Subbaraj. He comes up with thriller using new cast in a low budget. The screenplay of the film deserves a special mention because he surprises you with a nice twist in the tale. He spooks you and then baffles with narration. I would personally like these kinds of films to be terser with a compact runtime. We do have films of this genre released in Hollywood where you need to watch the film again to connect the dots. It's a good idea narrated well.
Other departments: Sound/music of the film is very good. Cinematography sets up the right mood.
Analysis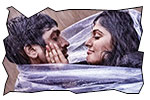 Pizza is a thriller with a beautiful twist at the end. Don't read reviews with spoilers and don't ask anybody for the story and climax if you want to have an enjoyable movie experience. You might be just duped into believing that it's just another thriller aimed to spook you. But, it's not! The director had an opened ended finishing (may be he has plans for a sequel which has become a fad – Vishwaroopam, Dandupalyam, Nakili to name a few). On a whole, Pizza is an engaging thriller for multiplex crowds.