13 August, 2009
My Movie - Magadheera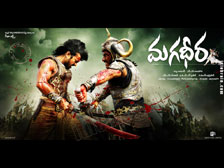 Thanks for Idlebrain.com to share my happiness with all the cinegoers through MY Movie section.
This film is amazing and technically brilliant movie and with this movie we proved to the entire world that if we have a budget we can create wonders.
I am a big fan of Chiranjeevi so till now I never missed any a movie of chiru since I started watching movies so obviously I like Ram Charan movies My expectations are high (Sky is the Limit).
I am not sure how much Ram Charan and Rajamouli are tensed I was so tensed the day before release and I started visiting all the websites for the review. My feeling was just like we need four runs( it is very hard for our guys to hit SIX) for the last ball between India vs Pakistan Cricket match now you people can understand my situation.
Coming back to the movie the entire movie is based on 100 men fight even movie starts with that counting, brilliant idea to keep viewers guessing. When ever I watch Chiranjeevi / Pawan Kalyan movie at the end of the movie I am not 100% satisfied "I want more"(not Pepsi ad) but first time I felt happy and more than 100% satisfied.
Every one did their Job it is a complete team work. Kudos to: Rajamouli, Allu Aravind, M.M.Keeravani/ Kalyan Malik, Ramcharan, Kajal, ,Senthil Kumar, Ravinder, Peter Hynes & Ram Lakshman. Hats off to all the technicians who worked for this movie.
Friends: Go and watch this movie today. Please don't encourage pirated copies.
Credit of Magadheera movie should go to?
Thanks to Idlebrain.com for publishing my views, I am not very good writer but I am trying my level best to put my views on words.
Right from the day Magadheera released the discussion started whose movie is this, is this Director's movie? Or Hero's movie or Arts Director's movie or cinematographer's movie the list continues.....
The credit of this movie should go to:
Director is the captain of ship, how good the captain is if he won't get right people and right ship he cannot drive and reach the destination without any causalities. In our film Industry when the movie becomes hit the credit goes to Hero when the movies flops the blame goes to director. Here we should appreciate Ram Charan who is so humble to say that the credit should go to whole Team.
There was a major accident to fight Master Peter Hynes who was almost dead (Swargam Anchula daaka velli vachhadu) but due to gods grace he was OK, part of the credit should also goes to him.
When you watch the movie your are virtually gone back to 400 years the credit should goes to the cameraman Senthil Kumar, art Director Ravinder and his whole team and also to costumes designer Rama madam.
To take you back to 400 years how good the sets are and how good the costumes are if you play western background music?.... (Imagine that), background music plays very important role to keep you in the same mood for the entire episode now the credit should go to M.M keervani and Kalyan Malik.
The credit should also go to audience who are really involved and enjoyed the movie, there is a reason why I said this, some directors says there movie is brilliant and advanced but audience are not able to understand, if this movie released after 10 years then it is sure hit? So we will give credit to audience here :-)
The movie credit should also go to the people who create controversies and also to electronic media who used these controversies to improve there TRP ratings.
Last but not the least the credit should also goes to our favorite producer Allu Aravind who has complete faith on the director, hero. He has the passion to make a movie like Magadheera to prove we are the best.
Regards
Wannabe Director
colorfuldreamzs at gmail dot com
More My Movie experiences:
Magadheera by Shanti
Magadheera by Anitha
Magadheera by SS
Oy by Prathna
99 by Bala Thirumalasetty
Veedokkade by Srinivas
Delhi 6 by Vamsi
KIKK by Sweta
Luck by Chance by Srini
KIKK by Lalitha Spoorthi
Arundhati by Naveen
Arundhati by Srini
Arundhati by Bharat
Sasirekha Parinayam by Santhi Venkat
Sasirekha Parinayam by Vamshi Muthapu
Sasirekha Parinayam by Niharika Reddy
Nachavule by Vamsi Krishna
Neninthe by movie lover
Avakai Biryani by Vamsi Krishna
Kotha Bangaru Lokam by Vamsi Krishna
Kotha Bangaru Lokam by S
Ashta Chemma by Deepthi
Ashta Chemma by Lalitha Spoorthi
Sarkar Raj by Pradeep
Jalsa by Lalitha Spoorthi
Gamyam by Sridhar
Gamyam by Sreekanth D
Gamyam by Sanjay
Halla Bol by Purnesh
Taare Zameen Par by Ashok Varma
Taare Zameen Par by Raja Simha
Happy Days by Krishna Sastry
Chirutha by Phani Kumar
Chak De India by Ravi
Yamadonga by Lalitha
Chak De India by Shyam
AMAV by Darsakudu
5 in March by Sashidhar
Okkadunnadu by Anand
Black Friday by Ratnakar
Desamuduru by Krishna Prasad
Guru by It's opinion
Dhoom 2 by Lalitha Spoorthi
Dhoom 2 by ASK
Don - Syam
Boss - Anand
Boss - Hrithik
Stalin - Bala
Bommarillu - Nandini
Bommarillu - Darsakudu
Bommarillu - Vasu
Bommarillu - Harsha Prakash
Bommarillu - Lalitha Spoorthi
LRMB - Shravan
Bommarillu - Anirudh
LRMB - Srinivas
LRMB - Darsakudu
LRMB - S Sridhar
Bommarillu - Shridevi
Bommarillu - Vasudev
Bommarillu - Roopa
Sriram - Godavari
Sarath - Bangaram
Bala - Pokiri
Srinadh - Allari Pidugu
Sudheer Allari Pidugu
Anu - Athadu
Shyam Krishna - Iqbal
Purnesh - Grahanam
Sudhindra - Super
Vijay - Aparichitudu
Madhav - Aparichitudu
Hazaraon Kwaishein Aisi
Swades
Shyam - Black
Sai - Anand
Rohit - Anand & Veer Zaara
Jaya Prakash - 7GBC
Raj - Anand
Purnesh - Anand
Purnesh - The Village
Sriram - Gudumba Shankar
Purnesh - Gharshana
Purnesh - Lakshya
Purnesh - Yuva
Leenesh - Yuva
Kis - Lakshmi Narasimha
Indian Pride - Tagore
Raj - Boys
Phani - Gangotri
Phani - Khadgam
Vikram - CKR
BKR - Indra (Singapore)
Ram - Indra (Dubai)
Ranjeet - Idiot
Rahul - Indra
King Koduri - Indra
Srilakshmi Katragadda - Mitr: My Friend