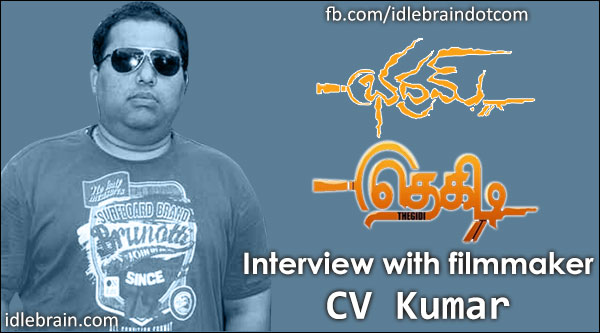 20 March 2014
Hyderabad

Critically acclaimed and commercially successful films are the order of the day. CV Kumar is one such producer who has mastered the art of making small budgeted blockbusters with innovative content. His films Pizza, Villa and Soodhu Kavvum stands testimony to it. His latest product Thegidi is a good hit in Tamil. Telugu version Bhadram is releasing on 21 March. Here is chitchat with CV Kumar -
Background:
I have done my animation course in ARENA and am proficient with visual effects and editing softwares like Maya and Adobe Premiere. Then worked as a travel agent and tour operator. I used to travel around the world. I was in Los Angeles for a few days and my stay over there inspired me to start a production house.
Whats the secret of your success?
I pick up good and different storylines and make them in a limited budget. I also make sure that I spend good amount of money on publicizing films. I project myself as an independent filmmaker. I don't do masala movies. I recruit young directors and cast new faces. I make sure that the age group of my core team is around 25 years. Since I am also a technicians with sufficient knowledge in visual effects and editing, I feel that I have a good judgment.
Tell us about the trade aspect of Thegidi (Bhadram in Telugu)?
The budget of Thegidi is 2.4 crores and I have sold the satellite rights for 2.1 crores. The rights for music and overseas were sold for 7 lacs and 24 lacs lacs respectively. Telugu dubbing rights fetched us a decent price. Thegidi film has received good attention at box office and collected a theatrical share of 2.2 crores so far. It's pretty good.
Your films have made multifold profits to the buyers. Do you sell your films now or prefer reaping all the profits?
I am not greedy. I am a businessman. I do sell my films for a reasonable price.
Tell us about your future ventures?
I am doing Tamil remake of Kannada hit film Lucia with Siddharth as hero. I am on the verge of completing two more films titled Mundasupatti (Vishnu & Nanditha) and Sarabam (Andala Rakshasi fame Naveen Chandra). Lucia and Sarabam will be dubbed and released in Telugu as well.