Story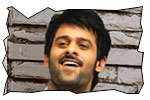 Jai (Prabhas) falls in love with Manasa (Richa Gangopadhyay) in Italy. She tells him that her family members have a notorious background of being ruthless factionists from Palnadu area. Jai has the philosophy of peace and lifestyle of love. He feels that one can conquer the world with love, not by war. He goes to the village on Manasa on some other pretext and changes the attitude of the factionists. The rest of the story is all about the background of Jai and how he became peace-propagating man.
Artists Performance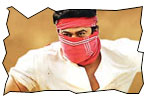 Prabhas: Prabhas is perfect in the role of Jai. Prabhas's career planning lies in balancing stuff while selecting script. His character in this movie has two shades to it. One is family guy and other one is action hero. Prabhas is exceptionally good in all departments. Be it comedy, romance, action sequences, sentiment and dances. Another big advantage of Prabhas as a commercial hero is that he has a huge base of hardcore fans, but not many people who opine negatively of him. It's a good sign for a hero of such stature to grow bigger and bigger.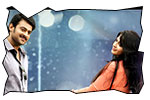 Others: Anushka is adorable in the role of a naughty village belle. The dubbing done to her is also good. She has got the best songs in the movie (Idedo Bagunde and Darlinge). I feel that Anushka's characterization in Mirchi the best among her recent Telugu films. Richa Gangopadhyay is nice as another heroine. Richa is the only female lead in first half and Anushka enters in the second half. Nadiya is beautiful and she looks more like a sister to Prabhas than mother. Satyaraj played the role of Prabhas's father and he is apt. Subbaraju is in his elements as a reformed baddie. Brahmanandam is used in the first half to generate some entertainment. Sampat Raj is good as one of the villains. Aditya Menon is becoming a regular face for Telugu faction films. Satyam Rajesh has done a comedy role as bava of Anushka.
Technical department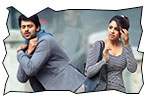 Story - screenplay - direction: Story of the film is predictable and is set up against a faction backdrop. Though the writer has given it as Palnadu, it's more like filmy Rayalaseema backdrop. Despite having a redundant story elements (Brindavanam, Dammu and Sankham), the director has succeeded in getting the commercial payoffs right and narrating the film by balancing all aspects. There are two plots, two heroines and an effective interval that joins the two plots together. Most of the writer-turned-directors have the inclination to create unnecessary scenes to inject dialogues. But, Koratala Siva followed the screenplay first and wrote dialogues as per the demand of script. Hence, you will find dialogues seamlessly blended into narration. However, the director has shown a high degree of violence amidst a family orientated set-up, which in unwarranted.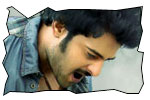 Other departments: Music by Devi Sri Prasad is a big plus to the film. The placing of songs would have been better. Mirchi title song is trimmed by half. There is not enough gap between two good songs (Idedo Bagunde & Darlinge) in the second half. Songs in second half are good. Background music deserves a special mention. I like the way he used humming raagas as background in starting of sentimental/greatness-revealing scenes (observed it first time when Satyanarayana salutes Bala Krishna in Samarasimha Reddy – Mani Sharma BGM). Dialogues by Koratala Shiva are good. There are meaningful dialogues (comparing Magatanam with a man having big-heart), mass dialogues (Nuvvu maa vooru ravalante sketch vesi raavaali, nenu nee vooriki ravalante hanger ki vunna shirt veskunte chalu) and comedy dialogues (pelli choopulu scene where groom's reaction when heroine says that she did MS in abroad). Art direction by AS Prakash is pretty good (the selection of Sampath Raj's house especially). Cinematography by Madhie helped the movie. Editing by Kotagiri Venkateswara Rao is fine. Producers Vamsi and Pramod have done a lavish production to produce a visually rich movie.
Analysis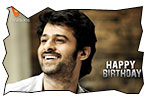 First half of Mirchi is decent. Flashback episode which occupies 80% of second half is good. Climax could have been better. The plus points of the film are Prabhas, music and all-round orientation. The director has balanced the entire film between family episodes and action sequences. On the flip side, violence should have been toned down and story should have been fresh. Mirchi is a film that is made to do a commercial hit. Prabhas entertains with Mirchi and director does a decent work. On a whole, Mirchi has all the ingredients of a commercial potboiler.
Mirchi links
• K Siva interview
• Music launch
• Photo gallery
• Wall papers


Jeevi reviews of previous films
• Dandupalyam
• Vishwaroopam
• SVSC
• Naayak
• Yamudiki Mogudu
• Midhunam
• Yeto Vellipoyindi Manasu
• Krishnam Vande Jagadgurum
• Routine Love Story
• Dhamarukam
• Tupaki
• Denikaina Ready
• Cameraman Gangatho Rambabu
• Rebel
• Avunu
• Life is Beautiful
• Shirdi Sai
• Srimannarayana
• Sudigaadu
• Julayi
• Onamalu
• Uu Kodathara Ulikki Padathara
• Eega
• All the best
• Mem Vayasuku Vacham
• Shakuni
• Oka Romantic Crime Katha
• Endukante Premanta
• Gabbar Singh
• Dhammu
• Racha
• Lovely
• Ee Rojullo
• Mr. Nookayya
• Ishq
• Poola Rangadu
• Love Failure
• SMS
• Snehitudu
• Bodyguard
• Businessman
• Rajanna
• Journey
• Panjaa
• Priyudu
• Solo
• Sri Ramarajyam
• Oh My Friend
• Mogudu
• Nuvvila...
• 7th Sense
• Pilla Zamindar



More Reviews