13 August, 2009
My Movie - Magadheera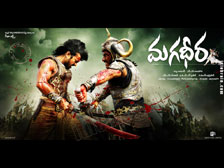 Hello Frens
Thank You Idlebrain.com for giving this opportunity to express my experience on this 7th wonder from Rajamouli, Magadheera.......!!!!
I am an ardent fan of S.S. Rajamouli (SSR) right from his second movie Simhadri. After that I have watched his Student No.1 and then onwards I have been watching all his movies without fail. He is one of very few directors in Tollywood who exactly knows what movie lovers expect and make the movie to reach their expectations. With all the hype, I have seen the movie in Dallas in TX, first week and watched it with awe and shock. With the grand it was made, words are not sufficient to express. Totally, I watched it 3 times later that week.
However, I felt barring some things the movie was a master piece in recent times. I thought that there are couple of hinges if taken care would have made it a spell bounding. Let me express them.
1) The entire Flash back episode was the USP to the movie. So, this should have been capitalized by maximizing the screen time for Flashback than the present story.

2) There is no Romance between the lead pair in the flashback at all. When I say romance, what I meant was to show why Mitra is in Love with Kalabhairava.

3)There should have been an instance where Kalabhairava proves that he is indeed a Shatadhruva Vamsha Yodhudu. Like some like a thread where he single handedly wins a war as an introduction before the fight between him and Ranadev Bhilla. In this way, the dialogue where villain says "Thathala charitra cheppukoni bathikey dhadhammala avasaram ledhu" can be avoided. This dialogue totally let Kalabhirava's character down. The only chance he had to prove that he is indeed a great warrior was ONE vs 100 to the end to the flashback.

4)Rajamouli was always good in conceiving the scenes between hero and villain in all his movies by elevating the tempo in the first half for the hero and getting it right when hero and villain comes face to face for the first time. Just like when Shivaji meets Katraaj face to face and kills him to become Chatrapathi, Vikramarkudu entering villains home to bring back his colleagues wife, NTR ridiculing YamaRaaj before interval in Yamadonga, NTR saying he is a murderer pre-interval in Student No 1 etc etc. All were very well conceived and the hero's character lived upto the movie lovers expectations. But here, after building up all the tempo between Harsha and Raghuveer in present time whenever they come face to face the nature will identify their rivalry. But, after all the masala, the flashback fight between Kalabhairava and Ranadev Bhilla was a let down. It was so silly that one who brings the Mitra's chunni and get back first will win the Kingdom and Princess. This looked more like a school children participating a running race where in the one who runs fast and gets the flower on a plant at a distance and coming back first is the winner. The fight between the hero and villain in flashback should have been more serious and mesmerizing with swords and bows.
However, the entire package of crisp screenplay narration, cinematography, Background score, sound effects, visual thrills, music, fight sequences, horse riding etc etc made by SSR, dominates these silly things that I have pointed out. This is indeed a Seventh Wonder from Rajamouli to Tollywood and a beginning of his third Hatrick. His next venture "Maryaada Ramanna" and later one with Prabhas (as per some online news) are most awaited for me.
Rajamouli is indeed Jakkannna (as stated by Jr NTR) and brings the best out of his actors. He acts and enacts each and every scene and makes them to do it. The making of the movie itself is evident for this fact. The Camera work by Senthil needs a special commendation for showcasing the entire movie as a grand magnum opus look. I loved his work in Chatrapathi and now he proved he has in him to be a top brass Cinematographer. Art Direction by Ravinder has taken the movie look to a new level. The opening sequence is spell bounding one with long shots while lead pair jump aloft mountain of BhairavaKona. Awesome and Adbutham. Of course the entire flashback episode is canned well by the entire team with SSR, Senthil and Ravinder need to be credited for this. Rama Rajamouli has been the costumes designer for SSR's movies. However, i liked her work here especially Mitra's, Bhairava's and RanadevBilla's getup came out very well. Kajal was just looking so very beautiful and gorgeous never before in her previous movies , especially as Princess and in second song of the movie.
SSR, Please make special movies different from one another and Thank You for experimenting with the expectations of Telugu Movie Lovers.
You are here to stay in Tollywood as Number One Director. No exceptions at all and no doubts at all.
Good luck.
Ashok V Alluri
ashok.varma.alluri at gmail dot com
More My Movie experiences:
Magadheera by Wannabe Director
Magadheera by Shanti
Magadheera by Anitha
Magadheera by SS
Oy by Prathna
99 by Bala Thirumalasetty
Veedokkade by Srinivas
Delhi 6 by Vamsi
KIKK by Sweta
Luck by Chance by Srini
KIKK by Lalitha Spoorthi
Arundhati by Naveen
Arundhati by Srini
Arundhati by Bharat
Sasirekha Parinayam by Santhi Venkat
Sasirekha Parinayam by Vamshi Muthapu
Sasirekha Parinayam by Niharika Reddy
Nachavule by Vamsi Krishna
Neninthe by movie lover
Avakai Biryani by Vamsi Krishna
Kotha Bangaru Lokam by Vamsi Krishna
Kotha Bangaru Lokam by S
Ashta Chemma by Deepthi
Ashta Chemma by Lalitha Spoorthi
Sarkar Raj by Pradeep
Jalsa by Lalitha Spoorthi
Gamyam by Sridhar
Gamyam by Sreekanth D
Gamyam by Sanjay
Halla Bol by Purnesh
Taare Zameen Par by Ashok Varma
Taare Zameen Par by Raja Simha
Happy Days by Krishna Sastry
Chirutha by Phani Kumar
Chak De India by Ravi
Yamadonga by Lalitha
Chak De India by Shyam
AMAV by Darsakudu
5 in March by Sashidhar
Okkadunnadu by Anand
Black Friday by Ratnakar
Desamuduru by Krishna Prasad
Guru by It's opinion
Dhoom 2 by Lalitha Spoorthi
Dhoom 2 by ASK
Don - Syam
Boss - Anand
Boss - Hrithik
Stalin - Bala
Bommarillu - Nandini
Bommarillu - Darsakudu
Bommarillu - Vasu
Bommarillu - Harsha Prakash
Bommarillu - Lalitha Spoorthi
LRMB - Shravan
Bommarillu - Anirudh
LRMB - Srinivas
LRMB - Darsakudu
LRMB - S Sridhar
Bommarillu - Shridevi
Bommarillu - Vasudev
Bommarillu - Roopa
Sriram - Godavari
Sarath - Bangaram
Bala - Pokiri
Srinadh - Allari Pidugu
Sudheer Allari Pidugu
Anu - Athadu
Shyam Krishna - Iqbal
Purnesh - Grahanam
Sudhindra - Super
Vijay - Aparichitudu
Madhav - Aparichitudu
Hazaraon Kwaishein Aisi
Swades
Shyam - Black
Sai - Anand
Rohit - Anand & Veer Zaara
Jaya Prakash - 7GBC
Raj - Anand
Purnesh - Anand
Purnesh - The Village
Sriram - Gudumba Shankar
Purnesh - Gharshana
Purnesh - Lakshya
Purnesh - Yuva
Leenesh - Yuva
Kis - Lakshmi Narasimha
Indian Pride - Tagore
Raj - Boys
Phani - Gangotri
Phani - Khadgam
Vikram - CKR
BKR - Indra (Singapore)
Ram - Indra (Dubai)
Ranjeet - Idiot
Rahul - Indra
King Koduri - Indra
Srilakshmi Katragadda - Mitr: My Friend