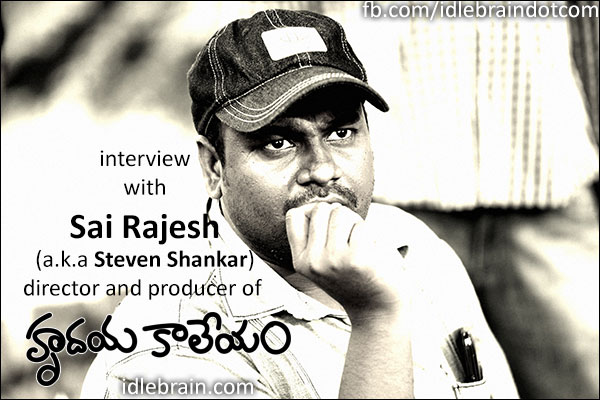 3 April 2014
Hyderabad

It's a lottery out there in film industry for newbies. What happens when you have neither contacts and nor money? Sai Rajesh has created an opportunity for himself. Instead of traveling in the beaten path, he has created an image called 'Sampoornesh Babu' with 'Hrudaya Kaleyam', which went viral on social media. He got funds to complete the project and releasing it worldwide now. Here is our exclusive interview with Sai Rajesh (director Steven Shankar) -
Background:
I am basically from Nellore and am a huge fan of Chiranjeevi. I used to watch loads of movies and wanted to make my career in film industry. I used to visit discussion board of idlebrain.com and used to express my opinions on films. That's how I earned a lot of like-minded friends. I had networking with fans of various heroes across world. When I came to Hyderabad to search for career in film industry, I stayed with a few of the friends I made through idlebrain discussion board.
Never worked in direction department for a complete movie
I got to know VN Aditya and he was supposed to direct Mugguru. Just when I started work in pre-production of that film, VN Aditya decided to direct Tooniga Tooniga for MS Raju. After 1 and half years of work, VN Aditya came out of project and decided to direct Mugguru again. I didn't work for that movie and I joined VN Aditya again for his latest film 'Park'. I got the idea of Hrudaya Kaleyam after working there for a few days and came out to start it.
But I had opportunity to meet and work with MS Raju, Paruchuri brothers, Satyanand and Singeetham Srinivas during this period.
Inspiration for Hrudaya Kaleyam
I saw several serious videos of big heroes on youtube that give unintentional humor. These are pretty serious scenes in the film and people watch those videos to laugh their hearts out on youtube. I realised that people are looking for fun. I decided to make a film where hero is doing it seriously, but people get entertainment out of it. If I make such kind of film in a budget of 15 lacs, I am sure that I would make revenue from youtube and satellite rights.
When I was looking for such a hero, I found Sampoornesh Babu who came to Prasad labs to watch a short film. I found him to be perfectly suitable for the role of hero. I narrated him the concept and asked if he would like to act in it. He replied me by saying that even if he is asked to act wearing only underwear in a busy road, he would do it.
I started looking out for funds and gathered 10 lacs from friends and well-wishers. We went to tank bund in early morning and did a secret photo shoot, I have prepared a Sampoornesh Babu birthday special poster design for Hrudaya Kaleyam and credited myself as 'director: Steven Shankar' (by combining the name sof Steven Spielberg and Tamil Shankar). We have shared that poster in facebook and made it reach lot of people. SS Rajamouli happened to see it and tweeted very positively about it on May 9. His tweet has created a lot of buzz for the film. It went viral on social media.
Used Red Epic camera
I have started shooting movie in guerilla warfare style. We had a very little as budget. We can't afford shooting location charges and police permissions. We used shoot the film in places where we don't need to spend money. I have started with 5D camera and found it to be time-taking as we need to spend a lot of time to adjust lenses for right focus. The quality of 5D camera is also poor. Red Epic is twice effective though costs more. In an hour, I managed 10 shots on 5D camera and 22 shots on Red Epic. I changed the camera in midway. We used to shoot for double call-sheets (morning 7:30 to midnight 2am) on alternate days.
Maruthi invested and advised me to scale it up
That is when director Maruthi met me and said that I should scale it up with good production values in order to have a good theatrical experience. He has also invested in the film and asked me to shoot it in a budget of 50 lacs. By then I had invested 20 lacs and shot around 40% of the movie. With an increased budget and increased confidence, I reshot the 5D part of the film again using Red Epic camera. I shot the initial 40% of the film without heroine. I came to know about Kavya Kumar through mutual friends and signed her. By the time we finished the film, the budget shot up to 90 lacs.
Recovered the investment
I have sold all the areas including overseas. When it's a tough going to sell satellite rights to TV channels, MAA TV has picked up Hrudaya Kaleyam satellite rights. I am happy that we have recovered all the costs.
Genre:
The idea is to make a stupid film with a funny hero. That's why I titled with a weird name 'Hrudaya Kaleyam' and gave a tagline of 'a kidney with a heart'. If you notice, the Telugu translation of Kaleyam is liver, but gave it as kidney in the tagline just to tell the movie lovers how funny/stupid the film is going to be.
Contrary to what lot of people think, Hrudaya Kaleyam is not a spoof film. Hero does his work seriously, but the situation and orientation gives us entertainment. Sampoornesh is acting as a petty thief who robs parts in electronic shops. The main story is all about why this intelligent guy robs electronic shops.
What is going to be your next project?
Singeetham Srinivasa Rao used to say that percentage of failure is 90% for a routine film. But you will get appreciation if you make a different film irrespective of results. I made Hrudaya Kaleyam from a position of 'nothing to lose' and we managed to release it with profits.
If people like Hrudaya Kaleyam, I will try doing more crazy projects. Otherwise, I will go the regular commercial way.
However, I have a script ready for Sampoornesh Babu's 2nd project. It's called Kobbari Matta. Sampoo will do three roles of three generations - Paparayudu, Pedarayudu and Android.