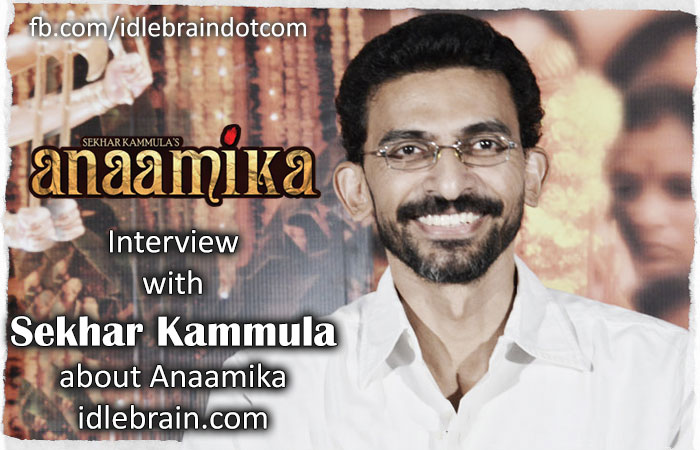 30 April 2014
Hyderabad

Sekhar Kammula who has made films of romance so far is making a thriller in the form of Anaamika which is an official remake of Bollywood blockbuster Kahaani. He is venturing into new territories with this movie. Anaamika is releasing worldwide on 1 May. Here are the excerpts of an exclusive interview -
How did Anamika happen and what's the reason for not making heroine character a pregnant one in Telugu version?
I got a call from a world's leading independent production company Endemol that they are interested in meeting me. Endemol is a Netherland based company that created reality show like Big Brother (Big Boss in India). They have met me and said that they have bought South Indian remake rights of Kahaani and they searched for profiles of current directors who made women centric films. I came up on their list and they wanted me to direct Kahaani. I hadn't watched Kahaani by then. I watched Kahaani and opined that it was a good thriller. But I wasn't motivated enough to direct the remake. That is when Nirbhaya incident happened. And I felt that if the heroine is shown as a normal and independent woman fighting for a cause, it will be more women-centric than a pregnant women fighting for a cause with the factor of sympathy.
That's when we roped in Yandamuri Veerendranadh. He has extensive knowledge on cinema media as he has worked for several blockbusters in the past. He knows editing length of the movie very well as he is an expert at writing highly-engaging novels. We made the heroine character vibrant by taking out pregnancy aspect and made the heroine look vibrant and independent. We have added another factor for Tamil version as Tamil girl lands in Hyderabad's old city to look for her husband. The lack of local language also added another spin to Tamil version.
There is an episodes of Nava Rathrulu in the film in which we conveyed and draw parallels to each of 9 moods of ammavaru to the heroine. We have just taken the basic concept of Kahani and treated it afresh. We didn't borrow the original script and wrote it afresh. I have just watched Kahaani once and made Anaamika with fresh orientation.
Reasons for the delay?
Both versions of this film is shot in just 68 working days. Hence whatever delay that happened is due to other factors. We didn't get combination dates properly. Since it's a bilingual we want to release both versions on same day. We didn't get a great date that suits both Telugu and Tamil states. 1st May is a nice release date in AP and Tamil Nadu.
Whats the budget of the film?
Both versions together cost us 12 crores and Viacom18 has bought the film and distributing it. We have erected Hyderabad old city set in Padma Rao Nagar (same location where set of Life is Beautiful is shot) in the art direction of Chinna by investing 70 lacs. We have also used Arri Alexa camera. This is probably the first Telugu film which entire film is shot using only Arri Alexa.
There are complaints about you that your 1st cut is elaborately long for all your films and in runs over 3 and half hours. Has it changed with Anaamika as it's a remake?
When I write characters I fall in love with them. I establish them properly, navigate with them and end with perfection. Hence, most of my 1st cuts are very lengthy. Since Anaamika is an adapted film and due to Yandamuri's exceptional storytelling sense, I made Anaamika with a runtime of 2 hour and 5 minutes.
What is your next film?
I will do the Hindi version of Happy Days. There are two types of college films in Hindi. One is Karan Johar type glossy campus film and other one is movies that bank on vulgarity in dialogues/visuals. I will make Happy Days with fresh orientation. Hindi version will have big Bollywood names associated with it in production.