15 October, 2009
My Movie - Mahatma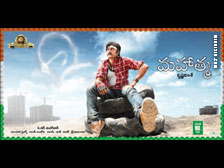 Time and again Krishna Vamsi proved himself as the director of immense talent, creativity and strong sense of social awareness. His previous movies like Gulabi, Sindhooram, Anthapuram and Khadgam stand as soaring illustrations for this. His recent offering, MAHATMA, proudly joins that list and reiterates his abilities.
I watched MAHATMA movie in New Jersey with a bunch of friends and family. As we have followed the previews, reviews and interviews on Idlebrain, we tuned ourselves not to expect a typical telugu potboiler with well-scripted comedy scenes interspersed with raunchy songs, heroic dialogues and good-wins-over-evil climax. To our amazement, Krishna Vamsi managed to include all those along with a strong message about Gandhism and current spate of issues around the name 'Gandhi'. Everyone in our group liked the movie.
In my recent memory, MAHATMA is one of the best mirrors of the current society we live in:
The atmosphere he created around Gandhi statue with hero Srikanth and support actors Uttej, Paruchuri Venkateswara rao and others depicts stark reality we see in any city, town or village in Andhra Pradesh with mandu babulu, pekata rayullu and other chitchatters using those 'centers' as their own property.
Interval scene where the hero, a normal 'veedhi rowdy', get's a lesson of his life about the reality in politics – heredity, nepotism, pitiable situation of fans and followers who continue serving generations of fathers, sons and grand sons and how their loyalty is mis-used by the politicians for their self interests.
Realization for hero – this is a high voltage scene with drunk hero slapping heroine, 'Indiramma inti peru kadhura Gandhi' song followed by intense scenes that make you cringe in your seats. Personally, I saw this as an opportunity to revisit the Gandhian principles we learnt as kids but never bothered to follow.
Unlike some social movies which point out problems and leave it there, this film tried to pass on the message that Gandhi principles and ideologies are still current and they can be successfully followed even in today's society.
Dialogues and satires on almost all existing political parties are hilarious and yet thought provoking. Only Loksatta is spared from ridicule.
It is a tight-rope walking to balance entertainment and message and Krishna Vamsi managed to walk that rope successfully. I feel proud to watch and encourage movies like MAHATAMA – a movie with nice story, gripping screenplay, sensible direction. It will remain a milestone in hero Srikath's career and of course as one more feather in the cap of creative genius Krishnavamsi. Kudos to MAHATMA team. Go watch it.
Forgot to mention about the song that comes in titles about Telugu pride. A BIG THANKS Sirivennela Sitarama Sastry garu and his unequivocal writing talent. This will be remembered for generations. I already started working with my 5 year old son and can't wait to see him sing the entire song very soon!
Kishore A.
Ardent Fan of Telugu Movies
floatsam73 at yahoo dot com
More My Movie experiences:
Baanam by Stanley
Josh by Nathan
Magadheera by Ashok
Magadheera by Wannabe Director
Magadheera by Shanti
Magadheera by Anitha
Magadheera by SS
Oy by Prathna
99 by Bala Thirumalasetty
Veedokkade by Srinivas
Delhi 6 by Vamsi
KIKK by Sweta
Luck by Chance by Srini
KIKK by Lalitha Spoorthi
Arundhati by Naveen
Arundhati by Srini
Arundhati by Bharat
Sasirekha Parinayam by Santhi Venkat
Sasirekha Parinayam by Vamshi Muthapu
Sasirekha Parinayam by Niharika Reddy
Nachavule by Vamsi Krishna
Neninthe by movie lover
Avakai Biryani by Vamsi Krishna
Kotha Bangaru Lokam by Vamsi Krishna
Kotha Bangaru Lokam by S
Ashta Chemma by Deepthi
Ashta Chemma by Lalitha Spoorthi
Sarkar Raj by Pradeep
Jalsa by Lalitha Spoorthi
Gamyam by Sridhar
Gamyam by Sreekanth D
Gamyam by Sanjay
Halla Bol by Purnesh
Taare Zameen Par by Ashok Varma
Taare Zameen Par by Raja Simha
Happy Days by Krishna Sastry
Chirutha by Phani Kumar
Chak De India by Ravi
Yamadonga by Lalitha
Chak De India by Shyam
AMAV by Darsakudu
5 in March by Sashidhar
Okkadunnadu by Anand
Black Friday by Ratnakar
Desamuduru by Krishna Prasad
Guru by It's opinion
Dhoom 2 by Lalitha Spoorthi
Dhoom 2 by ASK
Don - Syam
Boss - Anand
Boss - Hrithik
Stalin - Bala
Bommarillu - Nandini
Bommarillu - Darsakudu
Bommarillu - Vasu
Bommarillu - Harsha Prakash
Bommarillu - Lalitha Spoorthi
LRMB - Shravan
Bommarillu - Anirudh
LRMB - Srinivas
LRMB - Darsakudu
LRMB - S Sridhar
Bommarillu - Shridevi
Bommarillu - Vasudev
Bommarillu - Roopa
Sriram - Godavari
Sarath - Bangaram
Bala - Pokiri
Srinadh - Allari Pidugu
Sudheer Allari Pidugu
Anu - Athadu
Shyam Krishna - Iqbal
Purnesh - Grahanam
Sudhindra - Super
Vijay - Aparichitudu
Madhav - Aparichitudu
Hazaraon Kwaishein Aisi
Swades
Shyam - Black
Sai - Anand
Rohit - Anand & Veer Zaara
Jaya Prakash - 7GBC
Raj - Anand
Purnesh - Anand
Purnesh - The Village
Sriram - Gudumba Shankar
Purnesh - Gharshana
Purnesh - Lakshya
Purnesh - Yuva
Leenesh - Yuva
Kis - Lakshmi Narasimha
Indian Pride - Tagore
Raj - Boys
Phani - Gangotri
Phani - Khadgam
Vikram - CKR
BKR - Indra (Singapore)
Ram - Indra (Dubai)
Ranjeet - Idiot
Rahul - Indra
King Koduri - Indra
Srilakshmi Katragadda - Mitr: My Friend