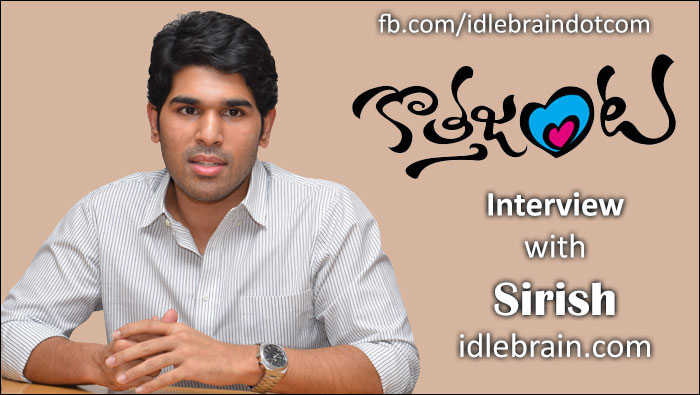 30 April 2014
Hyderabad

Allu Sirish has made his debut with a serious film Gowravam which didn't do well at box office. He has changed looks and orientation. His 2nd film Kotha Janta in Maruthi's direction is going to release on 1st May. Here are the excerpts of an exclusive interview -
What went wrong with your debut film Gowravam?
It was a dry film and didn't connect with common audiences. Few links in story were missing. Script was good, but lost in translation during the execution. But, I am not embarassed for doing that movie. I am very proud of doing Gowravam. It has touched few people very well and I got appreciated from unexpected quarters.
Tell us about Kotha Janta?
Maruthi is one of the new voices of Telugu film industry. I have seen all three films directed by him and liked them all. He knows the pulse of masses. Lot of new directors are heavily influenced by directors like Puri Jagan, Vinayak or Trivikram. But, Maruthi is original in that aspect. Kotha Janta is an entertainer and a content driven film. I am Maruthi's friend for 7 years and he know me and my body language well. He understands me as a person very well.
Kotha Janta is a fun film about workplace relationships and clash of attitudes between two self-centered and career-oriented individuals who are getting into a relationship. They work in a TV channel. We could have had the story happening in software industry, but software industry is overused in Telugu films. I am the producer and she is a director of a TV show in movie.
How different is acting in Gowravam compared to acting in Kotha Janta?
Gowravam was my first film and it was a bilingual. I had to do two continuous shots for two languages. It was more than what I can chew. I have become less camera conscious in Kotha Janta. I am less judgmental about myself in Kotha Janta.
Why did you cast and remove Sampoornesh Babu in Kotha Janta?
Maruthi has invested in Hrudaya Kaleyam and he is the director of Kotha Janta. Casting Sampoornesh Babu was a part of cross-promotion strategy by Maruthi. It was a 3-scene cameo. The director/producer opined that it's not needed after the completion of his part.
But, I have seen Hrudaya Kaaleyam and completely enjoyed it. I have whistled for Sampoornesh Babu in that film. I also have immense respect for the director Sai Rajesh. He has terrific observation. He had shot division and background music just the way it is done for big films (in a cliched way as it's a spoof).
You are selecting content driven films. What's your career strategy?
I want to do good looking films with good writing at present. Kotha Janta is such an example. You get these kinds of films in Bollywood and they make a lot of money.
Race Gurram made a big buck not only in India but also in USA. Did you expect it?
I saw the rough cut of the film a month before release and felt that it would do really well in India. But, overseas response is completely unexpected. This film has good entertainment and strong story line. I feel that Race Gurram has become such a phenomenal success because Allu Arjun is the hero. He has transformed from a dark horse to a huge crowd puller with Race Gurram. Race Gurram is going to be one among top 5 all time grossers in all territories. Allu Arjun has joined 50-crores club with Race Gurram. I feel that Allu Arjun's complete talent and potential is yet to be tapped. I have started liking his films from Desa Muduru and became a fan of him with Iddarammailatho.
What's contribution of Allu Arjun to your career?
Allu Arjun has okayed the story. He had creative collaboration with Kotha Janta. He will also be involved in story selection for my next few films.
Define Kotha Janta in one sentence?
Kotha Janta is a coming of age love story with undercurrent family elements.