Story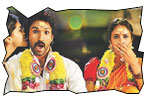 Malli (Adi Pinisetti) and Chitra (Lakshmi Manchu) are just married couple who are devastated with floods. As they float and fight for survival, they tell each other about their love-past. Malli is a hardworking fisherman whose goal in life is to own a fishing boat. But his ambition is disturbed by Sarala (Tapsee) the daughter of his boat owner. Chitra (Lakshmi Manchu) and Suri (Sundeep Kishan) are brought up together and they like each other. While Chitra loves Suri selflessly, Suri sets his eyes on winning cock fights (kodi pandaalu). The rest of the story is all about how Malli and Chitra survive during floods and how their bond becomes much stronger in a few hours after the marriage.
Artists Performance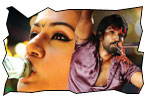 Adi Pinisetti is raw and fabulous with his spotless portrayal of a fisherman character. His experience in Tamil films has come in handy in portraying raw emotions and he has maintained rustic look throughout. Lakshmi Manchu is good a girl who is in an emotional turmoil. There will be a lot of sympathy to this character. Sundeep Kishan suited the role very well and his dialect is good. Tapsee is the eye candy of the film with sensuous look and lusty characterization. She looks really good in sarees. Ravi Babu has a brief and effective role. Jeeva, Annapurna and Pruthvi did well. Mumaith Khan has sizzled in an item song.
Technical department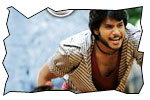 Story - screenplay - direction: This film is an adaptation of a few stories from the book written by BVS Rama Rao. The basic arch of the story is good and story of boy and girl are shown in the flashbacks. The flashback of Aadi – Tapsee is more entertaining as there is lusty love angle involved in it. The love story of Sundeep – Lakshmi is realistic. The emotions should have been more effectively done in the second half. The director has shown the ability to drive the narration effectively in the first half without using routine commercial elements. The director has done a lot of homework to bring in moments and lifestyle of 1980's in this movie.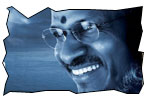 Other departments: Songs and background music by Ilayaraja forms the major strength of the movie. A film of this nature sans regular commercial elements need a big support from technical departments and Ilayaraja's background music helped in creating a feel. Cinematography by Palani is another asset. He has created a mood for flood scenes and night shots with his good cinematography. Dialogues are natural. Graphics work makes us relive the floods. Since it's a film set in backdrop of 1986 floods, extreme care has been taken. The costumes and hairstyle remind us of 80's. The posters used as backdrop are from popular 80's films (Agni Parvatham, Vetagadu, Goonda etc). Ilayaraja has used his popular tunes from 80's (Banthi Chemanthi…) as radio songs in few occasions in first half. Producer Lakshmi Manchu surely has a lot of guts to make a film like 'Gundello Godari' that defies regular format and tries something that is really new.
Analysis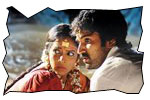 Gundello Godari is a love story that is set against the backdrop of 1986 floods of Godavari. It's a movie with raw emotions and realistic content. It's very easy to produce and market an eye-candy films with entertainment quotient. But Lakshmi Manchu has taken a brave decision of making a different movie without compromising on any aspect. Plus points of the film are casting, realistic approach, music and technical elements. On the flip side, the second half should have been more arresting. On a whole, Gundello Godari is a brave and sensible effort from Lakshmi Manchu.