11 February 2010
My Movie - Maya Bazaar (color)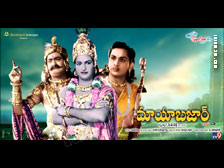 The original black and white version released in 1957 and I believe very few people in this generation must have seen that in theaters.
'God must have kept me alive just to watch this magic before I die', just few days before he passed away these were the words uttered by renowned character artiste Gummadi who acted as Balarama in this spectacular film Maya Bazaar. True to his words, this film truly is a land mark in the history of Telugu cinema. I have seen just bits and pieces of the original on television. I just thought I'll give it a try when I have seen the promos of the color version. But believe me irrespective of how old you are, this film is gonna entertain you to the fullest.
The movie is an adaptation of a small episode from the epic Mahabharata termed as Sasirekha Parinayam which showcases the marriage of Abhimanyu, the son of Arjuna, the third of the five Pandava brothers, played by Akkineni Nageswara rao, with Sasirekha the daughter of Balarama, the elder brother of Lord Sri Krishna, portrayed by mahanati Savithri at her best. This movie brings together a bunch of phenomenal artistes' and technicians at the beginning of their careers. Svr, Ntr, Anr, Savitri, Relangi, Ramana reddy, Allu, Nagabhushanam, Suryakantham, Gummadi and many others were among them.
A very special mention must be given to the Cinematographer Marcus Bartley who did wonders with his camera to such an extent that even the present generation would wonder how he would have created such a magic. He has excelled in scenes like the confrontation between Abhimanyu and Gatodhgacha, Sharma and Shastri episode during marriage, Gatodhgach eating the food prepared for the marriage etc. to name a few. The movie extends up to nearly 3 hours with six excellent melodious songs. You never would feel it was that long. The Lahiri lahiri lahiri lo song with three pair changes is fun to watch. Relangi as Lakshmana kumara was brilliant and evokes laughter every time he is seen on screen. For me the show stealer was Savithri in the post interval scenes where she had to act like Gatodhgacha( where Gatodhgacha enters the palace in the disguise of Sasirekha). She was excellent and unarguably at her best. I thought the best song also belongs to her in the form of Aha na pelli anta. This movie is a must watch for everybody. Don't miss it.
Rating * * * *
Reviewed by Gopal Amirisetti
More My Movie experiences:
Mahatma by Kishore
Baanam by Stanley
Josh by Nathan
Magadheera by Ashok
Magadheera by Wannabe Director
Magadheera by Shanti
Magadheera by Anitha
Magadheera by SS
Oy by Prathna
99 by Bala Thirumalasetty
Veedokkade by Srinivas
Delhi 6 by Vamsi
KIKK by Sweta
Luck by Chance by Srini
KIKK by Lalitha Spoorthi
Arundhati by Naveen
Arundhati by Srini
Arundhati by Bharat
Sasirekha Parinayam by Santhi Venkat
Sasirekha Parinayam by Vamshi Muthapu
Sasirekha Parinayam by Niharika Reddy
Nachavule by Vamsi Krishna
Neninthe by movie lover
Avakai Biryani by Vamsi Krishna
Kotha Bangaru Lokam by Vamsi Krishna
Kotha Bangaru Lokam by S
Ashta Chemma by Deepthi
Ashta Chemma by Lalitha Spoorthi
Sarkar Raj by Pradeep
Jalsa by Lalitha Spoorthi
Gamyam by Sridhar
Gamyam by Sreekanth D
Gamyam by Sanjay
Halla Bol by Purnesh
Taare Zameen Par by Ashok Varma
Taare Zameen Par by Raja Simha
Happy Days by Krishna Sastry
Chirutha by Phani Kumar
Chak De India by Ravi
Yamadonga by Lalitha
Chak De India by Shyam
AMAV by Darsakudu
5 in March by Sashidhar
Okkadunnadu by Anand
Black Friday by Ratnakar
Desamuduru by Krishna Prasad
Guru by It's opinion
Dhoom 2 by Lalitha Spoorthi
Dhoom 2 by ASK
Don - Syam
Boss - Anand
Boss - Hrithik
Stalin - Bala
Bommarillu - Nandini
Bommarillu - Darsakudu
Bommarillu - Vasu
Bommarillu - Harsha Prakash
Bommarillu - Lalitha Spoorthi
LRMB - Shravan
Bommarillu - Anirudh
LRMB - Srinivas
LRMB - Darsakudu
LRMB - S Sridhar
Bommarillu - Shridevi
Bommarillu - Vasudev
Bommarillu - Roopa
Sriram - Godavari
Sarath - Bangaram
Bala - Pokiri
Srinadh - Allari Pidugu
Sudheer Allari Pidugu
Anu - Athadu
Shyam Krishna - Iqbal
Purnesh - Grahanam
Sudhindra - Super
Vijay - Aparichitudu
Madhav - Aparichitudu
Hazaraon Kwaishein Aisi
Swades
Shyam - Black
Sai - Anand
Rohit - Anand & Veer Zaara
Jaya Prakash - 7GBC
Raj - Anand
Purnesh - Anand
Purnesh - The Village
Sriram - Gudumba Shankar
Purnesh - Gharshana
Purnesh - Lakshya
Purnesh - Yuva
Leenesh - Yuva
Kis - Lakshmi Narasimha
Indian Pride - Tagore
Raj - Boys
Phani - Gangotri
Phani - Khadgam
Vikram - CKR
BKR - Indra (Singapore)
Ram - Indra (Dubai)
Ranjeet - Idiot
Rahul - Indra
King Koduri - Indra
Srilakshmi Katragadda - Mitr: My Friend