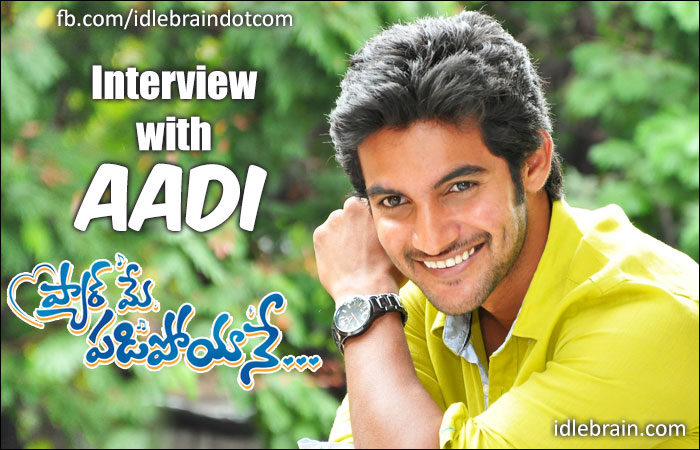 09 May 2014
Hyderabad

Aadi - son of Sai Kumar is slowing getting rid of his father's tag and trying to make a name for himself. His latest film Pyar Mein Padipoyane in the direction of Ravi Chavali is hitting screens on 10 May. Here are the excerpts of an exclusive interview -
What went wrong with your last film Sukumarudu?
I was excited with the script, but has gone wrong in execution. Greeku Veerudu which was released a week before too had the same central story idea. The screenplay was also little confusing.
Tell us about Pyaar Mein Padipoyane?
After Sukumarudu, lot of wellwishers advised me to explore love genre before deviating into other subjects. That's when Ravi Chavali narrated me this script. It's a cute subject based on a small point. It's narrated in entertaining and engaging way. First half is going to be hilarious with college backdrop. 2nd half too is entertaining with a novel climax.
PMP is a musical love story. I play the role of a music director who wants to do an album and Shanvi plays the role of a female playback singer. When I told about the roles of main leads, lots of people asked me if this story is based on Aashiqui 2. PMP has no relavance to Aashiqui 2. Two songs are duets and remaining songs are situational.
You have repeated Shanvi?
Shanti is a nice co-star to work with. Her films have done well. She acted in Chandralekha (Kannada version of Prema Katha Chithram) which is a super hit in Karnataka. People say that we make a good pair.
What is your next film?
I am currently acting in a film titled Gaalipatam. This film is produced by Sampath Nandi. Sampath has also given story, screenplay and dialogues. Naveen Gandhi is making his debut as director. This film is an entertainer with philosophical touch. 80% of shoot is complete. This film has a new plot with a bold climax. Sampath is attempt to induce bollywood flavor with this movie. Erica Fernandes and Kristina Akheeva (Russian model) are playing female leads.
Do you have good friends in film industry?
Sundeep Kishan is the only close friend for me in film industry. I know him for 8 years and we learnt acting together. I have a lot of friends outside film industry.
What do you do in spare time?
I read a lot of fiction books. I was a fan of Harry Potter when I was a kid and I used to eagerly await theatrical versions of Harry Potter after reading the books. I watch lot of films in my home theater. I spend spare time with my dog Scooby.