Story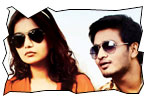 A small golden idol of Lord Ganesh is stolen from the secret chambers of Sri Padmanabhaswamy temple in Thiruvananthapuram. The market price of the idol is huge because of the antique value of the idol. Surya (Nikhil) is a sophisticated pickpocketer in Hyderabad and he a girl and a guy in his gang. Swati (Swati) is a journalist who just buys her favorite yellow vespa scooter. Durga (Ravi Babu) is a baddie and he wants to get hold of the idol by hook or crook. The rest of the story is all about how the stolen Ganesh idol intertwines the lives of these three people and others.
Artists Performance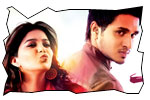 Nikhil has gone for a complete makeover. He looks sophisticated and yet suitable for the role of a pickpocketer. His changed his dialogue delivery and has given a controlled dialogue delivery. You will see a new Nikhil playing an author-backed character in this film. This is the best character for Nikhil after Happy Days film. Swati looks pretty good and she has performed naturally. She is a spontaneous girl who looks good even when she goes overboard. But, director has designed her character well and made her be just character-driven. Pooja Ramachandran (of Pizza fame) has done the role of hero's friend and she has done well. It's one of the best roles for Ravi Babu. He plays the role of a villain who has a slight comic side to him. Jeeva did the role of antiques expert. Nara Rohit gave voiceover for intro shot and climax shot. Hema lent her voice as mother of heroine.
Technical department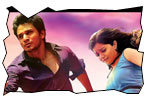 Story - screenplay - direction: It's a simple story of how the lead pair gets entangled in villain's quest for an antique Ganesh idol. What makes the director Sudheer Varma's work different is the screenplay and styling. He seems like an avid fan of Ram Gopal Varma, Quentin Tarantino and Guy Ritchie. Sudheer has an eye for detailing and logic. He has narrated the story nicely without having unnecessary fights and songs. I liked the way he opened the film in Quentin Tarantino style with Jogi Brothers and how this thread is connected to main story in the later part of the film. You can observe retro style music in the title cards (again Quentin Tarantino style). He has used good screenplay technique while introducing hero and heroine. The director's research has lot of depth and I liked the way he went into details in few scenes (like getting antiques tested by Jeeva), which we hardly see in Telugu cinema these days. The director's cinematic liberty is just restricted to a couple of scenes.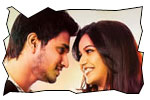 Other departments: Almost all the technicians are new. Hence you can find a breath of fresh air in this movie. All the songs scored by debutant Sunny MR for this movie are of class nature and good. Background music is excellent and helped the narrative. Among the songs, I liked 'Life Antey' song followed by 'Krishnudi Varasulantha' on screen. All songs are background songs and situational (no lip sync required by actors). Cinematography by debutant Richard Prasad is superb. He has terrific aesthetic sense and good framing techniques. Most of the shots are taken in slow-motion. Dialogues written by director are script driven and are apt for the situations. Editing by Karthik Srinivas is near perfect. There is no designated choreographer and action director for this film and are performed by the cast impromptu. Production design is good. The producer Chakri Chigurupati has blindly trusted the director. Otherwise, this kind of film doesn't come out.
Analysis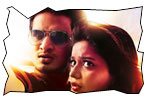 The director has given tribute to great crime comedy directors like Ram Gopal Varma, Quentin Tarantino and Guy Ritchie with this film. Director Sudheer Varma came out with fresh film despite having so many influences. Swamy Rara is a perfect example for pure story telling using 24 crafts of filmmaking and for using actors just to play characters. Each and every character is important and makes an impact. We have seen umpteen number of Telugu filmmakers making debuts and wanting to make movies like Ram Gopal Varma post 1990. But nobody came close to RGV in making crime comedies like Chandra Sekhar Yeleti. After Chandra Sekhar Yeleti, I feel that Sudheer Varma came close to deliver RGV kind of crime comedy (Kshanakshanam and Anaganaga Oka Roju). On a whole, Swamy Rara is a class crime comedy. And you may watch it!!!
Tail piece: Internet, youtube and bit torrent offer unlimited opportunities to learners. But it depends on how much the learner extracts information from internet, process it and use it to his film. I liked the honesty in director Sudheer Varma for adding 'bit torrent' as a media partner for the movie. 'Bit Torrent' tribute also gels well with the theme of movie (stealing that is).