23 February 2010
Leader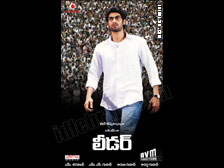 I watched Leader movie in Virginia on Saturday. I was apprehensive about the audience turnout given the fact that the movie was not accorded high ratings by websites but was surprised to see a good attendance at the theatre. This is attributable to the reputation Sekhar Kammula enjoys amongst the NRI Telugu movie lovers.
Sekhar Kammula, who has so far directed romantic and heroine oriented movies, traverses to a totally different genre on this occasion. The film starts off on a promising note with a good screenplay in the first half.
While Sekhar navigates well into political genre in the first half, he misses the bus in his area of expertise – portrayal of subtle love and romance. The character of Priya Anand is confusing. It does not make sense if she is in love with the hero or is trying to be a collaborator in his endeavors. Also, one cannot help but notice the director's valiant attempt towards a commercial director image when you see an item song in his film by Udaya Bhanu. Barring these minor inconsistencies, Sekhar sets a good rhythm for post intermission.
The tempo goes down in the second half. For majority of the second half, the hero character appears vulnerable trying to save his CM post and thereby the people's fund. By infusing a love thread in the second half, the director dilutes the main story further. Even this love thread begins from the hero's stand-point with intent to betray and use the relation for a political mileage making him guilt conscious. Aggressiveness is reinstated in hero's character after the episode with the old man who loses his daughter and the hero making up his mind to resign the CM post.
The title justification sequences beginning with the hero resigning from the CM post, starting afresh, meeting and inspiring people across all sections and winning elections are shown in the legendary "Maa Telugu Talliki" song sequence (mellifluously rendered by Late Tanguturi Surya Kumari garu). Perhaps, this episode should have become the driving force for the second half.
Rana makes a confident debut in this movie. He acted authoritatively in the scenes involving him as the CM but looked a bit uncomfortable in romantic and emotional scenes. In all his previous movies, Sekhar etched well defined characters for his leading ladies but not this time around. Others chipped in with good performances.
I was slightly disappointed with Mickey J Meyer's re-recording and background scores. The background scores seemed repetitive and reminded me of AR Rahman's background scores (from Guru) and some tune patterns from Godavari film. Mickey is a highly talented musician with a penchant for melody and I hope he comes up with more refreshing tunes and background scores going forward.
Overall, Leader is not one of Sekhar's best movies; but we need to appreciate his efforts of trying something different from his regular movies and pursuing his passion of making movies.
Sreekanth Devarakonda
[email protected]
More My Movie experiences:
Maya Bazar by Gopal
Mahatma by Kishore
Baanam by Stanley
Josh by Nathan
Magadheera by Ashok
Magadheera by Wannabe Director
Magadheera by Shanti
Magadheera by Anitha
Magadheera by SS
Oy by Prathna
99 by Bala Thirumalasetty
Veedokkade by Srinivas
Delhi 6 by Vamsi
KIKK by Sweta
Luck by Chance by Srini
KIKK by Lalitha Spoorthi
Arundhati by Naveen
Arundhati by Srini
Arundhati by Bharat
Sasirekha Parinayam by Santhi Venkat
Sasirekha Parinayam by Vamshi Muthapu
Sasirekha Parinayam by Niharika Reddy
Nachavule by Vamsi Krishna
Neninthe by movie lover
Avakai Biryani by Vamsi Krishna
Kotha Bangaru Lokam by Vamsi Krishna
Kotha Bangaru Lokam by S
Ashta Chemma by Deepthi
Ashta Chemma by Lalitha Spoorthi
Sarkar Raj by Pradeep
Jalsa by Lalitha Spoorthi
Gamyam by Sridhar
Gamyam by Sreekanth D
Gamyam by Sanjay
Halla Bol by Purnesh
Taare Zameen Par by Ashok Varma
Taare Zameen Par by Raja Simha
Happy Days by Krishna Sastry
Chirutha by Phani Kumar
Chak De India by Ravi
Yamadonga by Lalitha
Chak De India by Shyam
AMAV by Darsakudu
5 in March by Sashidhar
Okkadunnadu by Anand
Black Friday by Ratnakar
Desamuduru by Krishna Prasad
Guru by It's opinion
Dhoom 2 by Lalitha Spoorthi
Dhoom 2 by ASK
Don - Syam
Boss - Anand
Boss - Hrithik
Stalin - Bala
Bommarillu - Nandini
Bommarillu - Darsakudu
Bommarillu - Vasu
Bommarillu - Harsha Prakash
Bommarillu - Lalitha Spoorthi
LRMB - Shravan
Bommarillu - Anirudh
LRMB - Srinivas
LRMB - Darsakudu
LRMB - S Sridhar
Bommarillu - Shridevi
Bommarillu - Vasudev
Bommarillu - Roopa
Sriram - Godavari
Sarath - Bangaram
Bala - Pokiri
Srinadh - Allari Pidugu
Sudheer Allari Pidugu
Anu - Athadu
Shyam Krishna - Iqbal
Purnesh - Grahanam
Sudhindra - Super
Vijay - Aparichitudu
Madhav - Aparichitudu
Hazaraon Kwaishein Aisi
Swades
Shyam - Black
Sai - Anand
Rohit - Anand & Veer Zaara
Jaya Prakash - 7GBC
Raj - Anand
Purnesh - Anand
Purnesh - The Village
Sriram - Gudumba Shankar
Purnesh - Gharshana
Purnesh - Lakshya
Purnesh - Yuva
Leenesh - Yuva
Kis - Lakshmi Narasimha
Indian Pride - Tagore
Raj - Boys
Phani - Gangotri
Phani - Khadgam
Vikram - CKR
BKR - Indra (Singapore)
Ram - Indra (Dubai)
Ranjeet - Idiot
Rahul - Indra
King Koduri - Indra
Srilakshmi Katragadda - Mitr: My Friend