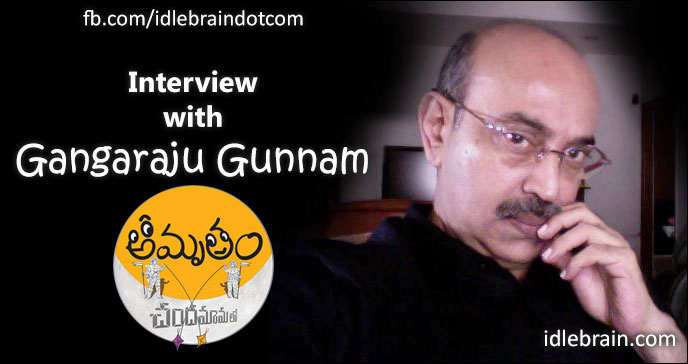 15 May 2014
Hyderabad
Gangaraju Gunnam's name is associated with creativity and humor. He has made Little Soldiers involving booby traps and it was released much before Hollywood film Home Alone which is synonymous with booby traps. Later, he produced two entertaining and different thrillers Aithe and Anukokunda Oka Roju. His last directorial film Amma Cheppindi didn't do well at BO, but has got critical acclaim. Now, Gangaraju Gunnam is converting his small screen brand into big screen with a humor film set in space backdrop - Amrutham Chandamamalo. Here is an exclusive interview about 17 May release Amrutham Chandamamalo -
Tell us about the phenomenal success of Amrutham tv serial?
We had 100 hours of content divided into 312 episodes. This serial had 11 first time directors including Chandra Sekhar Yeleti. We ran Amrutham for 6 years. We have stopped Amrutham serial by choice when it was at its peak. The reason for that being we have exhausted of ideas.
We had dearth of story writers for Amrutham. Most of the content is written by me and Vasu (Sarvam in Amrutham). At that time writers used to be paid 5k per episode. I gave a full page advertisement in Swathi weekly with a promise of paying 25k per episode for new writers. But we didn't get any satisfactory response. I have burnt out as a writer for Amrutham serial and stopped it.
The craze of Amrutham is continued in youtube now. It has garnered around 21 million views so far and we do get 7 lac views a month at an average. After a few months, we had an idea of starting a sequel series called 'Amrutham - Adwiteeyam (dwiteeyam means second). We tried, but decided against it as it will downgrade the brand value of Amrutham.
Amrutham is a TV serial where content is free and people can watch it at their leisure at home. Amrutham Chandamamalo movie is a paid content where people travel to theaters by paying money and devoting time exclusively for the content on screen? What is your take on capitalizing small screen brand on the big screen?
Amrutham Chandamamalo is a highly ambitious film. This film is set in the backdrop of moon. I made this film with a foolish ambition. Amrutham Chandamamalo is the most expensive non-starrer film made with a budget of Rs. 7 crore. This film will cost 11 crores if any other producer has done it because we managed to save a lot on graphics work due to a highly lucrative deal cut with out vfx company. There is 60 minutes of graphics in the film and it took 8 months for our vfx company to do it. The moon part of the film will consist of 30% of total film's footage.
We have shot the film on Red Epic camera that has 5k resolution. Rasool is our cinematographer and the visual quality of the film is going to be impeccable and of high standards.
The narrative style makes a lot of difference to movies with different concepts. What narrative style did you follow for Amrutham Chandamamalo?
We have used back-and-forth narration style. And we also used snakes and ladders game to compare the fortunes and misfortunes of Amrutham and Anji characters in the movie. It's a rollercoaster ride.
Tell us about main leads of Amrutham Chandamamalo?
We decided to cast young people for movie version. Srinivas Avasarala was an easy choice for the character of Amrutham. He is very good and interpreted the character differently. His humor timing and dialogue delivery are excellent. Harish is going to be surprise package. I saw his youtube video and selected him. He is perfect for the character of Anji.
Your last directorial/production film was released in 2006. How important is Amrutham Chandamamalo for your career as filmmaker?
Amrutham Chandamamalo is my final gamble. It has to be a big hit for me to continue as filmmaker. I have stopped doing TV serials as it has become uneconomical now. We have shut 2 dubbing suites and 3 editing suites. I am releasing Amrutham Chandamamalo on my own.
I am a reluctant producer. I am producing this movie as I have no choice. Worst kind of curse is to become a producer. If Amrutham Chandamamalo becomes a hit, I will continue the franchise of Amrutham on big screen. I may do a Hindi version of it as well. If things go wrong, I will remain as writer.
You have always made quality films and different films. How did you they pay commercially?
I incurred a loss of Rs 50 lacs for my first movie Little Soldiers. That film was made with a budget of 1 crore and six lacs. We have recovered 50 lacs as advances. We made negligible profits for Aithe film. Anukokunda Oka Roju was made with a budget of 2.9 crores and we incurred a loss of 90 lacs for that movie.
What do you think will work commercially well for the movie?
Amrutham Chandamamalo is targeted at kids. Summer release is very good for any movie because its a holiday season for kids. A recent survey indicated that there are 2 crore studying children who are 15 years old and below in AP. Even if you succeed in getting 15% of them watch your film, you will make good money.
We have so many hugely popular americal TV sitcoms. But, we have only one such sitcom in Telugu (Amrutham). Whats the reason?
If you looks at any popular sitcom in USA, you have at least 50% of its content adult humor. Adult humor is ruled out in Indian sitcoms. Hence it's very difficult to make a clean yet entertaining sitcom in India. I am happy that we have achieved it with Amrutham. The money you make in American sitcoms is huge. Larry David has earned hundreds of millions with his TV show Seinfeld.