1 March 2010
My Movie – Ye Maya Chesave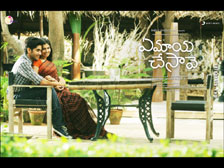 Ye Maya Chesave is a refreshing & sweet love story with not too many characters but only Karthik & Jesse, akka Naga Chaitanya and Samantha. I watch lot of Hollywood movies which are romantic in genre and always wondered when will a Indian director make a full length romance movie purely dealing with emotions not in a filmy way but realistic. And the answer to my question was Ye Maya Chesave. The subtle treatment to the movie for some might look boring but Gawtam V Menon has honestly made a full length movie focusing only on love and the emotions that every one might have experienced at some point of time in their life. One needs to commend everyone who were behind the conceptualization of such a movie and bring it to reality; especially making it in Telugu was a big risk! I don't want to comment on Telugu audience tastes, as everyone is entitled to difference of opinions.
I watched this movie in Massachusetts, USA, yesterday with very few audience probably 70+ and by interval I could see the reactions from the audience face that they like this movie but were not able to admit it because this is not a regular telugu movie where you have a big introduction scene for hero with a song and hundred dancers around, there was no separate comedy track where the audience can have a heart full laugh, there is no big stunt sequences where the bad guys fly in all directions but all the movie can offer them is tender love story and rekindle their senses and take them to their yester years and remind them of their first love!
Love at first sight and a few scenes later Karthik tells Jesse that he loves her, this scene plays out so naturally and the girl foolishly joking with him and he makes his point which doesn't look like he planned to say it, but, it just comes out so naturally.
Beautiful scenes like when Jesse wants to talk to Karthik in private, she walks past him and communicates her message with a subtle moment of eyes, this shot was pure director's brilliance and actress ability to carry out the shot without over doing it.
The central park, NY scene where they meet after 3years and clear their misunderstandings and Karthik after proposing to marry him reiterating the fact that this moment if lost, they might never have it again, will certainly bring memories of lost opportunities for many.
As told by Jeevi garu, it's a film portraying the straight forward nature of man and complex nature of woman. But Jeevi garu it could be the vise-versa in some other cases. Jeevi garu I agree with your rating of 4/5 for the brave effort of people involved in making the movie, though this movie I am afraid is not going to be a trendsetter of any sought, it is still a different love story (which is also the tagline for the movie). But if Idle brain needs to please all kind of audience visiting the website for ratings then Jeevi garu you need to come up with something like this. Instead of rating it for 5, rate it for 10 with each point for the following departments: Story, Screenplay, Direction, Performance, Action- Stunts, Comedy Track, Music, Lyrics, Cinematography (foreign locales) & last but not least Choreography (item songs if any additional points)……over all I was just kidding about these rankings and I truly appreciate your sincere effort to promote a different film, just continue what your heart says Jeevi Garu! I have been following Idle brain for 9yrs now.
Sujith Kumar
indiansujith at gmail dot com
More My Movie experiences:
Inkosaari by Ganesh
Leader by Sreekanth D
Maya Bazar by Gopal
Mahatma by Kishore
Baanam by Stanley
Josh by Nathan
Magadheera by Ashok
Magadheera by Wannabe Director
Magadheera by Shanti
Magadheera by Anitha
Magadheera by SS
Oy by Prathna
99 by Bala Thirumalasetty
Veedokkade by Srinivas
Delhi 6 by Vamsi
KIKK by Sweta
Luck by Chance by Srini
KIKK by Lalitha Spoorthi
Arundhati by Naveen
Arundhati by Srini
Arundhati by Bharat
Sasirekha Parinayam by Santhi Venkat
Sasirekha Parinayam by Vamshi Muthapu
Sasirekha Parinayam by Niharika Reddy
Nachavule by Vamsi Krishna
Neninthe by movie lover
Avakai Biryani by Vamsi Krishna
Kotha Bangaru Lokam by Vamsi Krishna
Kotha Bangaru Lokam by S
Ashta Chemma by Deepthi
Ashta Chemma by Lalitha Spoorthi
Sarkar Raj by Pradeep
Jalsa by Lalitha Spoorthi
Gamyam by Sridhar
Gamyam by Sreekanth D
Gamyam by Sanjay
Halla Bol by Purnesh
Taare Zameen Par by Ashok Varma
Taare Zameen Par by Raja Simha
Happy Days by Krishna Sastry
Chirutha by Phani Kumar
Chak De India by Ravi
Yamadonga by Lalitha
Chak De India by Shyam
AMAV by Darsakudu
5 in March by Sashidhar
Okkadunnadu by Anand
Black Friday by Ratnakar
Desamuduru by Krishna Prasad
Guru by It's opinion
Dhoom 2 by Lalitha Spoorthi
Dhoom 2 by ASK
Don - Syam
Boss - Anand
Boss - Hrithik
Stalin - Bala
Bommarillu - Nandini
Bommarillu - Darsakudu
Bommarillu - Vasu
Bommarillu - Harsha Prakash
Bommarillu - Lalitha Spoorthi
LRMB - Shravan
Bommarillu - Anirudh
LRMB - Srinivas
LRMB - Darsakudu
LRMB - S Sridhar
Bommarillu - Shridevi
Bommarillu - Vasudev
Bommarillu - Roopa
Sriram - Godavari
Sarath - Bangaram
Bala - Pokiri
Srinadh - Allari Pidugu
Sudheer Allari Pidugu
Anu - Athadu
Shyam Krishna - Iqbal
Purnesh - Grahanam
Sudhindra - Super
Vijay - Aparichitudu
Madhav - Aparichitudu
Hazaraon Kwaishein Aisi
Swades
Shyam - Black
Sai - Anand
Rohit - Anand & Veer Zaara
Jaya Prakash - 7GBC
Raj - Anand
Purnesh - Anand
Purnesh - The Village
Sriram - Gudumba Shankar
Purnesh - Gharshana
Purnesh - Lakshya
Purnesh - Yuva
Leenesh - Yuva
Kis - Lakshmi Narasimha
Indian Pride - Tagore
Raj - Boys
Phani - Gangotri
Phani - Khadgam
Vikram - CKR
BKR - Indra (Singapore)
Ram - Indra (Dubai)
Ranjeet - Idiot
Rahul - Indra
King Koduri - Indra
Srilakshmi Katragadda - Mitr: My Friend