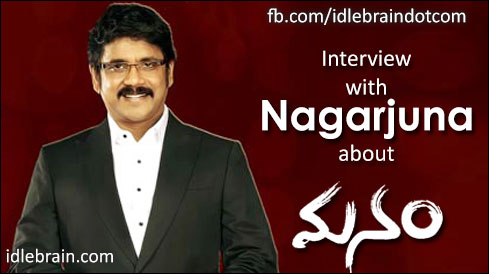 22 May 2014
Hyderabad
Manam is very close to the heart of Nagarjuna as it's ANR's last movie and it features three generations of Akkinenis. Manam directed by Vikram is all set to have a sensational release on 23 May. Here are the excerpts of an interview with Nagarjuna -
Tell us about the making of Manam?
My dad loved the work of Naga Chaitanya in 100% Love film and opined that it's the right time for a movie where three generations of Akkinenis acting together. He has also suggested us to speed it up. If I look back at it, doctors have told that the tumor has started 2 and half years back when ANR suggested that we should make a movie with 3 generations. I think there is some connection to it.
I started listening to the stories and most of them were routine and unexciting. That's when my friend Sudhakar Reddy (father of Nitin and producer/distributor) called me and told me about director Vikram who had a right story for us. At that time, Ishq was not released. I listened to the story and suggested Vikram that I didn't want to risk it. I told him that I would wait till Ishq is released. But I happened to see Ishq before release and signed him as a director for Manam.
He has asked for a time of 1 year to work on script. The premise of the film is very complicated. When we narrated it to K Raghavendra Rao, he has opined that we should simplify the premise. Three writers worked on dialogues and screenplay. Harshavardhan (of Gunde Jaari Gallanthayyinde fame) has major hand in writing. Vikram has simplified the story/premise. I asked Vikram to narrate the story in real time and it came out to be 2 hours and 20 minutes. I loved it. He gave narration of 6 hours to ANR as ANR loves detailing. ANR suggested that the humor between grandfather and grandson is a part of Telugu culture. Vikram has incorporate good humor between ANR and Naga Chaitanya in the movie.
Our next challenge was to get the right cinematographer as the film involves a story spanning over a century starting from 1920 to 2014. I wanted PC Sreeram, but he was busy. We have signed a nationally reputed cinematographer PS Vinod. The clock tower place in the story plays a major role. We have to show the same tower across a century. Magic happens over there. It requires terrific cinematography and art direction.
I have asked director Vikram to come up with the gist of the movie. Here is the beautiful SMS i have received from him.
"Manam is a sign that things have changed

. And our sorrows, for joy have been exchanged. 

Night and day, morning and evening

. A movement of souls, united in feeling

. Manam – Cosmic balance, rearranged" .
To simplify it, I would like to say that Manam is a beautiful and youthful love story that involves rebirth (cosmic balance) as well. There is importance to certain place, date and time in this movie.
Who will get more screen time in the movie?
Regarding screen time, ANR's character enters movie just before interval and stays till end. I will get the maximum screen time in the movie compared to ANR and Naga Chaitanya.
Tell us about Amitabh Bachchan's scene in Manam?
There is an Amitabh Bachchan's scene in the movie. I felt that his presence in movie will please ANR as ANR used to admire Amitabh Bachchan. When I requested him to act in a scene, he felt that it's an honour. It's like a tribute.
Reason for stating Akkineni Family as producers?
It's because of the lesson we learnt from ANR while making Manam movie. For all our future productions, the producers will be credited as Akkineni Family.
Tell us about premieres?
We are going to organize premieres of Manam on the night of 22 May in five screens of Prasads multiplex. 22 holds a special place in ANR's journey. Many important things happened to his life on 22nd. We want to invite elder fans of ANR to the premieres. The demand is so high that I am unable to squeeze 10 passes to my friends.
Tell us about MEK (Meelo Evaru Koteeswarudu) show? Did you obtain any tips from Amitabh Bachchan?
It's a wonderful opportunity for me. The first season will consist of 45 episodes. When informed about the same, Amitabh Bachchan said, "Do it Nag. It will change your life."