1 March 2010
My Movie – Ye Maya Chesave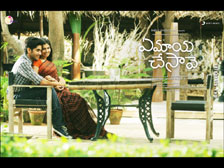 I was lucky enough to watch "Ye Maya Chesave" in Big Cinemas, Edison, NJ today. After I got back to my room I logged on to idlebrain.com to check the gallery and wallpapers of this movie to catch another glimpse of photography that I have seen in the movie. I was blown away by the cinematography of this beautiful flick. This movie experience brought an aura of romance like a cool breeze air on a summer evening. So simple yet so magical.
The tenderness in the scene where Karthik Kisses Jessie in train (that brief breath taking romance imaged on the screen), the rawness in the scene where Karthik signals Jessie by flapping gate interlock, the beauteousness in the scenes where Krishnudu and Karthik's search for Jessie in Kerala are shot are very few instances to credit the artistry and narrative brilliance of Gowtam Menon's direction. Watching this movie is as good as reading any love story novel. The director takes us into the journey of love. The rudimentary feelings and reactions of Karthik and Jessie are turned into life size paintings on the canvas of a 70mm screen. Now imagine ARR adding his melodious tunes to their colorful love. Can't ask for anything more beautifu in cinema, right?
A simple story like this demands careful handling of the lead characterizations and I felt it was done flawlessly. Their personations were depicted as subtle as in real life. Take a bow - Gowtam Menon. Marvellous work. All praise to him and his skillful team. Special accolades to Cinematography and Dialogue department. Telugu movie library has got another classic now. Its not a regular pre interval, post interval drama that we see usually. A pleasant watch right from the begin to end with less or no glitches (few scenes in second half were not so well twined into the script).
"vinna.. vevela veenala santhoshala sankeerthanalu
na gundello ippude vintunna
tholisari nee matallo pulakintha"
Whoever might have written those splendid lyrics need special appreciation. All the songs in movie bring more depth and more sensibility to the story narration. Hosanna with english rap, Vintunnava with lovely female voice, Aaromale with guitar string sounds are my favorites. Nonetheless every song is of top quality. You know the genius behind this work right? ARR :)
My special appreciation for Nag Chaitanya and Samantha for performing the characters of Karthik and Jessie to perfection. They have brought originality and freshness to this movie and made it look more authentic.
There are not too many movies which you go to watch with your own set of expectations but come out with a fresh breath of air longing to see it once again. Go watch this movie. If you were ever in love, I am pretty sure that it will fill your heart with all that warmth once again. Happy watching folks! Thanks to Jeevi for letting me to share this.
Praveen Veeramaneni
praveenottama at gmail dot com
More My Movie experiences:
YMC by Rajani
YMC by Sujith
Inkosaari by Ganesh
Leader by Sreekanth D
Maya Bazar by Gopal
Mahatma by Kishore
Baanam by Stanley
Josh by Nathan
Magadheera by Ashok
Magadheera by Wannabe Director
Magadheera by Shanti
Magadheera by Anitha
Magadheera by SS
Oy by Prathna
99 by Bala Thirumalasetty
Veedokkade by Srinivas
Delhi 6 by Vamsi
KIKK by Sweta
Luck by Chance by Srini
KIKK by Lalitha Spoorthi
Arundhati by Naveen
Arundhati by Srini
Arundhati by Bharat
Sasirekha Parinayam by Santhi Venkat
Sasirekha Parinayam by Vamshi Muthapu
Sasirekha Parinayam by Niharika Reddy
Nachavule by Vamsi Krishna
Neninthe by movie lover
Avakai Biryani by Vamsi Krishna
Kotha Bangaru Lokam by Vamsi Krishna
Kotha Bangaru Lokam by S
Ashta Chemma by Deepthi
Ashta Chemma by Lalitha Spoorthi
Sarkar Raj by Pradeep
Jalsa by Lalitha Spoorthi
Gamyam by Sridhar
Gamyam by Sreekanth D
Gamyam by Sanjay
Halla Bol by Purnesh
Taare Zameen Par by Ashok Varma
Taare Zameen Par by Raja Simha
Happy Days by Krishna Sastry
Chirutha by Phani Kumar
Chak De India by Ravi
Yamadonga by Lalitha
Chak De India by Shyam
AMAV by Darsakudu
5 in March by Sashidhar
Okkadunnadu by Anand
Black Friday by Ratnakar
Desamuduru by Krishna Prasad
Guru by It's opinion
Dhoom 2 by Lalitha Spoorthi
Dhoom 2 by ASK
Don - Syam
Boss - Anand
Boss - Hrithik
Stalin - Bala
Bommarillu - Nandini
Bommarillu - Darsakudu
Bommarillu - Vasu
Bommarillu - Harsha Prakash
Bommarillu - Lalitha Spoorthi
LRMB - Shravan
Bommarillu - Anirudh
LRMB - Srinivas
LRMB - Darsakudu
LRMB - S Sridhar
Bommarillu - Shridevi
Bommarillu - Vasudev
Bommarillu - Roopa
Sriram - Godavari
Sarath - Bangaram
Bala - Pokiri
Srinadh - Allari Pidugu
Sudheer Allari Pidugu
Anu - Athadu
Shyam Krishna - Iqbal
Purnesh - Grahanam
Sudhindra - Super
Vijay - Aparichitudu
Madhav - Aparichitudu
Hazaraon Kwaishein Aisi
Swades
Shyam - Black
Sai - Anand
Rohit - Anand & Veer Zaara
Jaya Prakash - 7GBC
Raj - Anand
Purnesh - Anand
Purnesh - The Village
Sriram - Gudumba Shankar
Purnesh - Gharshana
Purnesh - Lakshya
Purnesh - Yuva
Leenesh - Yuva
Kis - Lakshmi Narasimha
Indian Pride - Tagore
Raj - Boys
Phani - Gangotri
Phani - Khadgam
Vikram - CKR
BKR - Indra (Singapore)
Ram - Indra (Dubai)
Ranjeet - Idiot
Rahul - Indra
King Koduri - Indra
Srilakshmi Katragadda - Mitr: My Friend