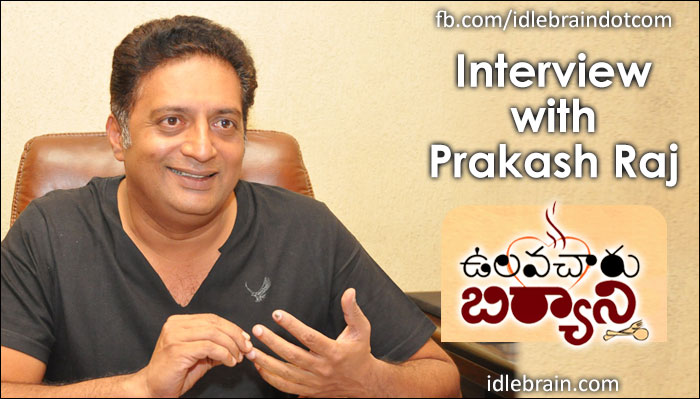 5 June 2014
Hyderabad
Prakash Raj is a man of passion. He keeps his passion and conviction ahead of material benefits. His talent is so overwhelming that he came out unscathed whenever there was a controversy about him. Every producer/director/actor want him. But he is the one who selects films. His latest directorial/production venture Ulavacharu Biryani (a trilingual) is releasing on 6 June. Here are the excerpts of an exclusive interview -
My 3rd directorial venture!
My first directorial venture was Kannada version of Aakasamantha. Aakasamantha deals with the delicate relationship of a father and a daughter. My second directorial venture is Dhoni which targets educational system and how parents are suffered in the process. My 3rd directorial venture is Ulavacharu Biryani which is inspired by the Malayalam film Salt n Pepper.
My love for languages and food made me handle this trilingual authoritatively
I am a huge linguist and I love learning languages. I know the nuances and slangs of many languages. I am an ardent foodie. Since this film speaks about love and food, I thought I am the right man to direct. My understanding of Telugu, Tamil and Kannada helped me in casting the right people and directing the trilingual. For example, an emotion has three different poetic expression in three languages. Since I know three languages well, I could extract the right material from technicians and writers. I have also used local metaphors effectively.
Concept of Ulavacharu Biryani
This film has got two love stories - a mature love story and a young love story. I play the role of an archeologist and Sneha plays the role of a dubbing artist. Sneha is a smiling princess with a hidden pain in the movie. The young pair of the film is enacted by Tejas and Samyuktha. Brahmaji plays the vital role of the chef. MS Narayana, Urvashi and Aishwarya play other important roles.
Same prime actors for three language
Though it's a trilingual, the principal cast is same. My instincts in selecting new actors are very good. I am introducing Tejas with this movie and I am sure he will succeed. Urvasi dubbed herself in three languages.
Telugu movies lovers accept me as long as my character is convincing enough
I played the role of villain who is after Trisha in Okkadu film. The same audiences accepted me playing the role of Trisha's father in Akasamantha. I played the role of villain in Anthahpuram who says nasty words to Soundarya. I played the role of father to same Soundarya in Premaku Velayara. I am fortunate enough to have such open-minded audiences who accept well-enacted roles.
Ilayaraja took movie to the next level
Maestro's contribution to Ulavacharu Biryani is excellent. He took the movie to next level. There is a song 'ee janmame' rendered by Kailash Kher. There is Qwwali music to it which is general used for love. Khailash Kher rendered it with love as if food is the lover.
Different film doesn't mean that it's a non-commercial film
There is a lot of misconception that different film is a non-commercial film. The latest example is Manam where the story is different and worked wonders at box office. My taste is such that I treat the book Amrutham Kurisina Rathri written by Bala Gangadhar Tilak as my favorite cinema.
Wanted a lot of women technicians around in my film
If there are women technicians in the film, it leads to orderliness and discipline. That's why I wanted lot of women technicians. Preetha (niece of PC Sreeram) is the cinematographer. My wife Pony is the co-director and choreographer.
Wonderful experience of meeting Steven Spielberg
I had the wonderful experience of meeting Steven Spielberg at a meet organized by Ambani. When Neeta Ambani introduced me as a comedian from Singham film, I saw some pain in the eyes of Steven Spielberg. He later told me that he knew about me. He saw my film Kanjeevaram at Green Carpet section of Toronto Film Festival. There is a child in him and his eyes possess the feeling of wonder all the time.