Story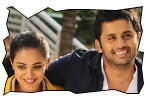 Karthik (Nithin) works in a software company. He falls in love at first sight with a girl Sruthi (Isha Talwar) who attends his friend's wedding. He gets hold of the phone number of the girl and while noting it down he makes a mistake. And he ends up calling another girl (Nitya Menen). Meanwhile Sruthi falls in love with Karthik's colleague Madhu (Madhunandan). The rest of the story is all about comedy of errors and how Karthik finds about his true love.
Artists Performance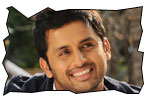 Actors: Compared to Ishq, Nithin has an opportunity to give an all-round performance in this film. Nithin comes up with very good performance where the actor should entertain the crowds a lot. He looks good even with a slight beard towards the climax episode. Nitya Menen is very natural and is capable of making any scene work with her performance. However, she should take care of make-up in few scenes. Isha Talwar looks good, but not flexible with her acting and body language. Madhunandan did a comedy character as the 4th person in the quadrangular love story. Ali did an entertaining full length role as hero's friend. Josh Ravi's gay comedy is good.
Technical department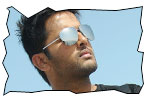 Story - screenplay - direction: Director Vijay Kumar Konda impresses by executing a tricky script without any confusion. Screenplay written by Harsha Vardhan helped this film a lot. First half of the the film deals with the comedy of errors and the second half deals with an interesting plot set-up by the heroine character. It's easy to lose the steam while handling this kind of plots by the first-time directors. Backed-up by competitive writing of Harsha Vardhan, director pulls off this tricky film with limited characters and repetitive scenes in an effective way. The second half's tempo goes down a bit, but nobody complains because it's engaging enough. However, he falls prey to the age-old technique of showing the other guy as dumb so that hero can make a bakra out of him. You can see too many references to Pawan kalyan and Kushi film. Director Vijay has good grip on direction and entertainment. He will go big in future.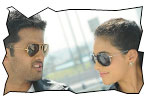 Other departments: Anoop Rubens seamless and entertaining background music helps the narration. Songs are not impressive on audio, but good when you see them on screen. I Andrew seems to have been given instructions to have Kushi and Ishq kind of look for this film. Most of the visuals in the film look vibrant with pleasing colors. Actor Harsha Vardhan (Amrutham) has finally found the right film to prove his other angle (writing). Writing of the film is good. Production values of the film are good and Nikhita Reddy (sister of Nitin) seems to have brought lady-luck to Nitin by producing this movie.
Analysis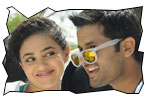 Gunde Jaari Gallanthayyinde is a simple film that runs of effective screenplay and entertainment. Nitin is a transformed thinker now. You can observe it by the way he selected subjects (Ishq and GJG) for his home banner. He is selecting the scripts that suit him and slowly increasing his range. This film has one-man entertainment by Nitin in the most convincing way. The Ishq brand value and entertainment orientation will get good openings for the film. On a whole, Gunde Jaari Gallanthayyinde is a romantic comedy with ample entertainment. You may watch it!!