1 March 2010
My Movie – Ye Maya Chesave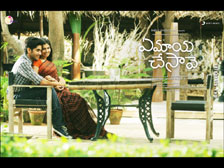 Before I start, I just want to make it clear that this movie is not for everyone. This is neither for those who want to have fun in a theater nor for those who are expecting an entertaining love story and not even for those who are expecting a classic like Geethanjali.
I don't know why the comparisons with Geethanjali are being made. Both are ages apart. Yes both are different movies for their eras but Geethanjali was an emotional movie that moves you while YMC is a stunningly feel good movie that brings together all the sweet nothings, altercations, simple conversations and conflicts between companions who want to live together forever. A boy proposes and he sticks to his stand while girl loves him but is confused to decide.
All YMC has is conversations. It might not even be an exaggeration to say that this movie had more dialog than two movies combined. And to top it , all the dialogs are simple and very very effective. Gautham Menon's brilliance is depicted to the full extent in the movie. He made the right choice by taking Rahman for the first time for this movie.
Naga Chaitanya just like his first movie does not disappoint except for his dances. But in this movie he got more meatier role as in he is the one who occupies 99.9999% of the footage. He proved that he is a great actor who can emote well like in Josh college speech and also show subtle expressions like in this movie. His role is so simple, a boy next door and a lover who can do anything for his love interest. He is a treat to watch and you can only experience it. You only see Karthik and not Chaitu.
Samantha is brilliant. She is gorgeous, talented and hot as love interest of Chaitu. She looks like that dream of any 22 year old which would make you do anything for her. I don't think any director will ever be able to show her that beautiful again. Sameera of Surya S/O Krishnan was just the trailer. Gautham's taking and Rahman's music made her look like a poetry. Her role was of a girl next door again but a confused one just like any girl torn between parents and love. There might not be reasons for her behavior sometimes but it just depicts her frustration over that conflict in her own mind regarding parents and love.
Apart from the hero and heroine , Krishnudu of Vinayakudu got more footage than anyone else. He lived up to the role which though got third lengthiest role in the movie , is only for 10 - 15 mins in total. Rest all are good as per the script. There are few cameos which just enhance the feel in the movie.
I again stress that movie is completely occupied by Chaitu and Samantha and they are brilliant. Movie is not about a journey of lovers, it is about their conversations in their journey. There is minute detail of everything involved. This tends to become slower in pace in second half and it feels as if it wants to remain in the pain of broken heart so that when the pain goes away you enjoy the victory as much as the protagonists. Climax is very satisfying and brings smile on your face. Again movie ends with more conversations between hero and heroine. I still don't understand how no one ever attempted these many dialogs in any love stories before. My signing off note is that this is the most romantic a movie can get on Indian screen. Watch it with a fresh mind you will love it.
Rohit
rohitposina at gmail dot com
More My Movie experiences:
Inkosaari by Avanthi
Inkosaari by Sneha
YMC by Praveen
YMC by Rajani
YMC by Sujith
Inkosaari by Ganesh
Leader by Sreekanth D
Maya Bazar by Gopal
Mahatma by Kishore
Baanam by Stanley
Josh by Nathan
Magadheera by Ashok
Magadheera by Wannabe Director
Magadheera by Shanti
Magadheera by Anitha
Magadheera by SS
Oy by Prathna
99 by Bala Thirumalasetty
Veedokkade by Srinivas
Delhi 6 by Vamsi
KIKK by Sweta
Luck by Chance by Srini
KIKK by Lalitha Spoorthi
Arundhati by Naveen
Arundhati by Srini
Arundhati by Bharat
Sasirekha Parinayam by Santhi Venkat
Sasirekha Parinayam by Vamshi Muthapu
Sasirekha Parinayam by Niharika Reddy
Nachavule by Vamsi Krishna
Neninthe by movie lover
Avakai Biryani by Vamsi Krishna
Kotha Bangaru Lokam by Vamsi Krishna
Kotha Bangaru Lokam by S
Ashta Chemma by Deepthi
Ashta Chemma by Lalitha Spoorthi
Sarkar Raj by Pradeep
Jalsa by Lalitha Spoorthi
Gamyam by Sridhar
Gamyam by Sreekanth D
Gamyam by Sanjay
Halla Bol by Purnesh
Taare Zameen Par by Ashok Varma
Taare Zameen Par by Raja Simha
Happy Days by Krishna Sastry
Chirutha by Phani Kumar
Chak De India by Ravi
Yamadonga by Lalitha
Chak De India by Shyam
AMAV by Darsakudu
5 in March by Sashidhar
Okkadunnadu by Anand
Black Friday by Ratnakar
Desamuduru by Krishna Prasad
Guru by It's opinion
Dhoom 2 by Lalitha Spoorthi
Dhoom 2 by ASK
Don - Syam
Boss - Anand
Boss - Hrithik
Stalin - Bala
Bommarillu - Nandini
Bommarillu - Darsakudu
Bommarillu - Vasu
Bommarillu - Harsha Prakash
Bommarillu - Lalitha Spoorthi
LRMB - Shravan
Bommarillu - Anirudh
LRMB - Srinivas
LRMB - Darsakudu
LRMB - S Sridhar
Bommarillu - Shridevi
Bommarillu - Vasudev
Bommarillu - Roopa
Sriram - Godavari
Sarath - Bangaram
Bala - Pokiri
Srinadh - Allari Pidugu
Sudheer Allari Pidugu
Anu - Athadu
Shyam Krishna - Iqbal
Purnesh - Grahanam
Sudhindra - Super
Vijay - Aparichitudu
Madhav - Aparichitudu
Hazaraon Kwaishein Aisi
Swades
Shyam - Black
Sai - Anand
Rohit - Anand & Veer Zaara
Jaya Prakash - 7GBC
Raj - Anand
Purnesh - Anand
Purnesh - The Village
Sriram - Gudumba Shankar
Purnesh - Gharshana
Purnesh - Lakshya
Purnesh - Yuva
Leenesh - Yuva
Kis - Lakshmi Narasimha
Indian Pride - Tagore
Raj - Boys
Phani - Gangotri
Phani - Khadgam
Vikram - CKR
BKR - Indra (Singapore)
Ram - Indra (Dubai)
Ranjeet - Idiot
Rahul - Indra
King Koduri - Indra
Srilakshmi Katragadda - Mitr: My Friend