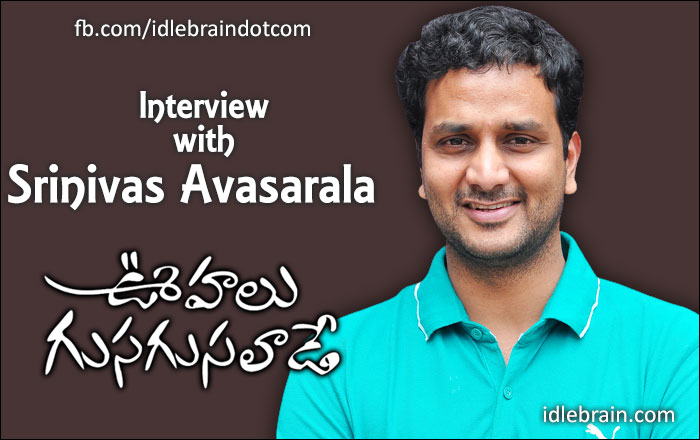 19 June 2014
Hyderabad
Actor Srinivas Avasarala - a passionate NRI who made debut as actor with Ashta Chemma is making his debut as director with Oohalu Gusa Gusalade. A publicity shy Srinivas talks about OGG which is set for worldwide release on 20 June 2014 -
You have made your acting debut with Ashta Chemma in 2008 and now you are making direction debut with Oohalu Gusa Gusalade. How was the journey?
I went back to USA after doing my Ashta Chemma debut. Since then I had been acting. In Telugu film industry, the more you act the more films you get. I love acting and audiences have accepted me as an actor. But i dont want to keep working to get more work. I have prepared a script. Music director Kalyann Koduri (Kalyani Malik) has introduced me to the producer Sai Korrapati. Sai has given me the directorial debut opportunity once he is convinced with the story.
What is the OGG all about?
Cyrano de Bergerac is French playwright whose work is known to be an inspirations for many romantic comedies across the world. I have used his work as inspiration and we had the backdrop of TV channel for the story. The conflict is from the play, background is TV and resolution is mine. It's about how a boy and girl who knew each other meet after a gap of 5 years.
Had you been to film school and how helpful has it been?
Yes. I have initially learnt screenwriting from UCLA. Then I joined a course in acting in The Lee Strasberg Theatre and Film Institute, NY. After joining that institute, I started knowing more about acting and my admiration for actors grew multifold. I can say that my film school experience has definitely helped me more.
Screenwriting courses tell you about 3-acts. And it's not followed in Telugu films?
Yes. That's because of the interval bang. Producer asks for the interval bang first when we go to narrate the story. OGG is not a 3 act structured film. However, Bollywood classics like Munnabhai MBBS and Lagaan are based on 3-acts structure.
Tell us about the casting of the film?
I was selected through the casting call of Ashta Chemma in idlebrain.com. Hence we decided to run the casting call of OGG in idlebrain.com for new actors. I have received over 3000 applications. I liked the photos of Sourya the moment I saw them. Then I asked him to come up with a demo reel. We liked the demo reel as well. Then I asked him to enact a few scenes I had written for OGG. He was the perfect choice. I like Rashi Khanna in Madras Cafe film, but was hesitant to approach as she might not be interested in Telugu films. Luckily we got her and she did a nice job.
Tell us about your role in the movie?
There is an interesting role of TV channel head. I wanted to play it, but Sai Korrapati wanted me to put my full concentration on direction. We have managed to finish our first schedule in time/budget and with good quality. After watching the rushes, Sai has given me a go-ahead to act in the film. There are no evil roles in the film.
Tell us about Kalyann Koduri music?
He is the one who got me the direction of opportunity. But I wanted his music because I feel that he is perfect for OGG. There are no duet in the film. All songs are situational and drive the story. He is a music director who doesn't disturb mood and pace of the film with his songs.
Dialogues play a big role in romantic comedies. did you pen them?
Yes. But I made sure that they are not forced. Humor in the form of dialogues is generated out of the characters.
Tell us about the final product?
I am very happy with the final output. OGG's runtime is 2 hours and 10 minutes. It has obtained a clean U certificate. We shot the entire film in 47 days with limited budget.
Producer Sai Korrapati is spending a lot on promoting the film?
i am very lucky to get such a producer. He is a kind of guy who encourages us to spend more. When I wanted to shoot a rain song, he wanted us to go to Munnar. I had to convince him to shoot in Vizag. He is the best producer any director can ask for.
As a wannabe director who got first chance after 6 years, what is your advice to other guys who want to become directors?
Lot of people want to narrate the story without having a proper script. There is a huge dearth of stories. It's better to have a script before narrating a story to prospective producer.
What are your future films as actor?
I am currently doing Gopichand's in UV creations banner and Bandipotu. As a director I have signed a contract for another film with producer Sai Korrapati.