Story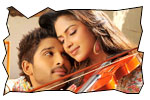 Sanju (Allu Arjun) is a guitarist who operates a band in Barcelona. Komali (Amala Paul) goes to Barcelona to learn more about violin in an university. Akanksha (Catherina Tresa) is the daughter of a central minister. She comes to Barcelona for studies. Akanksha gets hold of a diary in which she reads the love story between Sanju and Komali. In the process, she gets interested in Sanju and falls in love with him as he seems to be single. The rest of the story is all about what happened to Komali.
Artists Performance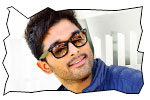 Allu Arjun: Allu Arjun has come up with fantastic looks and intense expressions for this movie. He has got nice mass mannerism which he has used it to full extent. The interval fight in which he gives an expression that he is going to kill everybody is really good. He comes up with mass as well as sophisticated steps. The steps in Top Lechipoddi are of top-notch. Mega fans will have a moment to cherish as Allu Arjun dances for Gang Leader title song. There are reference dialogues of Chiranjeevi and Pawan Kalyan.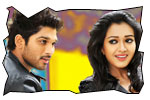 Others: Amapa Paul is adorable as a traditional Brahmin girl. Catherine Tresa looks very glamorous and dances pretty well. With a bit of fine-tuning she can become big in Telugu films. Brahmanandam has done the role of music teacher in a foreign university. He entertains in the first half. However, the separate comedy track of Brahmanandam and Ali reminds us of 90's routine comedy tracks. Shawar Ali is okay as the main villain. Subbaraju has done the role of a villain brother and it's a typical role for him. Tanikella Bhrani, Rao Ramesh, Nassar, Pragati, Priya, Tulasi etc did the roles of parents of main leads. Srinivas Reddy is wasted in a dialogue-less role.
Technical department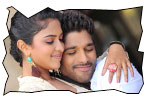 Story - screenplay - direction: Iddarammayilatho is a revenge based story with romance as the base. Director Puri Jagan has used a back and forth narration technique in the first half to narrate the love story using a diary. He has a twist towards to climax to make the story more interesting. Puri Jagan is known for characterization and dialogues. He made sure that these two aspects are dealt well. However, the real conflict point of the film is revealed towards the climax. The conflict point should be revealed at the beginning of the film for audiences to travel emphatically with the character. Only few directors have the ability of mix action sequence with an underlying strong emotion. Puri Jagan has incorporated such an emotional fight during interval, which is the highlight of the movie.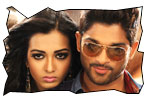 Other departments: This film is technically very good. Music by Devi Sri Prasad is superb. The background score too is good. Cinematography by Amol Rathod is very good. Ample credit should be given to the art director Brahma Kadali and the team for selecting nice locations in Spain. Puri Jagan's male-attitude dialogues are always enjoyable and there are several such dialogues. Action choreography by Bangkok-based stunt director Kecha deserves special mention. All the action sequences are sleekly shot. The interval fight is the best. Editing by SR Sekhar is good. Producer Ganesh Bandla spent a lot on the film as it's shot in Spain for 35 days and in Thailand for few more days.
Analysis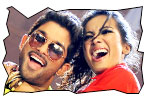 First half of the film is entertaining. The beginning of second half meanders due to lack of story (all time-pass scenes like Brahmanandam-Ali are inserted). Movie has an interesting twist towards the climax. Plus points are Allu Arjun, Iddarammayilu (Amala Paul & Catherin), Puri's dialogues and technical aspects. On the flipside, emotions didn't work. A screenplay with direct hero/villain conflict established to audiences at the beginning would have made the movie more interesting. On a whole, Iddarammailatho is a slick flick with romance and action thrown in. We need to wait and see how audiences embrace the movie.