4 March 2010
My Movie – Ye Maya Chesave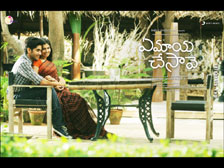 To be honest I cannot write a honest review for this movie coz it blew me away. This is a modern montage unlike the montage songs we get to see set in 16th century with hero wearing a hat and heroine in a chariot. This is like Geetanjali in color mode.
This movie reaffirms the fact you do not require a great story for a good movie. Gowtham menon offers the audience an love story which we were used to see in dubbing reels with age old dubbing artists doing the job for the likes of Aravind Swamy and Madhavan.
The movie starts with the marriage scene of Jessie played by Samantha. From then the director presents a beautiful visual tale of hero-love-at-first-sight-propose-sorry-letsbefriends-love-parents-opposition.
Story is simple. It is about a aspiring director who is in madly in love with Jessie, a Kerala Christian whose parents are class-we-hate-movies. Then starts a passionate love story between the love pair. The movie follows the traditional love story told since ages but Gowtham menon backed the movie with slick visuals, crisp editing. His taking is exemplary.
AR Rehman is awesome. His background score is fresh and especially his background music in scenes involving angry Jessi with a rock touch is innovative.
In actors Samantha is picture perfect and delivers a splendid performance. Krishnudu invokes laughter. Naga Chaitanya delivers a honest performance. He has surely lived upto his father's legacy. The role had more closeups and full conversations which involved a intense performance and he made sure that Gowtham's vision was intact.
Special mention to Cinematography for stunning visuals. The dubbing done for heroine sets the mood and suits heroine well.
Watch it for the characterizations, technical brilliance, direction and I am sure that this would remind you of your dream of having a conversation with your dream girl and explaining why you love her so much and giving her a hug only to realise that she has accepted your love. Go buy a ticket and this is surely a 1st Class-AC Ticket for the audience who got accustomed to General Compartment love stories.
PS:I would have loved it more if the usage of English in this movie is minimal. Some dialogues like "I want to make love with you all the time" will go unnoticed by rural population. Since makers had a campaign saying Love is for all groups they should have taken care of this aspect.
Survi
impavansurvi at gmail dot com
More My Movie experiences:
YMC by Rajeev
YMC by Pavan
YMC by Rohit
Inkosaari by Avanthi
Inkosaari by Sneha
YMC by Praveen
YMC by Rajani
YMC by Sujith
Inkosaari by Ganesh
Leader by Sreekanth D
Maya Bazar by Gopal
Mahatma by Kishore
Baanam by Stanley
Josh by Nathan
Magadheera by Ashok
Magadheera by Wannabe Director
Magadheera by Shanti
Magadheera by Anitha
Magadheera by SS
Oy by Prathna
99 by Bala Thirumalasetty
Veedokkade by Srinivas
Delhi 6 by Vamsi
KIKK by Sweta
Luck by Chance by Srini
KIKK by Lalitha Spoorthi
Arundhati by Naveen
Arundhati by Srini
Arundhati by Bharat
Sasirekha Parinayam by Santhi Venkat
Sasirekha Parinayam by Vamshi Muthapu
Sasirekha Parinayam by Niharika Reddy
Nachavule by Vamsi Krishna
Neninthe by movie lover
Avakai Biryani by Vamsi Krishna
Kotha Bangaru Lokam by Vamsi Krishna
Kotha Bangaru Lokam by S
Ashta Chemma by Deepthi
Ashta Chemma by Lalitha Spoorthi
Sarkar Raj by Pradeep
Jalsa by Lalitha Spoorthi
Gamyam by Sridhar
Gamyam by Sreekanth D
Gamyam by Sanjay
Halla Bol by Purnesh
Taare Zameen Par by Ashok Varma
Taare Zameen Par by Raja Simha
Happy Days by Krishna Sastry
Chirutha by Phani Kumar
Chak De India by Ravi
Yamadonga by Lalitha
Chak De India by Shyam
AMAV by Darsakudu
5 in March by Sashidhar
Okkadunnadu by Anand
Black Friday by Ratnakar
Desamuduru by Krishna Prasad
Guru by It's opinion
Dhoom 2 by Lalitha Spoorthi
Dhoom 2 by ASK
Don - Syam
Boss - Anand
Boss - Hrithik
Stalin - Bala
Bommarillu - Nandini
Bommarillu - Darsakudu
Bommarillu - Vasu
Bommarillu - Harsha Prakash
Bommarillu - Lalitha Spoorthi
LRMB - Shravan
Bommarillu - Anirudh
LRMB - Srinivas
LRMB - Darsakudu
LRMB - S Sridhar
Bommarillu - Shridevi
Bommarillu - Vasudev
Bommarillu - Roopa
Sriram - Godavari
Sarath - Bangaram
Bala - Pokiri
Srinadh - Allari Pidugu
Sudheer Allari Pidugu
Anu - Athadu
Shyam Krishna - Iqbal
Purnesh - Grahanam
Sudhindra - Super
Vijay - Aparichitudu
Madhav - Aparichitudu
Hazaraon Kwaishein Aisi
Swades
Shyam - Black
Sai - Anand
Rohit - Anand & Veer Zaara
Jaya Prakash - 7GBC
Raj - Anand
Purnesh - Anand
Purnesh - The Village
Sriram - Gudumba Shankar
Purnesh - Gharshana
Purnesh - Lakshya
Purnesh - Yuva
Leenesh - Yuva
Kis - Lakshmi Narasimha
Indian Pride - Tagore
Raj - Boys
Phani - Gangotri
Phani - Khadgam
Vikram - CKR
BKR - Indra (Singapore)
Ram - Indra (Dubai)
Ranjeet - Idiot
Rahul - Indra
King Koduri - Indra
Srilakshmi Katragadda - Mitr: My Friend