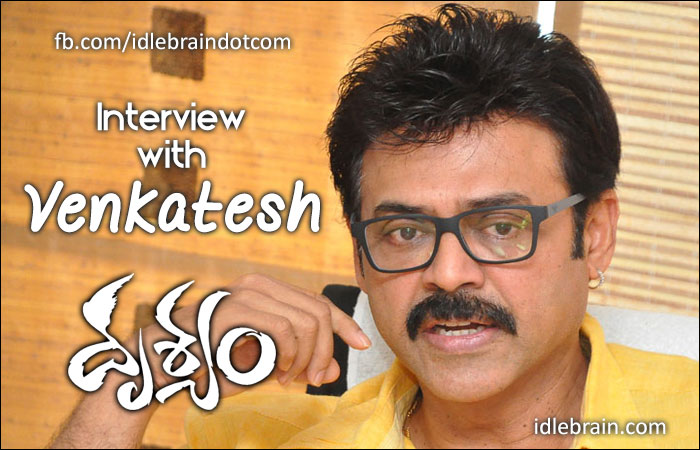 19 July 2014
Hyderabad
Venkatesh has always been known as a family hero. He has zeal to do different films. Drushyam is a film that suited his strength and catered to the zeal in him. Drushyam has generated super hit talk on day one. The success of Drushyam has reiterated the fact that if films are made well, they will be successful irrespective of genre. Here is the transcript of idlebrain.com's exclusive telephonic interview with Venkatesh -
Tell us about tYou have been telling in interviews about doing a content-based film in limited budget. Is Dhushyam your first shot at it?
Yes. This film has a commercial point and an outstanding screenplay. This film is a viable project and I am very lucky to get it. I was in the right frame of mind and decided not to tamper with the script for the sake of routine commercial elements. This success shows that we can come up with different yet viable scripts.
There is a saying that the film works on two aspects - 1. Script and 2. Casting. Casting you has helped the film a lot because of your family-hero image?
I should thank God as audiences have encouraged me and given me the image of a family-hero. I felt very happy when people who saw the original unanimously felt that I should do the Telugu remake. Both Mohan Lal and Kamal Haasan felt that I am the best person to play this role of Rambabu in Telugu. It gave me a lot of confidence and decided to do the role of a common man. I went by my gut reaction. It was genuine and we didn't go for any calculations. The conflict point is universal and emotions are common.
A script of Drushyam type should not be tampered with while doing a remake. We can tamper with story while doing formula-driven films. But for a content-driven films, we should stick to the original as emotions are universal.
You are a part of two different yet commercial blockbusters - SVSC and Drushyam. How do you feel about it?
Acceptance is they key. The audiences accepted me in natural roles in both these films. After SVSC, they started calling me 'peddoda' and after Drushyam they are referring me as Rambabu. Audiences saw the character, not the hero in these two films. The success of SVSC and Drushyam gave us confidence to do more such content-oriented films.
You don't need comedy/humor to engage audiences
The second half of the film offers edge-of-seat entertainment to audiences. The suspense coupled with sympathy for the family worked very well together for this movie. The movie lovers traveled with Rambabu character and rooted for him. Success of films like Drushyam encourages us to go full throttle on selecting different subjects in different genres.
The scene with Nadiya in the end gave a nice closure and elevated the character of hero?
Yes. Without that closure, the story would have been incomplete. Hero character becomes gray without a proper closure. Everybody involved in that scene has given balanced and subtle performance.
Getting messages with 'August 2' in it
I have been getting messages with 'August 2' in them as everybody who watched the film were doctored with that date.
Content based films need word of mouth
The trailer released for Drushyam is of low key. A content based film will become hit due to word of mouth and good reviews. I am happy that media supported us a lot for this film.
I loved the funny English you spoke in Masala film. It's appreciated more by educated people than the masses for whom it is intended for?
Yes. It's difficult to speak butler english when you know good english. I started speaking butler english in my real conversations while preparing for the character in Masala movie. It was intended to entertain masses, but it ended up being appreciated by the educated movie lovers.
Tell us about future films?
I am currently doing Gopala Gopala. I am looking forward for content based films. My writers are working on such scripts now.
Tell us about Pawan Kalyan in Gopala Gopala?
I wanted to do multi-starrer with Pawan Kalyan around 10 years back. But we didn't get the right script. We were looking for a prominent actor to play God character in Telugu remake of Oh My God. Pawan Kalyan really liked that character and agreed to play Lord Krishna though the screentime is limited to 20-25 minutes. Gopala Gopala will not only be liked by families, but also by youth.