Story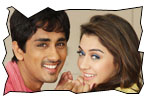 Kumar (Siddharth) is a shy guy who works in a software company. He falls in love with his colleague Sanjana (Hansika Motwani). But she is close with the most handsome hunk of the company (Ganesh Venkatraman). Kumar seeks the advice of Love Guru Premji (Brahmanandam). The rest of the story is all about how Premji teaches the tricks and in turn faces trouble from an unexpected quarter.
Artists Performance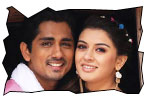 Actors: Siddharth is good in the role of a timid guy who wants to make a beautiful girl fall for him. Hansika Motwani looks fresh and beautiful. Brahmanandam does a full-fledged role and brings life to the scenes he is in. There are a couple of twists to his story which makes his character different from regular comedy characters he does these days. Ganesh Venkatraman is perfect. Samantha and Rana did a cameo in the movie. Most of the other cast include Tamil actors.
Technical departments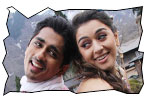 Story - screenplay - direction: Something Something is a romantic comedy with funny scenarios thrown in. Basic story idea has similarities to that of Basu Chatarjee's classic Hindi film 'Chhoti Si Baat' (1975). Director C Sundar does well in comedy department. This movie runs on an interesting screenplay. The twists in second half help in sustaining interest. He has also shown a bit of creativity in few scenes (credit card, imagining Samantha and Brahmhanandam traveling through flashback in a bike). However, some of the scenes that doesn't involve Brahmanandam doesn't connect with audiences because of Tamil actors and Tamil nativity.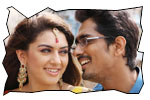 Other departments: Music by C Sathya is average and the film with kind of story line doesn't support duets. Cinematography by Gopi Amarnath is okay. Dialogues are good. Editing by Praveen KL and NB Sreekanth is neat. We expect better dubbing/production quality for a film starring big hero like Siddharth.



Analysis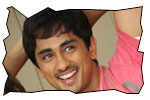 Something Something is a romantic comedy that features Brahmanandam in a full length character. It is one of those films in which the character suits Siddharth very well. The scenes and thread featuring Brahmanandam is the lifeline of the movie. It would have been more entertaining if this film is made as a straight film with all Telugu faces. On a whole, Something Something works because of Brahmanandam.