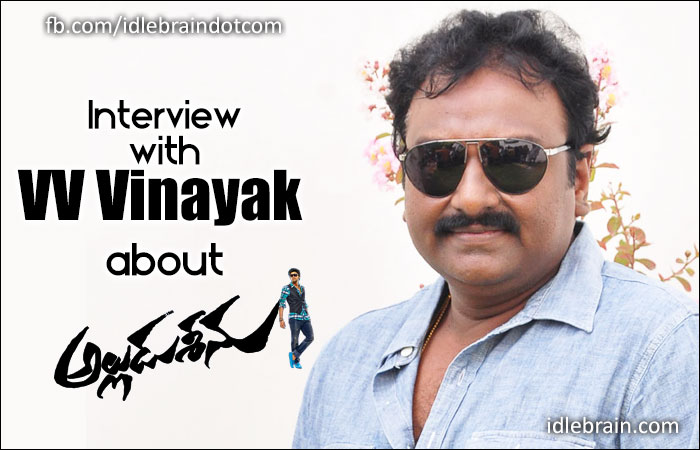 25 July 2014
Hyderabad
VV Vinayak is one of the most successful directors of Telugu cinema who has delivered huge hits with big stars. His humble nature coupled with ability to get hold of mass pulse made him what he is today. After working with several big stars, he is launching Sai Srinivas (son of Bellamkonda Suresh) as hero with Alludu Seenu. Here is idlebrain.com exclusive interview about making of VV Vinayak -
Background:
Chagallu (West Godavari) is my hometown. My father owns a cinema hall 'Veera Venkata Vinayaka Talkies' (named after me). He started with one theater and went on buying 6 theaters in the towns around. The movie exhibition business was good till satellite TV arrived. Film used to be the primary source of entertainment for people. The moment TV became a household item, the number of people who come to theaters went down drastically.
EVV Satyanarayana's hometown Dommeru is our neighboring village. I wanted to join films, but my father didn't want me to. On my persistence, He made me meet EVV during the shooting time of Abbayi Garu. I went to Chennai and started scouting for work. Director Sagar used to stay in the same street I stayed in. I joined his direction department for a film titled 'Sagara Sanchalanam'. That film was stalled and was never released. Then I worked for Sagar's Amma Donga film with Krishna as hero. It was a good hit. Later on I worked for many films of Sagar. I also worked with Kranthi Kumar for 9 Nelalu and Paadutha Teeyaga. I worked with SV Krishna Reddy for Sakutumba Saparivara Sametanga.
During that time, Bellamkonda Suresh was planning to produce a film titled 'Varma Garu Bewarse Gaadu' in the direction of Kuchipudi Venkat. I joined the team to work as a co-director. But, It didn't take off. During that time, Bellamkonda Suresh has given me an advance of 10,000/- rupees and promised to make me a director. Then I narrated a story to Nallamalupu Bujji who was acting as executive produced for a film titled Cheppalani Vundi. Bujji was excited. Then we went to Swiss for shooting of songs. During that time, NTR was also in Swiss to shoot songs for Student No.1. I was introduced to NTR. He asked me to narrate the story quickly in 20 minutes. He got so interested in story that I ended up narrating it for one and half hour. He liked the story and he said that we were going to do that movie. The working title was 'Sree' and it was a love story.
After coming to India, I came to know that Kodali Nani wanted an action film for NTR. I asked them to give a week's time. I had only two scenes in my mind before making the story. There two scenes were 1. kid throwing a bomb. 2. Sumos blast scene. I prepared entire script in 2 days. 60 scenes were written in 48 hours. I narrated the script of Aadi to Prasad and Sreedhar (associates of NTR). Aadi film was made in 54 working days in a low budget. We spent around 5 lacs for Sumo blast scene. Lot of people know me as Vinay and they didn't know that I am the same VV Vinayak who directed Aadi. Lot of people got surprised when I told them that I directed Aadi movie.
Then I made Chenna Kesava Reddy. It worked at box office, but I wasn't experienced enough to handle certain things well in script.
I saw Nitin for the first time in a magazine. It was a pre-production advertisement for Jayam film. I decided to make a love story with Nitin after looking that ad. That's how Dil happened and it went on to become a good hit.
One day Chiranjeevi has called me and showed me Ramana film. He has asked me to come up with modifications. The hero dies in the climax of Ramana film. I changed the climax and added entertainment and songs for the Telugu version Tagore. Tagore has become a milestone in my career.
Samba was a commercial hit film.
Bunny was also a commercial hit. The entertainment in that film is liked by movie lovers. I feel proud that I have touched Polavaram project in the story. Hero's father fighting for Polavaram is the crux point of Bunny film.
Lakshmi went on to become the biggest hit in Venky's career till then. I loved Venkatesh's introduction scene in that film. The Brahmanandam episodes in Kolkata were also enjoyable.
Yogi is a remake of a nice film titled Jogi in Kannada. It was a cult film there. We added glamor in the remake. It was a film which I loved working for. It was a commercial failure.
Krishna film is known for entertainment and comedy. A few people might comment that the comedy patten is inspired by Dhee. But Dhee was released after we shot half of Krishna film. Krishna film has showcased my ability to do comedy based entertainers.
Badrinadh is a commercial hit except for overseas. It is the highest grosser in Allu Arjun's career till then. When I saw the double positive, I was excited and happy. The length of 2nd half came to just 48 minutes. We had to shoot a separate comedy track. That separate comedy track became a speed breaker for story in second half.
Adurs with NTR was a huge hit. Chari character played by NTR is loved by everybody.
Naayak film was released along with SVSC during Sankranthi of 2013. Both films went on to become big hits. Posani has got a big break and I am happy when he told me about the same.
Most of the top directors write stories for their films. But, you prefer other writers?
I wrote stories for my films till Bunny. After that I started taking stories from other writers. There is nothing wrong in taking the best from others. As a director, its my duty to extract right work from all the departments. If you look at directors of earlier generations, K Raghavendra Rao and A Kodandarami Reddy worked with stories written by other writers.
You are one of the top directors now and you have been delivering blockbusters with all big heroes. What is the reason for directing a new hero. Is it because, he is son of Bellamkonda Suresh?
It was Bellamkonda Suresh who gave me my first advance Rs 10,000/- and who produced my debut film Aadi. During that time, I complimented Srinivas that he would become a hero one day, though he was bit obese. When Bellamkonda Suresh asked me to introduce his son few years back, I told him that It was my duty. I didn't see how he shaped up when I gave my word to Bellamkoda Suresh. I saw Srinivas later and I was satisfied. I asked Srinivas to get trained. He went to USA to learn acting. Later on, he shot Yevadu song on himself and sent me the video. I loved it and he was looking manly.
Bobby (writer of Balupu and director of Power) gave the story to Alludu Seenu. Kona Venkat provided dialogues. Kona Venkat and Gopi Mohan were involved in script development. Chota K Naidu handled cinematography.
We had several action directors for this movie. Venkat (nephew of Ram Laxman) has done the hero intro fight and a flight chase scene in a runway. Ram Laksham has choreographed climax and bungee jumping episode at Macau Tower. Stun Siva also did a fight.
How is the first timer Sai Srinivas as an actor?
He is very comfortable and acted like seasoned actor. I was little apprehensive about his expressions and body language in the scenes involving Prakash Raj and Brahmanandam. But Srinivas was at ease. He has got good comedy timing and grace in dances. Most importantly, a good actor is the one who performs well in sentiment scenes. Srinivas has done really well in sentiment episodes. Srinivas is talented, works hard and has passion to become big. He will be a big star in the days to come.

What is the reason for spending so much budget on a new hero?
This script will bring all the money back along with the profits. A new hero will be an added advantage for a potential script like Alludu Seenu.
Songs are going to be visual feast
Songs in Alludu Seenu are going to be visual feast. We have shot songs in rich sets and beautiful outdoor locations. We shot one song titled 'whats up' in a location near Tokyo, Japan. It was a magical location. The temperature was in negative degrees and wind was gusty. I got nervous and feared that we might had to cancel shoot. Chota K Naidu instilled confidence in us and we went ahead with shoot. We wrapped Samantha in a blanket when she was waiting for shot.
Few of your films were huge blockbusters. You are considered as a big mass director. Why did few of your films didn't get appreciated much despite of working big at box office?
I know that you are talking about films like Lakshmi. Audiences want good story. They don't look at freshness in scenes. Lakshmi is a film that is made with a good story, but scenes and narration was not fresh. There are many films with stylish narration and innovative scenes, but failed because they lack good story. Alludu Seenu is a film where the story and scenes are fresh.
I would like to tell my personal experience regarding Lakshmi film. I watched Lakshmi in main theater and no industry person wanted to greet me after watching the film. On Sunday, I got a call from Rama Naidu garu. He said that the film is a huge hit and revenue is superb.
You surprised everybody with your ability to generate entertainment with films like Krishna and Adurs. Tell us about entertainment quotient in Alludu Seenu?
Brahmanandam plays the role of Dimple in this film. He generates lot of entertainment and stays till climax. Brahmanandam has worked for this move for 35 working days. Prakash Raj has done a vital role in the film. Srinivas and Prakash Raj share a special bond in this movie.
What's your gut feel about Alludu Seenu?
Shooting a film is a very routine and boring thing for most of the technicians on the sets. Because we do the same thing again and again for a single scene. Most of the technicians don't get excited about it. I was really surprised when A Rambabu (assistant of Chota K Naidu) said that he never got bored during the shoot and this film will become a big hit. I trust him.