4 March 2010
My Movie – Ye Maya Chesave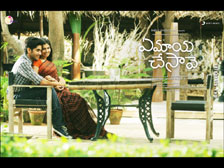 Em Maya Chesave... stands as a true epitome of Modern Classics .....No doubt about it !!
I can only see Karthick & Jessie in whole movie not Nag Chaitanya or Samantha which is the real example of Directorial brilliance .
I never seen such a wonderful movie which narrates the tender feelings of love .Movie starts with a very feel good note and the real classic starts with Jessie's Introduction . Hats off to Gautam & Cinematography for the way they carved this scene.
And iam sure that many of the guys will fall in love about the way karthick gets crazy about his girl . This gets registered to the audience with songs " Ee hridayam" and " Kundanapu bomma" . Train scene established the required chemistry between the two lead characters and Chaitanya & Samantha carried the scene very well.
It is not about the Journey of Lovers , nor about their Success path its about feelings when they are in love and it is proved by the dialogue " intha mandi ammayialu vunna ....nuvvu nanne endhuku love chesav" . though this is been used by so many characters in movie but real touch can be felt when it is expressed by Jessie !
Guy can be emotional in initial part of love but stands on his opinion once he is decided . Girl always swirls her decision in love due to whatever reasons and this movies shows the emotions and feelings of this part of love .
Kudos to Oscar Winner A.R Rehman for filling up this movie with wonderful music whether its is songs or background music , i really loved it and one can feel it Actress Samantha need to be praised to the core , when love is expressed by words its beautiful , thanks to chinmayi for that husky voice and when it is expressed by Eyes it's most beautiful. Gautam should be appreciated for extracting those expressions.
Last 30 mins creates ripples of confusion among audience but it is shattered once karthick and Jessie's ,meet in climax. Nag Chaitanya need to be applauded for his scintillating performance here . The way he expressed his everlasting love towards Jessie makes a way for our tears. Director's Depiction of entire episode is very good.
There are lot of visual ecstasies in the movie like Editing/Cinematography /Screenplay thanks to the blend of technical genius .
Finally movie ends with a positive note of ( Guy not deviating from his career goal of becoming a Film Director though his love deceives him which is a clear direction to today's youth directly or indirectly ) and not new typical Happy ending .
To Conclude.. its Must Watch Movie
Nanduri Naga Sai Sudheer
sudheer1128 at gmail dot com
More My Movie experiences:
YMC by Laya
YMC by Survi
YMC by Rajeev
YMC by Pavan
YMC by Rohit
Inkosaari by Avanthi
Inkosaari by Sneha
YMC by Praveen
YMC by Rajani
YMC by Sujith
Inkosaari by Ganesh
Leader by Sreekanth D
Maya Bazar by Gopal
Mahatma by Kishore
Baanam by Stanley
Josh by Nathan
Magadheera by Ashok
Magadheera by Wannabe Director
Magadheera by Shanti
Magadheera by Anitha
Magadheera by SS
Oy by Prathna
99 by Bala Thirumalasetty
Veedokkade by Srinivas
Delhi 6 by Vamsi
KIKK by Sweta
Luck by Chance by Srini
KIKK by Lalitha Spoorthi
Arundhati by Naveen
Arundhati by Srini
Arundhati by Bharat
Sasirekha Parinayam by Santhi Venkat
Sasirekha Parinayam by Vamshi Muthapu
Sasirekha Parinayam by Niharika Reddy
Nachavule by Vamsi Krishna
Neninthe by movie lover
Avakai Biryani by Vamsi Krishna
Kotha Bangaru Lokam by Vamsi Krishna
Kotha Bangaru Lokam by S
Ashta Chemma by Deepthi
Ashta Chemma by Lalitha Spoorthi
Sarkar Raj by Pradeep
Jalsa by Lalitha Spoorthi
Gamyam by Sridhar
Gamyam by Sreekanth D
Gamyam by Sanjay
Halla Bol by Purnesh
Taare Zameen Par by Ashok Varma
Taare Zameen Par by Raja Simha
Happy Days by Krishna Sastry
Chirutha by Phani Kumar
Chak De India by Ravi
Yamadonga by Lalitha
Chak De India by Shyam
AMAV by Darsakudu
5 in March by Sashidhar
Okkadunnadu by Anand
Black Friday by Ratnakar
Desamuduru by Krishna Prasad
Guru by It's opinion
Dhoom 2 by Lalitha Spoorthi
Dhoom 2 by ASK
Don - Syam
Boss - Anand
Boss - Hrithik
Stalin - Bala
Bommarillu - Nandini
Bommarillu - Darsakudu
Bommarillu - Vasu
Bommarillu - Harsha Prakash
Bommarillu - Lalitha Spoorthi
LRMB - Shravan
Bommarillu - Anirudh
LRMB - Srinivas
LRMB - Darsakudu
LRMB - S Sridhar
Bommarillu - Shridevi
Bommarillu - Vasudev
Bommarillu - Roopa
Sriram - Godavari
Sarath - Bangaram
Bala - Pokiri
Srinadh - Allari Pidugu
Sudheer Allari Pidugu
Anu - Athadu
Shyam Krishna - Iqbal
Purnesh - Grahanam
Sudhindra - Super
Vijay - Aparichitudu
Madhav - Aparichitudu
Hazaraon Kwaishein Aisi
Swades
Shyam - Black
Sai - Anand
Rohit - Anand & Veer Zaara
Jaya Prakash - 7GBC
Raj - Anand
Purnesh - Anand
Purnesh - The Village
Sriram - Gudumba Shankar
Purnesh - Gharshana
Purnesh - Lakshya
Purnesh - Yuva
Leenesh - Yuva
Kis - Lakshmi Narasimha
Indian Pride - Tagore
Raj - Boys
Phani - Gangotri
Phani - Khadgam
Vikram - CKR
BKR - Indra (Singapore)
Ram - Indra (Dubai)
Ranjeet - Idiot
Rahul - Indra
King Koduri - Indra
Srilakshmi Katragadda - Mitr: My Friend