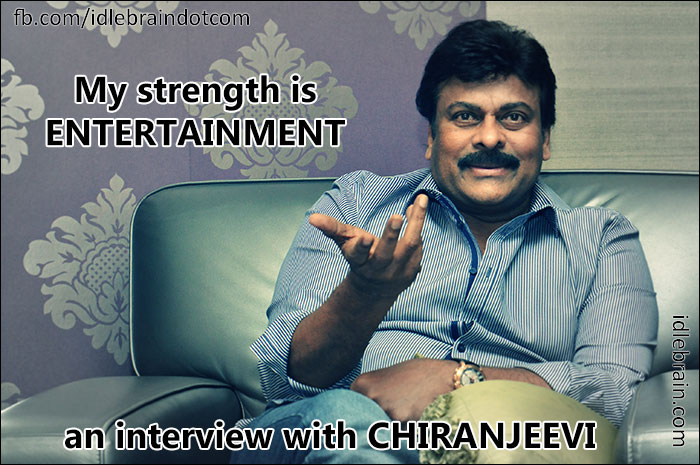 22 August 2014
Hyderabad
Chiranjeevi is all set to make a comeback after a hiatus of 7 years. His 150th film is going to a complete entertainer. Here is idlebrain.com's exclusive interview with Chiranjeevi on the occasion of his birthday on 22 August 2014 -
Tell us about your 150th film?
I want to give what people want. Audiences and fans want a complete entertainer for me. This film will have a lot of comedy and masala. I don't want to make a historical film like Uyyalavada Narasimha Reddy or message oriented film just because it's my 150th film. I am listening to stories. Once we finalise the right story, we will decide about the director. Ram Charan will produce this movie.
You had been away from films for 7 years?
Yes. I am away from acting for the past 7 years. But I am in touch with film industry. Thanks to Ram Charan. I have been listening his scripts. Whenever I listen to a script, I put myself in hero's shoes and imagine if it works at box office.
You have 3 family members (Pawan Kalyan, Allu Arjun and Ram Charan) ruling the film industry now. How do you feel about it?
Telugu film industry is my domain. I have no regrets for stopping acting and entering film industry. Ram Charan has carried my legacy and filled up my space. Some people speculated that mega era is over when I lost it in 2009 elections. But the success of Magadheera proved that politics and movies are two different and mutually exclusive fields. The phenomenal success of three actors from my family proves the kind of following we have.
What's the reason for choosing entertainment oriented film for 150th film?
I love doing comedy and I was the one hero who introduced full length comedy orientation for a big hero in proper commercial films like Donga Mogudu. Annayya is a fine example of comedy masala film. I have also made sure that there is entertainment in serious subjects like Choodalani Vundi, Indra and Tagore.
Guna Sekhar wanted it to be a serious film and felt that having entertainment would dilute the intensity in Choodalani Vundi. I have convinced him and made sure that there is a lot of comedy in the love thread between me and Soundarya. In Indra film too, there is excellent comedy in Kaasi episodes between hero and heroine.
Murugadoss was skeptical when I said that there should be entertainment in the flashback episode of Tagore and I have also suggested that hero shouldn't die. Murugadoss said that it's a serious subject and the purpose will be lost if hero is alive at the end. Indra was playing in theaters and I asked Murugadoss to watch that film in public theaters to understand what people want. He was not willing to make the changes. He said that Tagore will become a classic like Alluri Seetharamaraju and Katta Brahmanna if hero dies in end. That's when we called VV Vinayak and asked him to direct the movie.
Tell us about your observation of Charan's dances?
I enjoy doing dances. If we enjoy and get involved in dances, the flow will be natural and steps will be graceful. I got completely satisfied with Charan's dances after watching Vana Vana remix in Racha. There is graceful movement even in his tip of fingers in that song.
You didn't have any professional training in dances. How did you become the best dancer of Tollywood?
I have to thank my manager SP Venkanna Babu, who also produced Donga Mogudu film. I was dancing for a song for a film in my early days of career. I thought that I danced excellently. I asked Venkanna Babu for feedback. He said 'venaka mundu emi teda ledu'. He meant that there was no difference between the group dancers and me. That's when I realised that as a hero I should show my speciality compared to background dancers. I changed my attitude and worked harder on dances to be different from others.
Tell us about your heroines? Who do you rate as best dancer?
I feel that Sridevi is the best dancer I have ever worked with. Working for 'Abbani Teeyani Debba' was so enjoyable. Radha and Rambha are very passionate dancers and they enjoy while dancing. I had a peculiar experience with Bhanu Priya to start with. She is an excellent dancer and a trained classical dancer. When we danced together for the first song, both of us did well as individuals, but the sync and grace was missing. I was looking at her and trying to interact while dancing, but she was doing it individually. When I asked her about it, she replied that she has to be the best otherwise I (Chiranjeevi) will dominate. I explained to her that we are playing lovers and we should look at each other and enjoy it together while dancing. Then we did the song in a well-synchronized fashion.
What's the reason for producing 150th film by your family?
The production cost has gone up a lot. Hero and director are looking for their big remunerations. Producer is not getting anything on his table after film is complete. As a hero, I act like a custodian/watchdog of budget for my films. It should be a win-win situation for everybody involved in filmmaking.
Is Charan following your principles?
Yes. Orange was an exception. Orange went overboard because of misappropriation by the executive producer. It was our mistake.
Let me give you an example. Dharani came up with a nice script for Merupu film. But he has asked for a budget of 40 crores. I asked him to reduce the budget to 30 crores. He didn't budge. There is nothing wrong with the script. But at that point of time, putting 40 crores on a film was uneconomical. I asked producer NV Prasad if we can stall the film and start another film with a reasonable budget. He has obliged. That's how Racha film was made. It went on to become a big hit and made profits to the producers.
After watching the rushes of Govindudu Andari Vaadele, we felt that a character is not bringing the required emotion. I asked Ganesh Bandla about the budget impact of replacing a couple of actors and he said that it's possible. They have shot for 15 working days with those actors. Krishna Vamsi roped in Prakash Raj and Jayasudha. They reshot the same scenes in 8 days with Prakash Raj and Jayasudha. I have also asked Charan to sacrifice a part of his remuneration so that producer will not feel the pinch. There is nothing wrong in stalling a film or altering key actors. We should not go for prestige/pride. We have to look for the safety of producer.
There are speculations about brothers (Chiranjeevi - Pawan Kalyan) getting separated due to political and ideological differences?
We are born from the same womb and we have the same blood flowing in us. We share strong bonding since childhood. He is my kid brother. I have chosen my path and he has chosen his path. I have no complaints about his path/ideology. We share the same bonding. Politics is different and personal life is different!!
What are your plans for this birthday?
I am going to Nepal along with my family to visit a temple. We then visit a spa for rejuvenation therapy. Ram Charan is going to hold my birthday celebrations here at Chiranjeevi Charitable Trust.