Story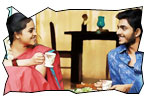 Lakshmi (Sri Divya) is married to a man who has no space for love as he aspires to make more and more money. Lakshmi tries to adjust and realizes that they have no compatability and there is no future for her with him. That is when she meets a movie lyrics writer (Kranthi) who is an ideal person. She finds out over a period of time that he is the perfect choice for her. Rest of the story is all about what happens when she expresses her wish to three men of her life - father, soulmate (lover) and husband.
Artists Performance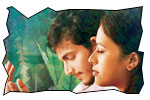 Actors: Sri Divya epitomizes the character of an idealistic and independent woman. Since the film is narrated from heroine's point of view, her voiceover has become an important tool. She did well and deserves applause. Kranthi is good as a guy whose ideology is too good. George who played the role of husband fits the bill. Rao Ramesh is perfect as a doting father of heroine.
Technical departments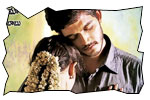 Story - screenplay - direction: I have passed out of my engineering in 1994. The sensibilities and emotions in this movie reflect the mid-90's before cellphone and internet made its way in mass market. A time when reading Telugu books and discussing about Telugu film lyrics were one of the enjoyable pastimes. I liked the way the first scene of the film is shot. The heroine takes out her toe-ring (mette), contemplates about it and then puts it back. You can see inspirations of Chalam's work in the way heroine's character is sketched.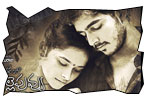 Other departments: Cinematography (Bal Reddy) , art direction and digital intermediate contribute together to the visuals we see. The visuals of the film look like a moving painting mainly due to integrated efforts from the three above mentioned departments. I give more credit to the art director who is none other than the director Ramaraju. He has filled all the frames with greenery and flowers. He has also gone for color combinations. The benches in park are painted yellow to match the saree color of heroine. You can see maple leaves in the park. Slippers of hero matches one of the colors of flowers. The house and backyard of lyricist and the top portion of heroine house is highly aesthetic. Dialogues written by the director are exemplary. Songs composed by Ravindra Prasad are excellent. I loved all the songs with Nee Needana and Maatakandani being the best. Watchout for the chinese music instrument used at the beginning of Maatakandani song. It's beautiful. Background music provided by Pavan Kumar is good. You can see lot of silence in background music to complement the mood of scenes. Lyrics by Uma Maheshwara Rao are meaning. Editing by Dharmendra Kakarala is smooth and helps the movie's cause.
Analysis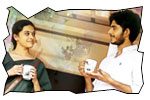 We have got so much used to the formats of Telugu films that it is very difficult to digest films that are made in different format. Mallela Theeramlo Sirimalle Puvvu is more like a personal film for the director Ramaraju. Hence a normal moviegoer will have certain complains about the pace, orientation and theme of film. Mallela Theeramlo Sirimalle Puvvu is one film which one should go and watch it for the passion with which the director has honestly attempted to make a good cinema.