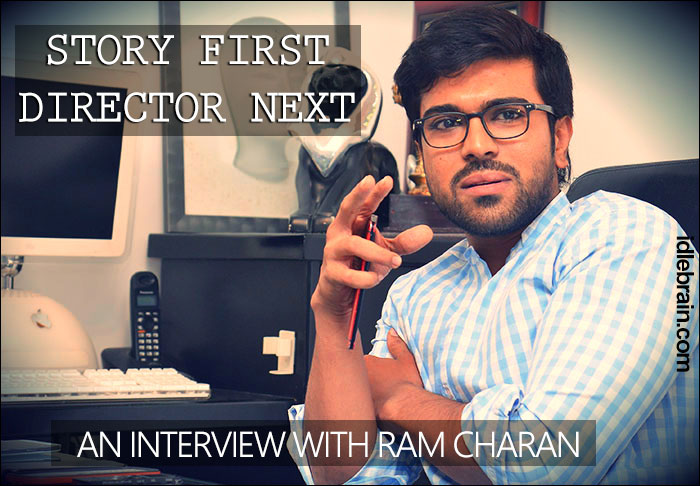 30 September 2014
Hyderabad
Ram Charan has delivered mostly hits/blockbusters (except for Orange and Zanjeer). He is not after big directors and successful formulas. He knows what he wants and how to get it. He may be the son of mega star and had most number of films that collected more than 40 crores, but he is completely humble and honest when it comes to treating other human beings. He has not only inherited the stardom of Chiranjeevi, but also inherited the humbleness and maturity. Here are the excerpts of a group chitchat with Ram Charan ahead of the release of Govindudu Andari Vaadele -
Tell us how Govindudu Andari Vaadele (GAV) started?
I wanted to do a film with Krishna Vamsi right after the release of Magadheera. It didn't materialize and I signed Orange. I wanted to do a film that is a content driven family drama devoid of mass and action elements.
Krishna Vamsi has disappointed with his films in recent years. Don't you think it's risky to work with him?
I have never been after successful directors. I don't commit to any director unless script is locked. Krishna Vamsi's concepts might have failed in recent years, but he has never failed as a director. Krishna Vamsi is best in creating characterizations and in extracting performances.
What's the contribution of Paruchuri brothers?
They have worked on everything. But 80% of the story and screenplay belongs to Krishna Vamsi.
Have you seen the final product of GAV?
No. I have seen film in patches and liked the way it shaped up. The entire film will be pleasant and will be in gripping/convincing format. Roping in actors like Prakash Raj & Jayasudha helped the film immensely. Prakash Raj is like a modern day's SVR.
You play NRI in this movie. The concept of NRI was alien a couple of decades back. Now each household in Telugu states has a representation in abroad?
I have noticed that the NRIs are more traditional and more Indian culture-oriented than the people in India. All NRIs long to get back to their roots. They celebrate festivals in a proper way compared to us living in India.
Are you connected to the story of GAV at personal level?
Yes. I do believe in sentiments. We always have gathering of relatives at regular intervals. I believe in relationships and emotions at personal level. Most of the scenes in GAV consists of around 50 artists in each frame.
What's the procedure you follow in signing films?
I don't take advances from producers. I feel that once we take an advance, we will be locked and may have to compromise in the process. I take advance only seven days before the start of shoot. That's the reason why my film in the direction of Koratala Shiva didn't happen though the pooja ceremony was held. I don't go to sets unless the script is locked. I would love to do a film with Koratala Shiva in future.
Please tell about your future commitments?
Talks are going on with Sreenu Vaitla for a film and the story is yet to be finalized. I will do a bilingual (Telugu/Tamil) in Gowtam Menen direction soon (may be in next year). Mani Ratnam has narrated me a story and I loved it. But the story may not suit me and the producer might lose money. Hence I said no to that film. But I love to do another story with Maniratnam soon. Kona Venkat and Gopi Mohan has narrated a story to me and I have okayed it. The director for that project is not yet finalized. I believe in selecting story first and director later.
Tell us about Chiranjeevi's 150th film?
We have zeroed on 3 stories so far. We will soon select one story and then sign an appropriate director. It will be an entertainment oriented film. I am going to produce the movie.
It's been 7 years since Chirutha is released. How do you assess your progress?
I think I have done fairly well as an actor. I strive to do better genres in future.
There is an 8th film jinx for big stars (Pawan Kalyan - Johnny, Mahesh Babu - Nijam, NTR - Andhrawala and Prabhas - Yogi). GAV is your 8th film?
I am confident that I will break that jinx with GAV.
Krishna Vamsi's films are known for lavish production values. Tell us about GAV's budget?
GAV's budget is well under control. This film is shot just in 95 days. It's cost Ganesh a couple of crores extra to reshoot due to change of actors. I am sure that the extra 2 crores spent will translate into an extra 10 crores profit to him.
You had been to US consulate today?
Yes. I have attended US consulate today for a visa. I might visit USA this weekend subject to approval of visa and other logistics.