Story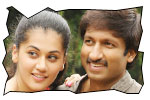 Gowtam (Gopichand) is a guard employed by a security agency. One rainy night, he finds out that his grandfather has a treasure stashed away in Pakistan which was his place before partition happened. Srinidhi (Tapsee) is a staunch devotee and her goal is to visit a Hindu temple which is located in Hinglaj, Pakistan. Gowtam's treasure is located in and around that temple. Gowtam joins Srinidhi's journey to Pakistan temple where they have a security guy (Ali) helping them. Meanwhile, Sultan (Shakt Kapoor) takes over the Pakistan's archeology department's team that is searching for treasure in the same area. The rest of the story is all about how Gowtam manages to get hold of diamonds which rightfully belongs to him.
Artists Performance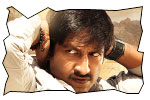 Actors: It's a refreshing role for Gopichand. It's a role that suits him and yet look very different. Gopichand performed with ease and justified the multidimensional character well. Tapsee who has done many modern glamorous roles has done a decent role of an ardent devotee. She did well and the girl who dubbed her voice matches Tapsee's body language. Shakti Kapoor is good as villain. His serious comedy timing in climax episodes worked well. Ali has done a comedian role of an escort to hero and heroine in Pakistan. Srimannarayana has done a small yet comedy-generating role.
Technical departments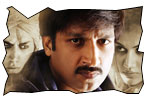 Story - screenplay - direction: Story of the film is simple and predictable. Screenplay is linear without any twists and tweaks. Director Chandra Sekhar Yeleti has stuck with the genre and refrained from mixing popular stuff for the sake of commerciality. I liked the way he has opened the film with a hero introduction song with graphic images of hero on the walls followed by showing the misery and bad luck of hero. However, the Ali thread should have been more convincingly integrated into basic story of the film. The characterization of villain is conceived well. It starts as a ruthless character and becomes mentally weak in the climax episode. There are up and downs in the film. A few things worked and a few things didn't work for me. Hero telling what's going to happen next in climax episodes waterdown the anticipation and thrill factor.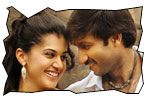 Other departments: Cinematography by Shyam Dutt is excellent and creates mood for the film. Background music by Sri is a strength to the movie. Dialogues are good in parts. The signature dialogue 'naadi kaani koti rupailanina naaku vaddu. naadi annadi ardha rupai kooda vadulukonu' is very good. Art direction of the film is another asset. Computer graphics are done well. Editing is neat. Producers BVSN Prasad and Reliance should be applauded for coming forward to make a film of different genre.
Analysis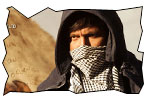 I found the film is interesting till the scene of hero entering Pakistan. I also liked the climax part of it which lasts for over half an hour. The director could have done a better job in doing the episodes of Pakistan engrossing. Sahasam is not a perfect film and it has it's share of negative points. But I am giving it a rating of 3.25 for the guts of producers who came forward to make a different film and for the conviction of director to stick to the core subject and for not deviating from it for the sake of commercial elements. .