9 March 2010
My Movie – Ye Maya Chesave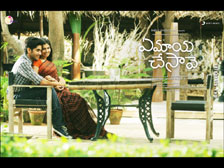 To begin with, this movie was made with a great diction in art, music, photography, direction, presentation, screen play, acting, performance, etc etc and the list just goes on and on and on. Gautam Menon should be appreciated for coming up with such a novel script. The story, though predictable and having seen so many love stories in the past on silver screen, was given a complete new treatment - "Old wine in NEW Bottle".....
Gautam Menon's treatment on romance of his lead characters has always been good. His past movies like Minnale(Cheli), Khaka Khaka(Gharshana), Surya, S/O Krishnan etc, the romance and love angle was just awesome. He just built the plot between 2 characters belonging to 2 different cultural and regional backgrounds. Writing a screenplay for such stories is very difficult and with no supporting actors to carry the film, he built the entire plot revolving around just 2 characters frame to frame till the very end is just terrific. This movie is another feather in his kitty to show as an example for his astonishing narrative skills. His ability to bring in the best for camera work and musicals to make the visuals is just amazing.
Camera Work by Manoj is spectacular and only the visuals on the screen just explains all. He showed already beautiful Samantha much more appealing and that added only fire to terrific locations. This work when supported by a fantastic music, both in songs and background, will only make more and more soothing and AR Rahman should be commended to have taken up this project. "Kundanapu Bomma" and "Aakasam" are the best numbers. "Vintunnava" was more appeasing when watched on screen. Timely background score and Re-Recording work was great. What ever said will still be less for AR Rahman. Dialogs by Anuradha are simple and made it look like it was a couple next door conversing their love and romance. Art Direction and location of plot in Hyderabad and Kerala are just amazing. Very simple and thought provoking. Production values are amazing and Indira Productions can only be lucky to have worked with a classy director like Goutam Menon who can bring best technicians on board along with him.
Finally the lead actors: Naga Chaitanya and Samantha have done very good job giving their best....only in his second movie and her first movie in Telugu. They have literally carried the movie on their shoulders supported by Gautam's terrific screenplay and direction.
Though the movie was slow paced and went weak during the second half (of course only for a while), it can all be forgotten at the end for watching a feel good romantic movie after a very very long time in Telugu Cinema.
I went to this movie after listening to the Rahman's fantastic music and awesome wallpapers with couple of trailers. This movie reached my expectations, may be beyond, for all the visual and novel treat.
Fantastic Movie....go watch it.
Ashok V Alluri
ashok dot varma dot alluri at gmail dot com
More My Movie experiences:
YMC by Ramya
YMC by Sudheer
YMC by Laya
YMC by Survi
YMC by Rajeev
YMC by Pavan
YMC by Rohit
Inkosaari by Avanthi
Inkosaari by Sneha
YMC by Praveen
YMC by Rajani
YMC by Sujith
Inkosaari by Ganesh
Leader by Sreekanth D
Maya Bazar by Gopal
Mahatma by Kishore
Baanam by Stanley
Josh by Nathan
Magadheera by Ashok
Magadheera by Wannabe Director
Magadheera by Shanti
Magadheera by Anitha
Magadheera by SS
Oy by Prathna
99 by Bala Thirumalasetty
Veedokkade by Srinivas
Delhi 6 by Vamsi
KIKK by Sweta
Luck by Chance by Srini
KIKK by Lalitha Spoorthi
Arundhati by Naveen
Arundhati by Srini
Arundhati by Bharat
Sasirekha Parinayam by Santhi Venkat
Sasirekha Parinayam by Vamshi Muthapu
Sasirekha Parinayam by Niharika Reddy
Nachavule by Vamsi Krishna
Neninthe by movie lover
Avakai Biryani by Vamsi Krishna
Kotha Bangaru Lokam by Vamsi Krishna
Kotha Bangaru Lokam by S
Ashta Chemma by Deepthi
Ashta Chemma by Lalitha Spoorthi
Sarkar Raj by Pradeep
Jalsa by Lalitha Spoorthi
Gamyam by Sridhar
Gamyam by Sreekanth D
Gamyam by Sanjay
Halla Bol by Purnesh
Taare Zameen Par by Ashok Varma
Taare Zameen Par by Raja Simha
Happy Days by Krishna Sastry
Chirutha by Phani Kumar
Chak De India by Ravi
Yamadonga by Lalitha
Chak De India by Shyam
AMAV by Darsakudu
5 in March by Sashidhar
Okkadunnadu by Anand
Black Friday by Ratnakar
Desamuduru by Krishna Prasad
Guru by It's opinion
Dhoom 2 by Lalitha Spoorthi
Dhoom 2 by ASK
Don - Syam
Boss - Anand
Boss - Hrithik
Stalin - Bala
Bommarillu - Nandini
Bommarillu - Darsakudu
Bommarillu - Vasu
Bommarillu - Harsha Prakash
Bommarillu - Lalitha Spoorthi
LRMB - Shravan
Bommarillu - Anirudh
LRMB - Srinivas
LRMB - Darsakudu
LRMB - S Sridhar
Bommarillu - Shridevi
Bommarillu - Vasudev
Bommarillu - Roopa
Sriram - Godavari
Sarath - Bangaram
Bala - Pokiri
Srinadh - Allari Pidugu
Sudheer Allari Pidugu
Anu - Athadu
Shyam Krishna - Iqbal
Purnesh - Grahanam
Sudhindra - Super
Vijay - Aparichitudu
Madhav - Aparichitudu
Hazaraon Kwaishein Aisi
Swades
Shyam - Black
Sai - Anand
Rohit - Anand & Veer Zaara
Jaya Prakash - 7GBC
Raj - Anand
Purnesh - Anand
Purnesh - The Village
Sriram - Gudumba Shankar
Purnesh - Gharshana
Purnesh - Lakshya
Purnesh - Yuva
Leenesh - Yuva
Kis - Lakshmi Narasimha
Indian Pride - Tagore
Raj - Boys
Phani - Gangotri
Phani - Khadgam
Vikram - CKR
BKR - Indra (Singapore)
Ram - Indra (Dubai)
Ranjeet - Idiot
Rahul - Indra
King Koduri - Indra
Srilakshmi Katragadda - Mitr: My Friend