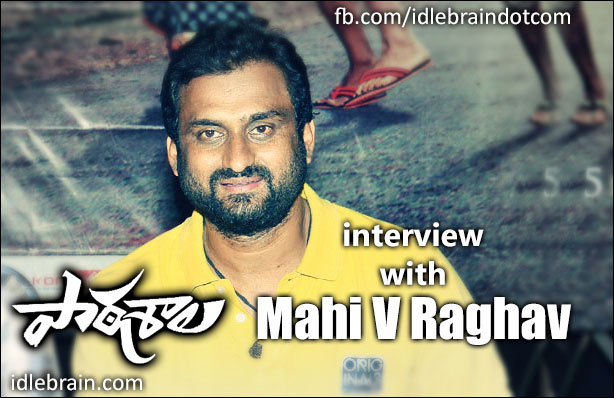 9 October 2014
Hyderabad
Mahi V Raghav is making his debut as director with Paathshala - a road film and buddy film that is awarded a clean U certificate. After working in retail industry for a decade in abroad, Mahi has been associated with few films in the past five years. Here is an exclusive interview with this passionate movie lover who is testing his luck on 10 October 2014-
Background:
I have done my graduation from Wesley College, Hyderabad and completed MBA from Madras University. I have dropped out of my university while doing MS in UK. I have worked in the area of retail management in UK and New Zealand.
I have been an avid movie lover since childhood. I am good at retail management, but my passion lies in storytelling. I have worked in retail management for 10 years so that I can make a substantial money for myself. I have given a time period of 5 years to fulfil my passion for movies. I have worked in various capacities for Vinayakudu, Villagelo Vinayakudu and Kudirithe Kappu Coffee. Being one of the producers for the last two films gave me hands-on experience about film production. Then I decided to direct a film and now Paathshala is ready for the release.
Tell us about Paathshala?
Paathshala is a simple story of five friends who explore the world beyond campus when they decided to visit village of each of them. It's a buddy film of 18-21 age group. This film is made with fresh cast and we have followed indie film style. Hence, we had liberty to go beyond conventional style of storytelling. It's a coming of age story in which lives of five 21 year olds are at crossroads. Paathshala explores friendship beyond campus.
What's the USP of Paathshala?
Paathshala is a unique film compared to the stream of films that are being churned in Telugu film industry now. It's a road film. It's a buddy film. It's a coming of age film.
You have started shooting long back. You finished shoot few months back. Got your censor certificate 45 days ahead of the release. Were you not in a hurry?
Rakesh Mahankali and Pavan Kumar Reddy are producers of Paathshala. I am also one of the investors. Four people have chipped in equal amount of money. Hence the burden is less. We have not taken any finances. It's our hard earned money. We have collaborated with different agencies to market the movie. The landing cost of the film is Rs. 2.9 crores. Since it's a road film, it took us around 70 working days to shoot the film. 95% of the film is shot outdoors. We have shot the film in backwaters (Godavari), Hill stations (Horseley Hills), dry lands (Gandikota), urbane cities (Hyderabad) and villages (interiors of Kadapa). We have taken ample time for post-production.
You have had premieres for distributors. How is the response?
I had five shows for distributors. Distributors of Nellore, Guntur, Vizag and Ceded have bought the film after watching the movie. We have followed suggestion of a distributor and chopped off 15 minutes of the final version. The response has been positive. The total runtime of the movie is 2 hours and 8 minutes.
What are your future plans in film industry?
The fate of Paathshala will decide the future.