9 March 2010
My Movie – Ye Maya Chesave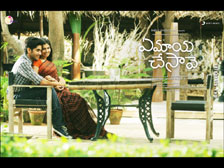 Guatham Sir, Rahman Sir, Chaitu and Samantha:Ye Maya Chesasaru….
Jessie runs her magic on Karthik in the film, but it is Gautham Menon, Naga Chaitanya, Samantha and Mr. AR Rahman who together should be guilty of doing "maya" to the audience.
Gautham Menon:
It is without a doubt that Gautham Menon should be regarded as the best contemporary director of cinema in the south. Sure, we also have the likes of Mani Ratnam, Shankar, Mr. Rajamouli in our tollywood, but Gautham Menon's movies feel like something totally different, yet very genuine. He makes films that true to the heart, realistic and stimulates the audience emotionally, devoid of fights, heavy melodrama and other commercial elements.
In Ye Maya Chesave, Gautham Menon's screenplay, dialogues are something that we have never seen in "new cinema". It takes tremendous skill, confidence and guts to attempt a movie like this and that too with no "big" stars. Sure, he casts Simbu and Trisha in the tamil version, Vinnaithaandi Varuvaya, but even that too lacks any big supporting cast. Gautham goes out of the norm when makes a film, because he believes in his story and that alone. Just like in Surya S/O Krishnan, there are no commercial elements in this film, just pure, genuine, story telling and that is what I strong feel is missing in 95% of cinema in Tollywood. It is this formula that I feel makes the most impact with the audience because we can connect with the characters, feel what they feel, think what they think. It simply brings "the characters to life".
There is no need to further speak about Gautham's direction and his stylish making, but a few scenes really blew me out of my mind and they all occur consecutively. It starts with the first time Jesse comes into Karthik's house and he is trying to go into the room and make a conversation. Naga Chaitanya's facial expressions are extremely genuine and his body language when he enters the room is fantastic.
Next, he follows Jesse to the fast-food center where she asks him "Nuvvu nannu follow cheyattledu kada?" Karthik tries to play it off so innocently saying "Kebabs ikkade dorukutai…naaku chala ishtam" is so genuinely taken that we feel the whole scene as if it happened to us. At this moment, I felt Gautham Menon has done the best one could possibly do directing a scene and the casualness and genuineness of the scene really outdid me. I thought I would not see a better scene by the end of the movie.
I was wrong. The very next scene, where Karthik walks with Jesse and confesses his love is absolutely mind-blowing. There is no melodrama or heavy dialogues, just simple conversational chemistry. The way Gautham makes Jesse respond, "Ledu, cricket adataniki veltunna…vasatava?" to Karthik's question of whether she is going to work is fabulous. Then she says she will tell her father that Karthik is like a brother if they are seen walking together. The whole scene is done so realistically that it sets up Karthik's confession very nicely and the confession makes a huge impact because we do not expect it.
I have never seen such casual scenes portrayed so beautifully in any other movie and believe me, I have seem many films.
One important thing to note about Gautham's stories is that they are message oriented very subtly. He does not have Karthik give up his dreams and his career for love and he makes sure that Karthik succeeds in his goals and makes Karthik become a film director. The way that Karthik's love succeeds only after he becomes a director is fantastic way to give a nice, yet simple, message to youth. The same goes for Surya S/O Krishnan, where he gives a strong message about moving on with life when love fails and focusing that pain by showing Surya using the pain to building his body and doing something with his life.
Gautham Sir, Ye Maya Chesave….
AR Rahman:
The credit of this film goes as much to Rahman sir as it goes to Gautham Menon. The music is just heart touching and it fits so aptly in the movie. There are no moments where the audience in the theatre groans whenever the song starts. The music does not hurt the pace of the film and the cinematography is fabulous.
Kundannapu Bomma. Have we ever seen a song that is so beautifully composed and that too beautifully shown in the film itself? Rahman's tunes and instruments in this song really make you feel as if you were experiencing some sort of love and gives you that "flying in the air feeling". The way Gautham Menon uses this song to show the peak of the Karthik's love feeling is fabulous and the way it sets up that "first kiss" in the train is so beautifully written because it is that kiss that changes their relationship.
Every song deserves a mention in the movie, but I if I mention every song, idlebrain.com is going to have problem with length if it wants to post my writing.
These songs remind us of the very ones in Rahman's classics: Roja, Bombay, Dil Se just to name a few.
Rahman Sir, Ye Maya Chesave…
Chaitanya:
Wow! That is the first impression that I got when got the first glimpses of his character. He has improved so much from Josh, a film which I though was a wrong choice for his image. This film is so perfect for Chaitu because he has that innocent face, boyish charm and lover boy look. The audience is able to connect and feel for Chaitu because he has that charisma as lover.
Though it seems his dialogue deliver is perfected yet, I feel the realism that it created is what gives this film that "feel". It is just a simple conversational film and it does not require any out of the normal portrayal and Chaitu makes sure he stays with in those boundaries.
Like I said before, there were some scene where Chaitanya really proves he can portray these romantic and realistic characters better than anyone else(house scene, fast-food place scene, confession scene). He also did a great job in all of the comedic scenes with Krishnudu(who I though was equally fabulous in the movie).
Chaitu's guts should be appreciated to do a movie like this for his second film. The same way that we commended Ram Charan for doing Magadheera for his second film, Chaitanya put aside the required commercial elements, big actors, big budgets, etc to do a film that has not been done is recent times simply because he believed in the script and the character. Hats off to Chaitu for making such a bold movie.
There is no other actor in the industry who could have portrayed this role so beautifully, not even Siddarth. Chaitanya created a niche for himself with this movie and I am excited to see him give us many more love stores.
Samantha:
Has there been any other heroine in the past 5 years who swept you off your feet in her debut film? She is perfect in the film. Her charming looks, powerful eyes, impeccable expressions make her the next big heroine in Tollywood. I sincerely, sincerely hope that she does not try the route of going to Bollywood and strictly stays in the South.
She is so charming that we too fall in love and part of that credit goes to Gautham's Jesse characterization and the dubbing artist. The way Samantha portrays Jesse is tremendously accurate and she does it with so much charisma that audience does not hate her when she breaks up with Karthik. If it was any other heroine, I think the audience would have had a negative opinion on the Jesse character when she breaks up with Karhtik.
Samantha has the fresh looks and she brings some magical charm to the screen with her acting. I have not been so impressed with an actress since Genelia did Bommarillu. The characters of Hasini and Jesse are radically different, but I feel that Jesse will stay in the hearts of the telugu audience for a long, long time.
Samantha will be remembered forever as Jesse no matter what films she does in the future. I sincerely, sincerely hope that she does not try the route of going to Bollywood and strictly stays in the South.
Final Note
I sincerely thank Gautham Menon for giving the telugu audience another film that we can proudly speak of after Magadheera in recent times. I have shown the film to many of my Telugu friends who have been raised in the US and they all fell in love with Telugu cinema once again.
I also think the Tamil version of the film deserves a mention as the acting in that film is just as perfect, if not more simply because Simbu and Trisha are so experienced. I do not understand Tamil, yet the film had the same impact on me as did the Telugu version.
I honestly cannot think of any other romantic film that is better than Ye Maya Chesave for my generation. The older generation has Maro Charitra, Geetanjali, etc, but we have Ye Maya Chesave.
A Hearty Congratulation to Gautham Menon, AR Rahman, Naga Chaitanya and Samantha and as the movie titles says, "Ye Maya Chesaru".
Thanks to idlebrain.com for promoting the movie so well with these "My Movie" piece and a great review by Mr. Jeevi.
dellcom
dellcom1234 at aim dot com
More My Movie experiences:
YMC by Ashok
YMC by Ramya
YMC by Sudheer
YMC by Laya
YMC by Survi
YMC by Rajeev
YMC by Pavan
YMC by Rohit
Inkosaari by Avanthi
Inkosaari by Sneha
YMC by Praveen
YMC by Rajani
YMC by Sujith
Inkosaari by Ganesh
Leader by Sreekanth D
Maya Bazar by Gopal
Mahatma by Kishore
Baanam by Stanley
Josh by Nathan
Magadheera by Ashok
Magadheera by Wannabe Director
Magadheera by Shanti
Magadheera by Anitha
Magadheera by SS
Oy by Prathna
99 by Bala Thirumalasetty
Veedokkade by Srinivas
Delhi 6 by Vamsi
KIKK by Sweta
Luck by Chance by Srini
KIKK by Lalitha Spoorthi
Arundhati by Naveen
Arundhati by Srini
Arundhati by Bharat
Sasirekha Parinayam by Santhi Venkat
Sasirekha Parinayam by Vamshi Muthapu
Sasirekha Parinayam by Niharika Reddy
Nachavule by Vamsi Krishna
Neninthe by movie lover
Avakai Biryani by Vamsi Krishna
Kotha Bangaru Lokam by Vamsi Krishna
Kotha Bangaru Lokam by S
Ashta Chemma by Deepthi
Ashta Chemma by Lalitha Spoorthi
Sarkar Raj by Pradeep
Jalsa by Lalitha Spoorthi
Gamyam by Sridhar
Gamyam by Sreekanth D
Gamyam by Sanjay
Halla Bol by Purnesh
Taare Zameen Par by Ashok Varma
Taare Zameen Par by Raja Simha
Happy Days by Krishna Sastry
Chirutha by Phani Kumar
Chak De India by Ravi
Yamadonga by Lalitha
Chak De India by Shyam
AMAV by Darsakudu
5 in March by Sashidhar
Okkadunnadu by Anand
Black Friday by Ratnakar
Desamuduru by Krishna Prasad
Guru by It's opinion
Dhoom 2 by Lalitha Spoorthi
Dhoom 2 by ASK
Don - Syam
Boss - Anand
Boss - Hrithik
Stalin - Bala
Bommarillu - Nandini
Bommarillu - Darsakudu
Bommarillu - Vasu
Bommarillu - Harsha Prakash
Bommarillu - Lalitha Spoorthi
LRMB - Shravan
Bommarillu - Anirudh
LRMB - Srinivas
LRMB - Darsakudu
LRMB - S Sridhar
Bommarillu - Shridevi
Bommarillu - Vasudev
Bommarillu - Roopa
Sriram - Godavari
Sarath - Bangaram
Bala - Pokiri
Srinadh - Allari Pidugu
Sudheer Allari Pidugu
Anu - Athadu
Shyam Krishna - Iqbal
Purnesh - Grahanam
Sudhindra - Super
Vijay - Aparichitudu
Madhav - Aparichitudu
Hazaraon Kwaishein Aisi
Swades
Shyam - Black
Sai - Anand
Rohit - Anand & Veer Zaara
Jaya Prakash - 7GBC
Raj - Anand
Purnesh - Anand
Purnesh - The Village
Sriram - Gudumba Shankar
Purnesh - Gharshana
Purnesh - Lakshya
Purnesh - Yuva
Leenesh - Yuva
Kis - Lakshmi Narasimha
Indian Pride - Tagore
Raj - Boys
Phani - Gangotri
Phani - Khadgam
Vikram - CKR
BKR - Indra (Singapore)
Ram - Indra (Dubai)
Ranjeet - Idiot
Rahul - Indra
King Koduri - Indra
Srilakshmi Katragadda - Mitr: My Friend