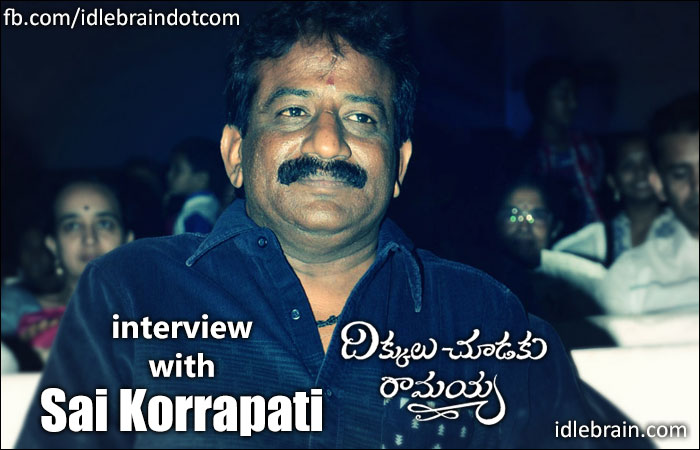 9 October 2014
Hyderabad
Sai Korrapati is a producer who shies away from publicity and lets his films speak for himself. He has successfully produced big budget films like Eega and Legend (co-production) and small budget concept film like Oohalu Gusa Gusalade. His latest film Dikkulu Choodaku Ramayya with a novel backdrop is all set to release on 10 October. Here are the excerpts of an exclusive interview -
Despite producing a huge blockbuster in the form of Eega, you love producing small-budgeted films? Tell us about the financial aspects of the small films produced by you?
Andala Rakshasi: The budget of the film is shot up around 3 times than what we had planned for. I lost around 50% of my investment. It's a disappoint for me in terms of content and budget.
Oohalu Gusa Gusalade: This film cost around X for production and another X for promotion. It brought me a net profit of X. Since it's a concept film, we have decided to make the film on minimal budget. We shot the entire movie in 23 working days. It was liked by the target audiences and we made profits.
Dikkulu Choodaku Ramayya: The cost of this film is 3 times the cost of OGG. Debutant director Trikoti has worked with big films for Rajamouli. He used to take 4 to 5 shots for each scene. And it helped a lot during the editing. We have shot this film in 85 working days.
The story of father and son loving the same girl is a bold one for Telugu audiences. Don't you think its a risky proposition for DCR?
This story idea might look bold at the outset, but we made it like a family entertainer. It's about a responsible son who tries to correct his father who is going on a wrong path. There is a nice and tricky screenplay. The title of the film - Dikkulu Choodaku Ramayya is about father. There is entertainment and emotion in the movie. The viewers are going to cry in the last five minutes.
Rajamouli has given valuable suggestions for the climax of the film that lasts for 20 minutes. It's a carefully crafted climax which is very difficult to write. The team has worked for 6 months for writing climax.
Tell us about music of Keeravani?
Songs are already popular. Keeravani has given one of his best re-recordings for DCR. He has also helped us in terms of editing and publicity.
You are having a good success percentage. How do you manage it?
I have the fear of failure. Hence, I try not to speculate and work hard. I am also the kind of guy who trusts the team and let them execute to best of their efforts and knowledge. I sit at the back and let them take the center stage. I don't want to take anything light. I found a few scenes to be less than what I expected for my next film Tungabhadra. I have asked the director to reshoot them.
What does Tungabhadra denotes?
Tungabhadra river is a confluence of Tunga river and Bhadra river. The story of Tungabhadra film is about two groups who refuse to unite. The story of the film is about how these two groups get united. Adith and Dimple play main leads. But the movie is about Satyaraj who plays a major character.
Tell us about your contribution to Legend film?
Legend film is basically a film of 14 Reels. Since they were occupied with the shoot of 1, they asked me to join. I hold 40% of share in the film and I have executed the movie. I am very happy that Legend became a big blockbuster.
How is Bala Krishna as a person?
He is a very good hearted person. He has called me 30 minutes back and asked me to arrange for a show of DCR for his family on this Sunday.
What are your future projects?
Shooting of Tungabhadra is almost over. I will do a film each with Chandrasekhar Yeleti, Srinivas Avasarala and Trikoti.