9 March 2010
My Movie – Ye Maya Chesave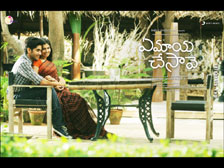 I have watched numerous movies, but 'Ye Maaya Chesaave..' is the first movie which made me to write about it!!
There is some magical feeling watching this movie!! You'll leave the theatre with a lovely feeling which would last longer! What else is expected out of a film ?
A simple boy falling in love with a georgeous girl next door! This is very common. So, what's so special about this movie !!??
Ofcourse, it is special because that's the most common thing people experience; whether you call it love, crush, infatuation or whatever!!
"If you love someone set them free. If they come back they're yours; if they don't they never were." These lines are very apt for this story!
'Ye Maaya Chesaave' - A simple story with great emotions!
"Karthik has not chosen Jessi; But he has fallen for her!!"
The story is about 'Simple Karthik', who not only wins the heart of the 'Gorgeous Jessi' but also succeeds in his love despite the 'usual but complicated' hurdles in their journey of life!!
There could be only few moments in life to succeed in your love. If you miss one, you cannot afford to miss the next one! You'll learn this from Karthik after watching this movie!!
In LOVE, there will NEVER be a need to explain yourself to him/her. This is distinctly narrated in 'Ye Maaye Chesaave'.
Excellent playback music, Brilliant narration and Visual ecstasy makes you experience a fantastic journey throughout the movie 'Ye Maaye Chesaave.."!!
The brilliance of the story narration is that every scene/frame in the movie involves Karthik or Jessi. This keeps the movie completely focused on the theme without distracting the audience from the mainline of the story!! Hats-off to the director, Gautam Menon!
There is a magic in A.R.R's music. Though the songs were not so pleasing to me initially, I could not stop myself listening to them!
Watching the songs on the celluloid made me get addicted to them!! Now the music keeps playing around me even without a music player!! Believe me..!!
The actors who played Karthik & Jessi has portrayed the characters extremely good that anyone who watches the movie will always remember "Karthik" and "Jessi".
Nag Chaitanya & Samantha needs a special applause!!
This movie makes it to the list of 'All time favourites'.
***** Congratulations to the YMC team!! *****
"Kill Piracy. Don't encourage Snitchers"
Ramskott
rameshgrad at gmail dot com
More My Movie experiences:
YMC by Dellcom
YMC by Ashok
YMC by Ramya
YMC by Sudheer
YMC by Laya
YMC by Survi
YMC by Rajeev
YMC by Pavan
YMC by Rohit
Inkosaari by Avanthi
Inkosaari by Sneha
YMC by Praveen
YMC by Rajani
YMC by Sujith
Inkosaari by Ganesh
Leader by Sreekanth D
Maya Bazar by Gopal
Mahatma by Kishore
Baanam by Stanley
Josh by Nathan
Magadheera by Ashok
Magadheera by Wannabe Director
Magadheera by Shanti
Magadheera by Anitha
Magadheera by SS
Oy by Prathna
99 by Bala Thirumalasetty
Veedokkade by Srinivas
Delhi 6 by Vamsi
KIKK by Sweta
Luck by Chance by Srini
KIKK by Lalitha Spoorthi
Arundhati by Naveen
Arundhati by Srini
Arundhati by Bharat
Sasirekha Parinayam by Santhi Venkat
Sasirekha Parinayam by Vamshi Muthapu
Sasirekha Parinayam by Niharika Reddy
Nachavule by Vamsi Krishna
Neninthe by movie lover
Avakai Biryani by Vamsi Krishna
Kotha Bangaru Lokam by Vamsi Krishna
Kotha Bangaru Lokam by S
Ashta Chemma by Deepthi
Ashta Chemma by Lalitha Spoorthi
Sarkar Raj by Pradeep
Jalsa by Lalitha Spoorthi
Gamyam by Sridhar
Gamyam by Sreekanth D
Gamyam by Sanjay
Halla Bol by Purnesh
Taare Zameen Par by Ashok Varma
Taare Zameen Par by Raja Simha
Happy Days by Krishna Sastry
Chirutha by Phani Kumar
Chak De India by Ravi
Yamadonga by Lalitha
Chak De India by Shyam
AMAV by Darsakudu
5 in March by Sashidhar
Okkadunnadu by Anand
Black Friday by Ratnakar
Desamuduru by Krishna Prasad
Guru by It's opinion
Dhoom 2 by Lalitha Spoorthi
Dhoom 2 by ASK
Don - Syam
Boss - Anand
Boss - Hrithik
Stalin - Bala
Bommarillu - Nandini
Bommarillu - Darsakudu
Bommarillu - Vasu
Bommarillu - Harsha Prakash
Bommarillu - Lalitha Spoorthi
LRMB - Shravan
Bommarillu - Anirudh
LRMB - Srinivas
LRMB - Darsakudu
LRMB - S Sridhar
Bommarillu - Shridevi
Bommarillu - Vasudev
Bommarillu - Roopa
Sriram - Godavari
Sarath - Bangaram
Bala - Pokiri
Srinadh - Allari Pidugu
Sudheer Allari Pidugu
Anu - Athadu
Shyam Krishna - Iqbal
Purnesh - Grahanam
Sudhindra - Super
Vijay - Aparichitudu
Madhav - Aparichitudu
Hazaraon Kwaishein Aisi
Swades
Shyam - Black
Sai - Anand
Rohit - Anand & Veer Zaara
Jaya Prakash - 7GBC
Raj - Anand
Purnesh - Anand
Purnesh - The Village
Sriram - Gudumba Shankar
Purnesh - Gharshana
Purnesh - Lakshya
Purnesh - Yuva
Leenesh - Yuva
Kis - Lakshmi Narasimha
Indian Pride - Tagore
Raj - Boys
Phani - Gangotri
Phani - Khadgam
Vikram - CKR
BKR - Indra (Singapore)
Ram - Indra (Dubai)
Ranjeet - Idiot
Rahul - Indra
King Koduri - Indra
Srilakshmi Katragadda - Mitr: My Friend