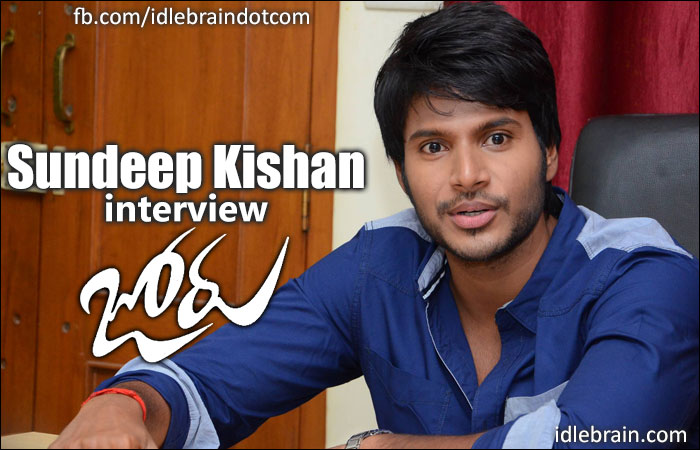 07 November 2014
Hyderabad
Sundeep Kishan is doing a full-length comedy entertainer in the form of Joru. This film features three heroines. Joru is all set to release on 7 November. Here are excerpts of an exclusive interview -
Tell us about your last movie Ra Ra Krishnayya?
All distributors (except overseas) are either recovered or made money for Ra Ra Krishnayya. It would have been a bigger success if the film was trimmed by 15 minutes. I still feel that it's a well made film.
Tell us about Joru?
Joru is a slapstick/confused comedy. This film is made with the sole objective of making audience laugh. It has unique characterizations and a few interesting twists. We cast three heroines not just for glamour, but they are essential for the story. All three heroines play the same character called Annapurna. I have two dads and two moms in the movie. You need to watch the movie to find out how. Brahmanandam and Saptagiri played entertaining roles. If you look at my previous films, comedy is generated because of my character's frustration. But, in this film I am playing a chilled-out guy role. Brahmanandam plays the role of an innocent and cute guy.
What is the reason for selecting Kumar Nagendra as director?
His debut film Gundello Godari has got acclaim, but didn't do well at box office as it lacked entertainment. Kumar said that he want to direct a film with loads of comedy and that's how Joru script was written.
What are the financials of Joru?
The budget of Joru is Rs 4.5 crores and producers are spending over 1 crore for publicity. They have recovered the cost of the movie in pre-release theatrical business. Theatrical overflows and satellite are going to be profits. Rara Krishnayya is a fast-paced film with a runtime of 2:14 hours.
Tell us about producers?
Producers Ashok and Nagarjun are good human beings. I make sure that everybody gets to eat same quality food as I eat during the shoot. Producers are so kind-hearted that they gave same quality meal for all the cast and crew of the movie. Good-hearted producers like these should get profits and make many more movies.
What's the title of your next movie?
Beeruva is the title of the new movie. 'Sanjugaadi friend' is the tagline. This film is being produced jointly by Anandi Arts and Usha Kiron Movies. Kanmani (Naa Oopiri fame) is the director. Surabhi is the heroine. Chota K Naidu handles cinematography. Thaman composes music. This film will be released soon.
What are your future commitments?
I am doing a film which will be jointly produced by Tagore Madhu and NV Prasad. This film will introduced Anand (associate of Murugadoss) as director. Rahul (Andala Rakshasi fame) and Seerat Kapoor (Run Raja Run fame) will play other leads. Chota K Naidu and Thaman will handle cinematography and music.