Story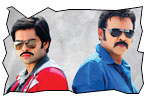 Raheem (Ram) and Sania (Anjali) are siblings who come to Bheemarajapuram in search of livelihood. Balaram (Venkatesh) is the man of the masses in Bheemarajapuram. Though Balaram is such a helping person, he doesn't tolerate people who lie. In a strange situation, Raheem is forced to pretend as Ram. Balaram offers a job to Ram. The rest of the story is all about what happens when he comes to know that Ram has lied to him.
Artists Performance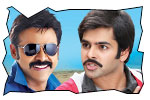 Heroes: Venkatesh has given a lively performance as Balaram. He has owned the character and delivered animated & funny Englsih dialogues superbly. He has never done this kind of mass comedy character in his career and he essays the role perfectly. Though Venkatesh hogs the limelight with his horrible (Jaya Prakash style appreciation) work, it's the Ram who does the rope-walking by balancing two characters that alternately interact with Venkatesh character and fool him. Ram is exceptionally good with his timing in all comedy scenes. He should be appreciated for doing the gay role without qualms. I liked his robotic steps in Meenakshi song.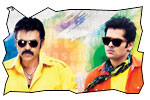 Other actors: Anjali looks little odd in this film. Shazahn Padamsee is ok. It is Jaya Prakash Reddy who hogs the limelight with his body language. The abuses showered by him in the form of appreciation to Venkatesh are superb. Ali is good as Ram's friend. Kovai Sarala is good as mother Anjali, but awkward as item girl Chintamani. MS Narayana is rightly cast. Master Bharat stands out in the friends list. Posani Krishna Murali offered another role that suits his body language.
Technical departments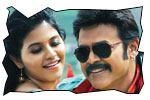 Story - screenplay - direction: The basic story of this film is loosely based on Hrishikesh Mukherjee's classic Golmaal. It's about how an employee cheats his strict boss with his two identities. This film is an official remake of Bollywood blockbuster Bol Bachchan. Director Vijaya Bhaskar sticks to the original for majority of the scenes. Films of this kind need exceptional contribution from heroes to work. Both Venkatesh and Ram have done an outstanding job. The biggest improvisation compared to original is the abusive appreciation dialogues written to Jaya Prakash Reddy which went really well with the crowds. However the casting of women characters (heroines and Kovai Sarala) should have been better. The final part of the film (pre-climax and climax) should have been reworked on (compared to original).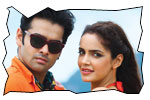 Other departments: Dialogues of the film form the heart. Anil Ravipudi comes up with fantastic mass comedy dialogues. Music by Thaman is average with Meenakshi song being the better one. Thaman who generally gives loud music for a film of this genre comes up with light work. Cinematography by Andrew is alright. The locations of the film (especially Panchgani) are good. Editing by MS Varma is okay. Fights composed by Ram - Lakshman are good.

Analysis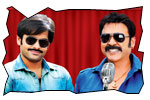 Venkatesh has done many comedy characters earlier, but most of them have class and middle-class family orientation. For the first time, he has done a mass comedy character (like Chiranjeevi in Shankar Dada MBBS) and comes up with an outstanding performance. The film works because of five actors (Venky, Ram, JP, Ali and MS Narayana) who generated the entertainment with the help of nice dialogues penned by Anil Ravipudi. This film lacks the finesse and class of the original as it is targeted more towards masses. On a whole, Masala is a paisa vasool movie for Venkatesh funny dialogues and JP's reactions coupled with Ram's balancing act!