9 March 2010
My Movie – Ye Maya Chesave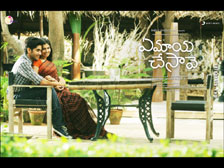 Very few movies touch you deep inside and make you feel them long after you leave the theatre. This one did that for me. Quite a touching movie and a sensible one if you see it with an empty mind (or should I say Heart ! ) expecting nothing of the usual nonsense stuff that we are conditioned to see in regular Telugu movies. True to its name, this movie has really weaved magic on me , I've seen it four times so far and still to come out its magic.
The conversations between the lead pair are so intelligent, yet so simple ... the emotions so subtle yet so profoundly enacted.. And the background score so perfectly blended with the mood of the scenes. The whole movie flows like a rhythm right from the beginning through the end with nuances of love depicted in a refreshingly new style different from any of the movies we've seen lately. The marvelous performance of two (almost) debutants immortalized the lead characters of Karthik and Jesse which most lovers can identify themselves with .
While the limelight initially is on Karthik's plight trying to get his love accepted, the movie gets into a different perspective with Jesse breaking the marriage followed by a sublime confession of her hitherto hidden feelings towards Karthik. And how the lead pair dramatized this moment of truth is truly stellar and impeccable making it so complete, so alive. When Jesse indicates her love for him , the response of Karthik in silent ecstasy – moving away for a second and then back to close in on her , holding her hands close to his forehead and every little gesture through the whole conversation adds to the warmth of the whole scene and speaks volumes of the sensitivity of the movie as a whole. OMG , this scene just blew me away and is my favourite (the next one being the breakup scene) !! It is sure to touch everyone who is waiting for their love to be accepted..
Honestly, these scenes in the Tamil version are not half as good as done in the Telugu version. What I liked in the Tamil version though is the ending in which the Jesse is married to a different guy, proving the harsh reality and inevitability of life in succumbing to social pressure and compromising the matters of the heart.
I see Jesse's character as a personification of the vulnerability, the internal turmoil and the sweet pain that confronts most lovers in pursuit of their love. And the actress Samantha has brought the character to life. For a debut , her performance is truly awesome and has done much better a job than Trisha (no offence intended !). I've seen ANR in an interview comparing her with legendary Savithri appreciating her subdued expressions which is a testimony to her acting prowess. I sincerely hope Samantha is not gonna turn into another Priyamani who was sensible in the first few movies and then started to bare it all in the subsequent ones. Well, I guess that would be only too much to expect given the rules of the game in the filmy world. Another striking feature of the female lead is the husky voice over for Samantha which added a sense of maturity and did wonders to the character as a whole.
I am truly impressed with how little somethings of love are used as expressions of the feeling itself. The way these expressions are portrayed by the lead pair elevated the tenderness and subtlity of the movie. There were quite a few kisses, none of which is titillating or raunchy but only added to the depth of the emotion. Even a simple gesture like holding hands was so delicate, which makes this movie so realistic. Karthik touching the feet of Jesse on his bike or the whole train episode depicts the natural instinct of the lover to feel his beloved in some way even at the cost of his ego. On a lighter note, it amuses me how most of us think twice before touching the feet of our elders for their blessings except for the ritualistic compliance during marriage ceremony -:) .
The whole train sequence reminds me of well crafted words from Deepak Chopra's 'Desire' which I believe would not be out of place to quote here "A lover knows only humility, he has no choice. He steals into your alley at night, he has no choice. He longs to kiss every lock of your hair , don't fret he has no choice "
One thing I can't comprehend is the motive behind beeping out the 'F' word in Karthik's dialogues .I mean its so natural to use that word as an expression of intense frustration and beeping it out did not make much sense to me. Maybe they are just trying to keep it clean or it could be the hypocritical Censor Board.
Though I've never been in love or had a lover before, I personally relate to the "it was there at that moment and gone the next" phenomenon. There were so many instances that I momentarily felt ' I like that girl, lets befriend her ' , and the next moment its like ' forget it love & relationship is not my cuppa tea' .But this masterpiece has left me missing a lover in my life and yearning for one.
All in all an honest director , scintillating performances by the lead pair, striking conversations , scenic locales and superb music converge to form a sensuous treat which is truly a class apart.
Satya
satyam81 at gmail dot com
More My Movie experiences:
YMC by Anurag Reddy
YMC by Ramskott
YMC by Dellcom
YMC by Ashok
YMC by Ramya
YMC by Sudheer
YMC by Laya
YMC by Survi
YMC by Rajeev
YMC by Pavan
YMC by Rohit
Inkosaari by Avanthi
Inkosaari by Sneha
YMC by Praveen
YMC by Rajani
YMC by Sujith
Inkosaari by Ganesh
Leader by Sreekanth D
Maya Bazar by Gopal
Mahatma by Kishore
Baanam by Stanley
Josh by Nathan
Magadheera by Ashok
Magadheera by Wannabe Director
Magadheera by Shanti
Magadheera by Anitha
Magadheera by SS
Oy by Prathna
99 by Bala Thirumalasetty
Veedokkade by Srinivas
Delhi 6 by Vamsi
KIKK by Sweta
Luck by Chance by Srini
KIKK by Lalitha Spoorthi
Arundhati by Naveen
Arundhati by Srini
Arundhati by Bharat
Sasirekha Parinayam by Santhi Venkat
Sasirekha Parinayam by Vamshi Muthapu
Sasirekha Parinayam by Niharika Reddy
Nachavule by Vamsi Krishna
Neninthe by movie lover
Avakai Biryani by Vamsi Krishna
Kotha Bangaru Lokam by Vamsi Krishna
Kotha Bangaru Lokam by S
Ashta Chemma by Deepthi
Ashta Chemma by Lalitha Spoorthi
Sarkar Raj by Pradeep
Jalsa by Lalitha Spoorthi
Gamyam by Sridhar
Gamyam by Sreekanth D
Gamyam by Sanjay
Halla Bol by Purnesh
Taare Zameen Par by Ashok Varma
Taare Zameen Par by Raja Simha
Happy Days by Krishna Sastry
Chirutha by Phani Kumar
Chak De India by Ravi
Yamadonga by Lalitha
Chak De India by Shyam
AMAV by Darsakudu
5 in March by Sashidhar
Okkadunnadu by Anand
Black Friday by Ratnakar
Desamuduru by Krishna Prasad
Guru by It's opinion
Dhoom 2 by Lalitha Spoorthi
Dhoom 2 by ASK
Don - Syam
Boss - Anand
Boss - Hrithik
Stalin - Bala
Bommarillu - Nandini
Bommarillu - Darsakudu
Bommarillu - Vasu
Bommarillu - Harsha Prakash
Bommarillu - Lalitha Spoorthi
LRMB - Shravan
Bommarillu - Anirudh
LRMB - Srinivas
LRMB - Darsakudu
LRMB - S Sridhar
Bommarillu - Shridevi
Bommarillu - Vasudev
Bommarillu - Roopa
Sriram - Godavari
Sarath - Bangaram
Bala - Pokiri
Srinadh - Allari Pidugu
Sudheer Allari Pidugu
Anu - Athadu
Shyam Krishna - Iqbal
Purnesh - Grahanam
Sudhindra - Super
Vijay - Aparichitudu
Madhav - Aparichitudu
Hazaraon Kwaishein Aisi
Swades
Shyam - Black
Sai - Anand
Rohit - Anand & Veer Zaara
Jaya Prakash - 7GBC
Raj - Anand
Purnesh - Anand
Purnesh - The Village
Sriram - Gudumba Shankar
Purnesh - Gharshana
Purnesh - Lakshya
Purnesh - Yuva
Leenesh - Yuva
Kis - Lakshmi Narasimha
Indian Pride - Tagore
Raj - Boys
Phani - Gangotri
Phani - Khadgam
Vikram - CKR
BKR - Indra (Singapore)
Ram - Indra (Dubai)
Ranjeet - Idiot
Rahul - Indra
King Koduri - Indra
Srilakshmi Katragadda - Mitr: My Friend