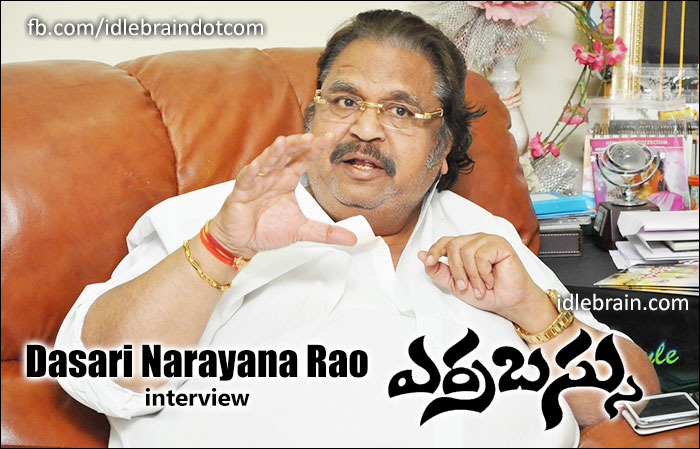 13 November 2014
Hyderabad
After a gap of 3 years, a Dasari Narayana Rao film is releasing in the form of Erra Bus. In an exclusive interview to idlebrain.com, Dasari talks about Erra Bus and the current situation of Telugu film industry -
You are known for original ideas and concept films. You advocate strongly against remakes. What is the reason for doing a remake of Tamil film for Erra Bus now?
I do agree that I am principally against remakes. I had a personal setback when my wife passed away around 3 years back. I stayed away from making films. The current film industry is suffering from hero-centric and entertainment oriented films. Hero has become a comedian and stories are being centered around comedians. Since a few films of such format have become huge hits, every filmmaker is trying to make the same films again and again.
Telugu audiences watched films of all genres till 2000. But things have changed past 2000. I was unsure of doing films of my liking as I don't know if audiences wanted to see them. That's when I watched Tamil film Manjapai. It is in the format of Nanna Garu, Suri Gadu, Mavagaru etc. I have reused the concept of the film, but wrote fresh script to suit Telugu sensibilities. I am happy that Vishnu did the role of hero in this movie. This film needs somebody like Vishnu to take it to larger audiences. I am playing an equally important role.
Erra Bus is a big budgeted film compared to films you have produced in the last couple of decades?
Yes. I spent a lot of budget on making and promotion of Erra Bus as I am confident of the success of the film. Erra Bus is capable of creating a new trend in film industry if it becomes successful.
Unlike old days, there is not enough time for films that run on mouth publicity as most of the collections are generated in the first three days?
Yes. Let me give a few examples from the past.
1. Swargam Narakam film has collected Rs 350/- on the morning show of release in Vijaywada. It became housefull on the morning show of Monday due to excellent mouth talk.

2. Seeta Ramayya Gari Manavaralu has started with Rs 1800/- on the morning show in Amaravathi theater, Hyderabad and then went on to become a silver jubilee film (175 days) due to superb mouth talk.

3. Sankarabharan film was terminated in 2 weeks in Khammam and it was back after a couple of weeks later on popular demand and went on to run for 100 days.
Now, there is no scope for good mouth talk for a good film to sustain and make money as the span of a film is reduced to two weeks.
You are 70 years old now. You are still maintaining the same enthusiasm to make movies. What is the secret?
The only thing I know in my life is cinema. I don't know anything else. During Manashulantha Okkate time, NTR said, "Brother, If you want to become number one in your profession, you need to sacrifice things you like. Everybody, gives priority to their family life than to their profession. But I make my profession a priority. You are also doing the same. I can guarantee that you will become number one in the future due to the same quality."
You make sensational statements during your speeches in functions?
Yes. They are sensational, but they are facts too. Lot of film people also feel the same. But, they don't talk due to fear. But I don't mention any names in my speeches. But whatever I talk in functions is mild when compared to the kind of feedback I give to them when I personally meet them. Since I had been in an authoritative position in industry for a long time, and since I wish for the well-being of industry, whatever I do is for the betterment of Industry. I don't personally dislike anybody. Whatever I talk is based on issues.
Tell us about your future films?
I want Erra Bus to be successful at box office. I am not bothered about financial gains. But the success of Erra Bus can help industry to become healthy and positive. I will be directing one film per year and will be producing several concept based small budgeted films every year.