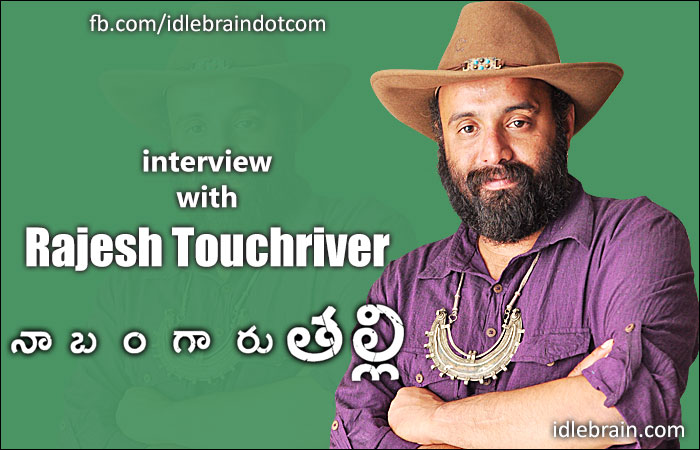 21 November 2014
Hyderabad
Though a Malayali, Rajesh Touchriver has started his career in Telugu films and is doing Telugu films. His latest film Naa Bangaru Thalli had several difficulties in getting released. It has won three national awards - Best Telugu feature film, Best music and Special mention (Anjali Patil). A Telugu film has won 3 National awards after a span of 25 years. NBT is all set to release on 21 November. Here is an exclusive interview with the director Rajesh Touchriver -
Tell us about the genesis of 'Naa Bangaru Thalli'?
I have done a short film called Anamika on flesh trade. I have done a lot of research for six months by visiting places like Kamathipura (Mumbai), Sonagachi (Kolkata), GB Road (New Delhi) etc. I used spy cameras and took interviews. This short film was made in seven languages. I have got 3 international awards. National Judicial Academy and National Police Academy has included this movie in their syllabus.
Social activist Sunitha Krishnan has suggested me to make a feature film on human trafficking. She is a social activist and she has rescued and rehabilitated over 12000 girls from human trafficking. The story of one particular girl whom she rescued is very interesting and I picked up that story as base for Naa Bangaru Thalli.
NBT deals with a beautiful bonding between father and daughter and has the backdrop of human trafficking. It's a nightmarish thriller. It's not an art film, it's an entertainer. There are no fictional elements. There is no nudity. There is neither sex nor violence. It's a film that entire family can watch without being embarrassed.
We have narrated this subject to many producers. They liked it, but nobody came forward to produce it. Hence we decided to produce the film ourselves. We cast relatively new actors. We started the shoot in November 2012 and finished it in 45 working days. The censoring was done in January 2013.
The distributors were not willing to release the movie. Since it's not getting a theatrical release, we started sending the movie to international film festivals. It has won awards in several film festivals. It created huge buzz when this movie has won three national awards (Best Telugu feature film, Best music and Special mention (Anjali Patil)). It's been 25 years since a Telugu movie has won 3 National awards.
Amala's help and crowd funding
Sunitha Krishnan has told Amala to help the film out. Amala watched the movie and was impressed. She recommended it to MAA TV and and they bought the satellite rights. When we asked Reliance to help us in distributing the movie, they have asked for Rs. 15 lakhs. Amala also suggested that we should go for crowd funding to distribute the movie. Milaap.org has came forward to promote our film on their site. They have showcased our movie and we got donations around Rs. 32 lacs. The donations ranged from Rs. 250/- to 12 and half lacs. Initially we intended to release the movie in 25 theaters. Due to good funding, we are releasing Naa Bangaru Thalli in over 100 theaters. This film is also getting released in Chennai, Bangalore and USA.
Shantanu Moitra's music
Initially we had another music director and we were not satisfying with the work. The background music makes a lot of a difference for content based movies like NBT. When we met Shantanu, we said that we can't afford him. He saw the movie and said that he would do the movie for free. He has took around a month to score music. He was also working for Madras Cafe at the same time. He has scored music for many classics like Munna Bhai and 3 Idiots. He never won National awards. He has won National award for NBT.
Chiranjeevi's reluctance
Since we wanted to create a buzz, we tried to invite Chiranjeevi. Allu Arvind has got us an appointment. Chiranjeevi was very formal when we met. We asked him to watch the movie and come to audio launch if he is impressed. He tried to avoid us at first. Some how we managed to get him to watch the movie. After watching movie he said, "I thought it was an art film, but its a pure commercial entertainer." He had tears in his eyes while watching the movie. He came to music launch and spoke good words about it.
Samantha is very impressed
We held a premiere to selected movie personalities a couple of days ago. Samantha had tears while watching the movie. Samantha said that she is willing to promote the movie and gave dates till this month end for promotion.
You films In the Name of Buddha and Naa Bangaru Thalli got you fame. Why did you do substandard Telugu movies like 10 - the strangers and Alex?
Those were not my scripts. 10 the strangers is an unofficial adaptation of a Hollywood thriller. Alex was a hurriedly made film without having a complete script before shoot. 10 the strangers was done in minimal budgets of 38 lacs. I will be careful and do sensible movies in the future.
What are your future projects?
I have several projects lined up. But I have three immediate films
1. Sanskrit film: Sanskrit is the most powerful Indian language. We are forgetting the roots and traveling away from it. I have visited a couple of villages (one each in Karnataka and Madhya Pradesh) where they still speak in Sankrit. I am going to make a film in Sanskrit.
2. Tribal language film: Tribals are the ones who are co-existing with the nature. They are balancing the eco-system. They are happy people. I have seen a village in the border of Karnataka and Kerala where there is a community of 1500 tribal villages. Kids can go to any home and eat food.
3. Telugu film: I have a nice story for a Telugu film. It's about scavengers. LB Sriram will play the main lead.