19 March 2010
My Movie – Prasthanam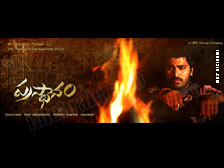 "A Solution may not be the end of a Problem; but the sole purpose of a Problem is always Solving." I do not know if this line or it's essence is a part of any of the numerous foretold philosophies or books; but this is exactly my understanding on the narrative used by Mr. Deva Katta in his latest venture, 'Prasthanam'. By choosing the 'first-understand-the-problem' mode of narration over the 'drive-to-the-solution-quickly' mode of narration, he put himself among those film-makers who have the patience to explain to the audience, than just impress them. No gimmicks, no tactics; this film is a fine example of pure, sensible story-telling.
At a story level, 'Prasthanam' does hold the basic Good Vs Bad conflict. Yet, I am amazed at how the film does not dwell into the cliched 'good kills bad' route. Thanks to the director, it effectively shows how the Bad loses and the Good triumphs. The narrative keeps the internal as well as external conflicts alive throughout the film. And as it approaches the Final Act, the drama poses enough intensity, enabling a pronounced impact during the last reels. "He, is a man, who has ego. He, is a strong man, who can control it. " Again, I do not know if this line exists in any foretold philosophy; but as much as I could understand, that's the summary of the story.
Flawless performances by all the actors (Sai Kumar, Sarvanand, Sundeep) and their effective rendition of well-written dialogues make this film entertaining. Technically, this film can boast of one of the best sound design in the Telugu cinema. Cinematography is top-notch, while the editing is brilliant. In one scene, after the character Chinna is killed at night, there is a perfect snap-cut to a morning shot. The impact of cut was simply awesome. And this night-to-day transition is used on each antagonist's death; even the climax. All kudos to the director and editor to use nature's phenomenon in the narrative.
The last serious drama in Telugu cinema that I found as effective was Sukumar's 'Jagadam'. As an ardent film admirer, I wish this film gets a chance to be shown with English subtitles at International film festivals. I feel, this film has enough potential to create a good image about Telugu cinema in the International film circuit; which in the long run, may even open bigger markets for Telugu cinema.
Purnesh Konathala
purnesh.konathala at gmail dot com
More My Movie experiences:
YMC by Kumar
YMC by Mallik
YMC by Satya
YMC by Anurag Reddy
YMC by Ramskott
YMC by Dellcom
YMC by Ashok
YMC by Ramya
YMC by Sudheer
YMC by Laya
YMC by Survi
YMC by Rajeev
YMC by Pavan
YMC by Rohit
Inkosaari by Avanthi
Inkosaari by Sneha
YMC by Praveen
YMC by Rajani
YMC by Sujith
Inkosaari by Ganesh
Leader by Sreekanth D
Maya Bazar by Gopal
Mahatma by Kishore
Baanam by Stanley
Josh by Nathan
Magadheera by Ashok
Magadheera by Wannabe Director
Magadheera by Shanti
Magadheera by Anitha
Magadheera by SS
Oy by Prathna
99 by Bala Thirumalasetty
Veedokkade by Srinivas
Delhi 6 by Vamsi
KIKK by Sweta
Luck by Chance by Srini
KIKK by Lalitha Spoorthi
Arundhati by Naveen
Arundhati by Srini
Arundhati by Bharat
Sasirekha Parinayam by Santhi Venkat
Sasirekha Parinayam by Vamshi Muthapu
Sasirekha Parinayam by Niharika Reddy
Nachavule by Vamsi Krishna
Neninthe by movie lover
Avakai Biryani by Vamsi Krishna
Kotha Bangaru Lokam by Vamsi Krishna
Kotha Bangaru Lokam by S
Ashta Chemma by Deepthi
Ashta Chemma by Lalitha Spoorthi
Sarkar Raj by Pradeep
Jalsa by Lalitha Spoorthi
Gamyam by Sridhar
Gamyam by Sreekanth D
Gamyam by Sanjay
Halla Bol by Purnesh
Taare Zameen Par by Ashok Varma
Taare Zameen Par by Raja Simha
Happy Days by Krishna Sastry
Chirutha by Phani Kumar
Chak De India by Ravi
Yamadonga by Lalitha
Chak De India by Shyam
AMAV by Darsakudu
5 in March by Sashidhar
Okkadunnadu by Anand
Black Friday by Ratnakar
Desamuduru by Krishna Prasad
Guru by It's opinion
Dhoom 2 by Lalitha Spoorthi
Dhoom 2 by ASK
Don - Syam
Boss - Anand
Boss - Hrithik
Stalin - Bala
Bommarillu - Nandini
Bommarillu - Darsakudu
Bommarillu - Vasu
Bommarillu - Harsha Prakash
Bommarillu - Lalitha Spoorthi
LRMB - Shravan
Bommarillu - Anirudh
LRMB - Srinivas
LRMB - Darsakudu
LRMB - S Sridhar
Bommarillu - Shridevi
Bommarillu - Vasudev
Bommarillu - Roopa
Sriram - Godavari
Sarath - Bangaram
Bala - Pokiri
Srinadh - Allari Pidugu
Sudheer Allari Pidugu
Anu - Athadu
Shyam Krishna - Iqbal
Purnesh - Grahanam
Sudhindra - Super
Vijay - Aparichitudu
Madhav - Aparichitudu
Hazaraon Kwaishein Aisi
Swades
Shyam - Black
Sai - Anand
Rohit - Anand & Veer Zaara
Jaya Prakash - 7GBC
Raj - Anand
Purnesh - Anand
Purnesh - The Village
Sriram - Gudumba Shankar
Purnesh - Gharshana
Purnesh - Lakshya
Purnesh - Yuva
Leenesh - Yuva
Kis - Lakshmi Narasimha
Indian Pride - Tagore
Raj - Boys
Phani - Gangotri
Phani - Khadgam
Vikram - CKR
BKR - Indra (Singapore)
Ram - Indra (Dubai)
Ranjeet - Idiot
Rahul - Indra
King Koduri - Indra
Srilakshmi Katragadda - Mitr: My Friend