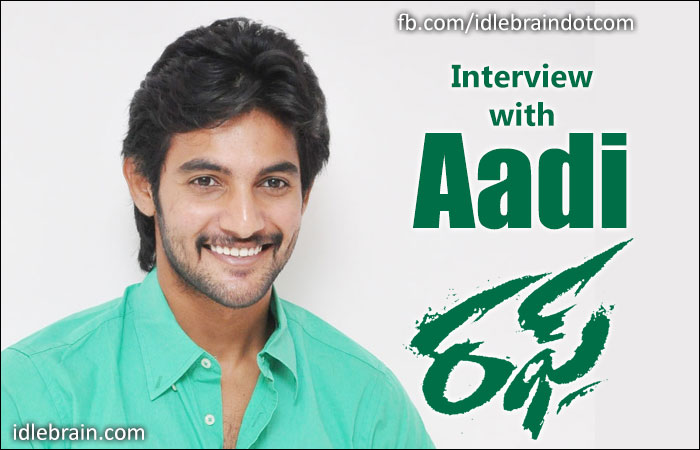 28 November 2014
Hyderabad
Aadi is a human human being and an actor who is liked by all. His first full-fledged commercial movie Rough is releasing on 28 November. Aadi talks about his six pack and future plans in an exclusive interview given to idlebrain.com -
Tell us about your last movie - Gaalipatam?
Gaalipatam has got ctitical acclaim and the collections for the first 3 days were good. First half was bold and liked by youth but disliked by family audiences. Second half is emotional and liked by family crowds and disliked by youth. Climax was abrupt and unconvincing.
Why did Rough movie took so long to get released?
Shooting of Rough was started in January 2013. The budget went overboard. DoP Senthil left the project in middle for Baahubali shoot. Arun took over as DoP. There were too many reasons why this film is delayed so much. After starting this movie, I accepted two projects (Pyar Me Padipoyane and Gaalipatam). They were shot and released. I am very glad that Rough is finally releasing on 28 November.
Tell us about Rough?
Rough is my first commercial love story. It's based on characterizations and has ample mass and youth elements. It's a packaged movie.
Tell us about heroine Rakul Preet Singh?
Rough is the Telugu debut film of Rakul Preet Singh. She is the most committed, hard working and a good hearted female. That's why she is not only getting successes, but also earning a lot of good will in the industry. She is the best actress and human being I have ever worked with so far.
You had the most intimate liplock with her as per the theatrical trailer?
Yes. But, we sacrificed it in the movie in order to avoid A certificate.
Tell us about your six pack experience?
Telugu actors like Allu Arjun, Nitin and Sunil have done six pack in the past. It was a nine month process for me. I have done in an organic fashion with healthy diet. I have done a couple of songs after developing six pack. I have done the Vizag fight and climax fight with six pack. You can observe agility in those songs and fights because of six pack. You feel light and agile. I have given my everything to Rough movie.
However, my look in this film is inconsistent. I have three different looks (unintentional) in Rough as the shooting took a lot of time to complete.
Tell us about your wedding?
I am 28 now and I think it's right time to get married. It's an arranged marriage. This alliance was brought forward by the father-in-law of my sister. Bride Aruna's father is a popular advocate in Rajahmundry.
How is your mood before release of a film?
I had successes in the form of Prema Kavali and Lovely for my first two movies. I didn't realise the importance of success then. I started to realize it after the failure of Sukumarudu. Rough is my sixth film. I have learnt to be calm and unemotional before the release by now.
What's your next movie?
My next film is titled as Garam. It's directed by Madan. Story is given by Srinivas (an associate of Madan). RK - a Guntur based businessman is producing this movie. Garam is a character driven commercial film.
What are your plans as an actor going ahead?
I want to be more careful in selecting scripts. I want to start a new life as a person and as an actor after marriage.