19 March 2010
My Movie – Prasthanam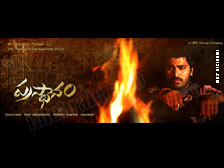 Few years back we had a movie by name "Vennela" from the director Deva Katta who is debutant then. He proved his mettle with "Vennela" which is altogether a fresh entertainer focusing on NRI's.And now the theme he has chosen for his second venture "Prasthanam" surprised everyone because of complete variation .This time he has come with a wonderful emotional saga with political background. While the trailers and the stills caused ample curiosity,the director lived up to the expectations and proved that he is not a one film wonder.
Let's check out briefly about the Prasthanam
Story: Lokanatham(SaiKumar) an assistant of a local leader need to take over the power when the later is murdered in the election campaign.Circumstances force him to remarry his boss's wife and take care of the step kids.Meanwhile he has his own son.
While Lokanatham's step son Mitra(Sarwanand) grows politically strong,Chinna(Sudeep Kishan-New comer) felts deserted .This bitter rivalry between the step son's gives way to unending chaos in the family.
Whose side their father inclines to? What is final destiny of each character? forms the crux of the movie.
Characters/Actors:
It 's not only the actors but the characters which stand out in the movie.
Sarwanand as the step son has come up with commendable performance. He played it very subtle. His niche for choosing movies of different genres need to be appreciated. The character he played needs a guy with star image.He must thank the so called stars of Tollywood who rejected this movie as they thought the movie might not suit their image. But Sarwanand could carry the role efficiently with his rough looks and a low profile portrayal. He definitely has long way to go as an actor.
Sai Kumar ,the man who supported several characters with his voice(dubbing) had really got very few chances actually to live his voice.I believe he utilized most of them, Whether it be 'Police story' or 'Samanyudu'.And now Prasthanam showcases his acting prowess to the peaks.He is vivacious and the role is strong enough to utilize him to the fullest, thanks to wonderful dialogues.Though sometimes he is loud,It be might his thirst for the elevating the character.I have many words to say,but revelation of his character should be watched on screen.
Sudeep kishan also did extremely well.It is really tough role for a beginner. His confidence is seen in every scene.
Not only these 3 people, but each and every artist in the movie has significant role to play.
Surekhavani as Sarwanands sister got a meaty role .Jeeva as wicked politician is good.
Jayaprakash Reddy has wonderful comic role who along with his assistant Prithvi(30 year's industry) provided great relief with complete hilarious punches.
One cannot forget the roles of Basha(Saikumars right hand)and an inspector who supports Saikumar , Girl(Reshma) who played the love interest of chinna etc.
Vennela Kishore had few sparks.This kind of roles are earlier played by sunil.
Heroine Ruby neither possess great looks nor have a role to play.She can be ignored.
Highlights
Story,Screenplay,Dialogues and Direction :
All these departments are handled by Deva katta in a way that each competes with the other.
Story is the huge asset of the movie. It brilliantly covered the various shades of human nature,Discussing the Minute variation between good and bad(forgiveness and revenge). I have never seen a movie with such an awesome story in recent times.
Dialogues are the best part of the movie. Many great one liners from Saikumar (like Charithra lo herolu villain lu undaru swaardaparu tappa,Manishi tanu naatina vittananney adi pandinappudu kostaadu etc etc).Not only the serious dialogues, but comedy Dialogues on JP spilled several smiles in theatre.
Deva Katta is simply superb in direction department too.Apart from conveying the complete story efficiently,He grabbed best of performances from his artistes.
Movie might have been made on small scale,but possess rich look and the credits does to excellent Cinematography by Shamdat.
Mahesh shanker has given decent background score. But he failed in providing good songs. 3-4 songs among total 6 can be completely trimmed off.
Producers should be appreciated for funding such a wonderful movie.
Drawbacks:
Songs are a drawback for the movie. Songs in first song looked so dull though they are situational may be due to lack of appealing glamour. Though duets in second half are better, they prolonged the duration of movie.
Though I felt the 3 hours of run time thoroughly enjoyable, some might feel uncomfortable with this heavy dosage.
Due to Extreme violence and bloodshed in the movie, Movie is given "A". At least some scenes showing the blood would have been cut short.
Final Verdict :
Those who love the serious and sensible movie, There can't be much better than Prasthanam at least so far in this year. we might have seen many characters from the epics so far, but in this movie they are unique and had no resemblances. I am sure one will take home the characters once they leave the theatres.
It's excellent blend of human emotions and political drama. I say never miss it !!
Commercial success of the movie depends on the fate of other star-studded summer releases and the spread of positive talk .
KUMAR
kumarchakravarthy at gmail dot com
More My Movie experiences:
Prasthanam by Purnesh
YMC by Kumar
YMC by Mallik
YMC by Satya
YMC by Anurag Reddy
YMC by Ramskott
YMC by Dellcom
YMC by Ashok
YMC by Ramya
YMC by Sudheer
YMC by Laya
YMC by Survi
YMC by Rajeev
YMC by Pavan
YMC by Rohit
Inkosaari by Avanthi
Inkosaari by Sneha
YMC by Praveen
YMC by Rajani
YMC by Sujith
Inkosaari by Ganesh
Leader by Sreekanth D
Maya Bazar by Gopal
Mahatma by Kishore
Baanam by Stanley
Josh by Nathan
Magadheera by Ashok
Magadheera by Wannabe Director
Magadheera by Shanti
Magadheera by Anitha
Magadheera by SS
Oy by Prathna
99 by Bala Thirumalasetty
Veedokkade by Srinivas
Delhi 6 by Vamsi
KIKK by Sweta
Luck by Chance by Srini
KIKK by Lalitha Spoorthi
Arundhati by Naveen
Arundhati by Srini
Arundhati by Bharat
Sasirekha Parinayam by Santhi Venkat
Sasirekha Parinayam by Vamshi Muthapu
Sasirekha Parinayam by Niharika Reddy
Nachavule by Vamsi Krishna
Neninthe by movie lover
Avakai Biryani by Vamsi Krishna
Kotha Bangaru Lokam by Vamsi Krishna
Kotha Bangaru Lokam by S
Ashta Chemma by Deepthi
Ashta Chemma by Lalitha Spoorthi
Sarkar Raj by Pradeep
Jalsa by Lalitha Spoorthi
Gamyam by Sridhar
Gamyam by Sreekanth D
Gamyam by Sanjay
Halla Bol by Purnesh
Taare Zameen Par by Ashok Varma
Taare Zameen Par by Raja Simha
Happy Days by Krishna Sastry
Chirutha by Phani Kumar
Chak De India by Ravi
Yamadonga by Lalitha
Chak De India by Shyam
AMAV by Darsakudu
5 in March by Sashidhar
Okkadunnadu by Anand
Black Friday by Ratnakar
Desamuduru by Krishna Prasad
Guru by It's opinion
Dhoom 2 by Lalitha Spoorthi
Dhoom 2 by ASK
Don - Syam
Boss - Anand
Boss - Hrithik
Stalin - Bala
Bommarillu - Nandini
Bommarillu - Darsakudu
Bommarillu - Vasu
Bommarillu - Harsha Prakash
Bommarillu - Lalitha Spoorthi
LRMB - Shravan
Bommarillu - Anirudh
LRMB - Srinivas
LRMB - Darsakudu
LRMB - S Sridhar
Bommarillu - Shridevi
Bommarillu - Vasudev
Bommarillu - Roopa
Sriram - Godavari
Sarath - Bangaram
Bala - Pokiri
Srinadh - Allari Pidugu
Sudheer Allari Pidugu
Anu - Athadu
Shyam Krishna - Iqbal
Purnesh - Grahanam
Sudhindra - Super
Vijay - Aparichitudu
Madhav - Aparichitudu
Hazaraon Kwaishein Aisi
Swades
Shyam - Black
Sai - Anand
Rohit - Anand & Veer Zaara
Jaya Prakash - 7GBC
Raj - Anand
Purnesh - Anand
Purnesh - The Village
Sriram - Gudumba Shankar
Purnesh - Gharshana
Purnesh - Lakshya
Purnesh - Yuva
Leenesh - Yuva
Kis - Lakshmi Narasimha
Indian Pride - Tagore
Raj - Boys
Phani - Gangotri
Phani - Khadgam
Vikram - CKR
BKR - Indra (Singapore)
Ram - Indra (Dubai)
Ranjeet - Idiot
Rahul - Indra
King Koduri - Indra
Srilakshmi Katragadda - Mitr: My Friend