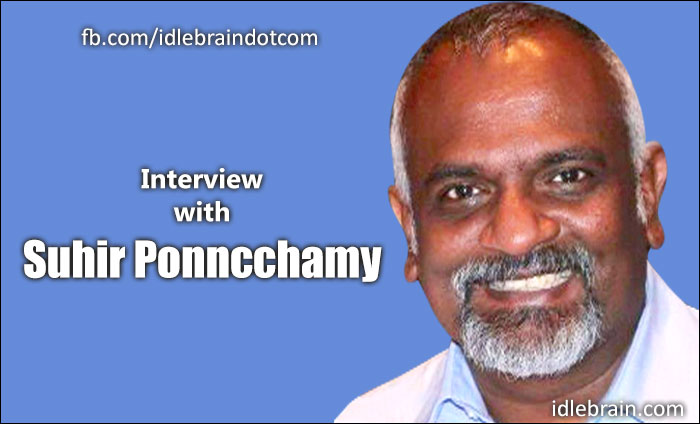 22 December 2014
Hyderabad
'After travelling throughout India, I realized Telugu people are the most real people", says Suhir Ponnchamy, Director of 'On Path to Liberation'. A Srilankan by birth, An American by citizen and a lover of India, Suhir is an amalgam of multi cultures. Here is a small chit-chat with Suhir, exclusive for Idlebrain readers-
What attracted you to Telugu people?
Suhir- Telugu people are great entrepreneurs. And they are very real. I have some kind of cosmic connection to Telugu people. I just don't know what it is. I have been to several places in India and interacted with multiple cultures. But somehow I end up being with you all.
Tell us about your life?
Suhir- I moved to the US from Srilanka when I was in teens. After undergrad, I travelled to many countries for two years. Somehow, the lives of people and places were so intimidating, that I felt like capturing them all. I joined Tisch School of the Arts and learned Film making. But you see, my life itself was a movie! I couldn't make any films due to personal issues. I moved into IT and did several other kinds of jobs. Now, after 20 years, I am back into movies. But looks like, the whole movie world had a makeshift.
Do you think it is easy to comeback to movies after such a long gap?
Suhir- No. A lot has changed in film making. 20 years ago, it was at least nascent. Now, there is lot of technology involved. I need to bridge that gap. I am, of course learning. It is in me.
Film making is a multi-aspect subject. From stories to direction to editing, there are several factors involved. What do you think you are good at?
Suhir- I am the best at casting. I know how to choose right people. For me, it is the intelligence that is needed. Then comes screen presence. If a person is beautiful, the audience would watch him/her for some time. But after a point, they need more. But if a person is talented and can get into the skin of the role, may be the audience would get bored for a minute. But, real talent attracts audience and connects with them. So, that is why, audience never forget talented people. But beauty fades away very soon.
How many movies did you make so far?
Suhir- I made up to 12 short films. Movie making is my passion. I love, breathe and live cinema.
Did you can get recognition so far?
Suhir- No. Never. I never submitted my movies for any film festivals or awards. But this particular movie was submitted by a friend of mine and boom! It got selected. So, let's see where the life takes us.
Tell us about your current movie.
Suhir- 'On Path to Liberation' is about a woman who travels to India on a spiritual journey. In the process of finding spiritual attainment, her path is distracted by evils of the society. 'What happens to her? How does she emerge from the obstacles?' Is the rest of the plot. My leads, Pedapati Venkata Ramana Murty and Marie-Therese Bjornerud nailed the movie totally. Watch it to know it.
The movie's story revolves in Visakhapatnam. What made you come here?
Suhir- The lead, Pedapati Venkata Ramana Murty, lives in Visakhapatnam. So, we travelled all the way to this place. And guess what, Visakhapatnam has everything that a director wants in a movie. Beauty, weather, serendipity, tranquility and my friends. So, Again, I am attracted to this part of India. Also, the movie is shot majorly in English and partly in Telugu.
We had a privilege to watch the movie. And the subject is quite bold. What do you think; the reaction of audience would be like?
Suhir-. I am the sole soul of this movie. From story to editing, I am one-man- army. So, when I was making this movie, I kept the movie lovers in mind. There is a section of audience of that would appreciate this movie. As you know, not all movies are for everyone. So far, whoever saw my movie appreciated it. It got selected for film festival. That says it all.
So, are you interested in making only such offbeat movies?
Suhir- No. We are coming up with a new feature film. We are in fact looking for casting. So, if anybody is interested, they can approach us. And as I said, I appreciate real talent.
On Path to Liberation is being premiered in the 3rd Delhi International Film Festival on December 25th. Also, people interested in acting or getting associated with Suhir's projects; can contact him.
Idlebrain wishes him all the very best for his future endeavors.
By -Swathi Sriram
The author can be contacted at [email protected]