Story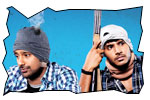 There is a bunch of four friends (Varun Sandesh, Sundeep Kishan, Naveen and Rakesh) are desperate for quick money. The only way of making money is to rob a bank. They devise a plan and get into a bank wearing masks and carrying fake guns. They take the money and are about to escape. A surprise followed by police round-up leads to a complicated situation. The rest of the story is all about how these four turn virtuous and victorious at the end.
Artists Performance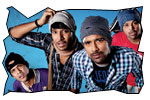 Main leads: Varun Sandesh has given his most endearing performance till date in this film. His role is that of a playboy who is also a spendthrift with debtors and credit recovery agents chasing him all the time. Sundeep Kishan follows his Venkatadri Express's josh with the character of an actor wannabe. He is the leader of the pack and did well. Naveen who did an important role in Life is Beautiful comes up with another cool performance in this movie. The way he utters a lengthy dialogue in a tense situation over phone to his girlfriend gives you an idea about his ability. The show-stealer among the bunch of four turns out to be the debutant actor Rakesh. Helped by nice screenplay and the situation he is thrown in, Rakesh comes up with an entertaining performance. He is a good actor too. Deva Katta did a full-length character of an IPS officer who is assigned to take care of hostage situation. He is pretty good. Rishi Muvva is hilarious as Chevulapilli - a ghostwriter in films. We have another contender for thagubothu roles now. Fish Venkat does the role of a cricket crazy gangster. Pruthvi has another crazy role in the movie. Raj Pippalla (director of Boni and Bangaru Kodipetta) did a vital role in the movie and he is nice. Tanikella Bharani comes up with another fine performance..
Technical departments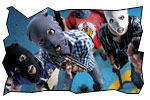 Story - screenplay - direction: It's a simple and fun story of four immature youngsters robbing a bank in order to fulfil their desperate needs. You have these guys in bank after 20 minutes into narration and the rest of the film takes place in bank. It's very difficult to narrate a film when you have a single location. But, the debutant director Siraj Kalla has written an engaging screenplay that there is a new conflict from unexpected quarters for every ten minutes. Screenplay of the film is good, direction is commendable and treatment is fresh. There is good satire on media (a TV journalist talks about diminishing tradition and culture after having a puff of the smoke off the camera). The entire thread of Chevulapilli and Bannu is well conceived.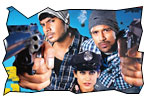 Other departments: There are hardly any songs in the film except for the back-to-back songs that come during the end-titles. Background music by Mahesh Shankar is superb and complements the content of the film. Dialogues written by Siraj Kalla is another asset to the film. Cinematography by Lukasz Pruchnik (Go Goa Gone fame) is exceptionally good. He has followed the 'realistic cinematography style' for this film where most of the film is shot in a room filled with over 20 characters and the focus keeps shifting from one character to another at a rapid speed. It's extremely difficult to edit a film that has so much of rapid content. Editor Dharmendra Kakarala comes up with a fabulous job of editing. Art direction by Upender Reddy for the bank set is natural. All the technical crew have worked in unison for this film to get a uniformity to the product. Nani and Dil Raju has bought a stake in the film after watching it, which proves the business potential of the film. Raj and DK who has always made independent films in Hindi and went on to make films with Saif Ali Khan shows that they depend more on content than star value. This is their first venture into Telugu as producers and they have chosen a subject of their trademark and executed it in optimal time with minimal resources.
Analysis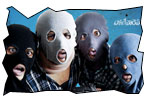 Analysis: D for Dopidi is one film that defies the routineness of Telugu cinema, yet delivers an entertaining content. The runtime of the film is just 1 hour and 45 minutes and there are no songs (except for 2 songs during end-titles). The plus points of the film are screenplay, performances, realistic yet entertaining premise. Director Siraj Kalla is a director to watch out for. If you like the crime comedy angle in films like Money, Kshana Kshanam and Anaganaga Oka Roju, you are going to love D for Dopidi. You may watch it!