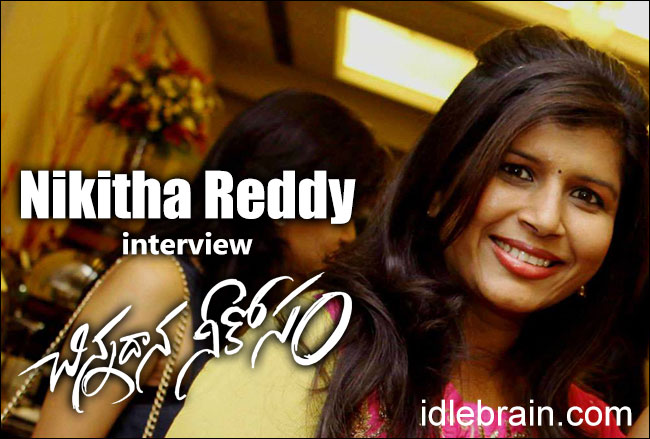 23 December 2014
Hyderabad
Nikitha Reddy - elder sister of Nithiin has donned the role of producer to give us Ishq, Gunde Jaari Gallanthayyinde and Chinnadana Neekosam. She talks about the secret of success and Nithiin in this exclusive interview -
You seems to have become the lady luck for Nithiin after starting the home banner Sreshth Movies with you as the producer. Ishq and GJG turned out to be blockbusters. Now you have another prospective hit on the block in the form of Chinnadana Neekosam?
Luck is always needed for a film to become a hit. But more than luck, I attribute the success of Ishq and GJG to script and teamwork. Understanding the pulse of audiences is also essential. Being a daughter of a distributor helped me in that aspect.
Being a woman and a daughter of distributor, I understand what young generation and women want to watch in films. The movie lovers who watched our films should walk out of the theater with a smile on their face.
Karunakaran is a director who often falters during second half and climax. What precautions did you take for CNK?
Chinnadana Nee Kosam is a romantic film and Nithiin has carved a niche for himself in that genre. We have worked over an year over the script. We have made sure that second half is good and climax is excellent. Mukund Pandey has worked as script doctor for this movie. Writer Harshavardhan has also participated in script work.
Nithiin is looking stylish and chic in this movie?
This is how I want Nithiin to look. Ashwin styled Nitin looks in this movie and I gave inputs to him.
Nithiin has become very cautious in selecting scripts these days?
Nithiin is more mature than me in thinking though he is younger to me. The experience of going through rough phase has taught him as a lot. He has gained a lifetime experience by hitting the rock bottom in his career. He wants to be perfect and never makes mistakes intentionally.
What is your gut feel about Chinnadana Nee Kosam?
CNK is a feel good romantic entertainer. It's a thoroughly enjoyable film. It will be a hatrick for our banner after Ishq and Gunde Jaari Gallanthayyinde.
Tell us about your next movie with Nithiin?
We are planning to give a debutant an opportunity. We are currently listening to scripts.
What kind of films do you like personally?
I like light hearted films. I like watching films which are unpredictable. My favorites in this year are Manam, Race Gurram and Run Raja Run.
When is Nithiin getting married?
I don't pressurize him. He works 18 hours a day for movies. He is in such a positive phase of life where he really loves what he is doing. We will look for a suitable girl whenever he thinks he is ready for marriage.